What a Year for AL MVP Mookie Betts
The Tennessee Titans, making a last-gasp push for the NFL playoffs, have turned to a titan of the baseball world as the "12th man" for Saturday afternoon's do-or-die game against the Washington Redskins.
Nashville native Mookie Betts was invited to Saturday's showdown to pump up the Nissan Stadium crowd in the pregame ceremony. And even though he doesn't play here, Nashville in my opinion has no greater ambassador in the sports world right now than the unassuming Betts.
He's just an average guy, size-wise, but the Red Sox right fielder's impact on major league pro sports is bigger than quarterback Marcus Mariota, red-hot running back Derrick Henry or any other Titan, larger than goalie Pekka Rinne or any other Nashville Predators star.
"It's just been one of those years where you're so excited and happy for him. It's like a dream come true," said Diana Collins, Mookie's mother, whom I profiled in the current edition of the Nashville Ledger.
After leading the Boston Red Sox, Betts became the first player in American League history to play for the World Series champions while winning league MVP, Gold Glove, Silver Slugger, and the AL batting title.
His 2018 stats included a .346 batting average with 32 HRs, 80 RBIs, 180 hits, 47 doubles, 81 walks, 91 strikeouts and 40 stolen bases.
Betts lives in Nashville during the offseason with his family. He's also a world-class bowler, having bowled several perfect 300 games, and on Saturday, Dec. 15, he hosted his annual bowling fund-raiser at Smyrna Bowling Center.
I got to spend a minute with Mookie talking about his goals for the 2019 season, which begins with in late February with spring training. Betts was recently informed he will be batting second in the Boston lineup after batting leadoff in 2018.
"I don't think it really matters. You've got to go play the game and those are things that don't really affect me at all," Betts said. "(My goal is) just normal stuff. Nothing more than what I did last year. Just trying to be consistent with what I did last year. As far as the offseason things, nothing more or nothing less than what I did the previous year."
But before spring training starts, Betts has one more big goal to complete for 2018 as the Titans' "12th Man." The Titans have to win their final two games against the Redskins and Colts, and get a little help in order to qualify for the AFC playoffs.
With Betts as their leadoff 12th Man, I don't see how the Titans can lose.
McNair Case Still Fascinates Media
I'm a third of the way through the Sports Illustrated nine-week narrative podcast 'Fall of a Titan: The Steve McNair Story' and the fourth episode drops on Wednesday, Nov. 7. It's worth a listen, whether you're a Titans fan, a McNair fan, or (like me these days) a mystery / suspense / thriller writer.
Because that's essentially what this is playing out as, a whodunnit. The police say they know whodunnit, and there's never been a mystery. That McNair was killed by his mistress. I'm
inclined to agree with the police assessment, based on what I've heard so far. There has been speculation, with a mix of tawdry gossip, and I'm assuming we'll learn more along the way.
Podcast Tim Rohan of Sports Illustrated, the leader in sports journalism, has done an excellent job
in staying true to the mission of being a skeptical journalist. I, too, am skeptical – of a lot of things Tim has so far presented.
When the podcast is over, I hope for one of two things to happen – that he has presented enough new evidence so that police will reopen the investigation, or that the podcast comes to the conclusion that the police assessment was correct, and everyone will finally let the McNair story rest in peace.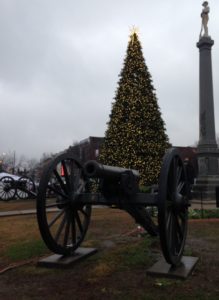 UPCOMING EVENTS: It was cold and rainy, but Authors Circle members had a wintry blast at Dickens of a Christmas on Dec. 8-9 in Franklin, TN. Plenty more events coming in 2019 from local authors. Hope you'll support our creative works throughout the coming year.
At left is a picture I took at Dickens. I call it 'War and Peace' and think it's one of the best photos I've ever taken. Thousands of people have passed this site at this time of year, but I wonder how many have stopped to consider the irony seen here. A picture is worth a thousand words, it is said, and I think that applies here.
And as always … thanks for reading.