And the Photo Caption Contest winner is …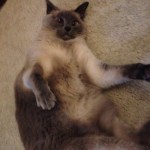 … Yvonne Nagy, for her submission to my Facebook contest giveway. Yvonne came up with "Does this carpet make my butt look big?"
Well done, Yvonne, and congratulations. I'll be in touch soon to get you a signed copy of my debut novel, Vendetta Stone.
This was a really tough decision with a number of witty, creative and – er, dare I say, catty – quips and quotes from and about Savannah, our 13-year-old Siamese mix.
Gary Frazier had a great Godfather reference with "If I agree not to bite you, one day…and that day may never come…I may ask a favor from you."
Donnie Clark's entry "I just caught a mouse. This big." works great off the picture.
Gerry Bennett had several good ones. My favorite was "I have a vendetta of my own," a play off Vendetta Stone. 
A few of you took a sort of Grumpy Cat approach, including Robert Mangeot, Blake Fontenay, Tommy Victor, Mary Bradley McCauley, Candy McCampbell and Ruth Lebovitz.
We once had a pet named Catnip and several took that high road, including those from Heather Carroll Tombleson, Susie Dunham and James Edward Davy.
Thanks to everyone for playing, and we'll do it again with some of the anthologies in which my stories appear, including Weird Western Yarns, Classic Westerns and Filtered Through Time.
Looking back at August: I had a great time on August 23 at the Brentwood Library Book Fair, and an even better time attending the Aug. 25 book launch for By Blood or By Marriage, an anthology from the Harpeth River Writers – all members of my critique group: Sandy Ward Bell, Suzanne Webb Brunson, John Neely Davis, Micki Fuhrman, Ruth Lebovitz, Michael J. Tucker and Bill Woods. More than 100 people attended he book launch at Kimbro's Cafe in Franklin.
Looking ahead to September: I will be spending Labor Day Weekend at the Decatur Book Festival in Atlanta (one of the largest in the South), then be back in Music City on Sept. 12 for the Made in Nashville event at Centennial Park.
This is the second year of Made in Nashville, which this year will benefit the Epilepsy Foundation of Middle and West Tennessee. It is an all-day event and I will be joined by nine other talented, local authors including Sandy Ward Bell, Bill Holley, Iscah, Robert Midgett, Susie Monick, Reba Stanley, John Thompson, Alana White and Ken Vanderpool.
There will be a wide variety of books in numerous genres and we invite you to join us and all the other Nashville vendors for a festive day of fun, food and music. If you're on the way to or from the Georgia at Vanderbilt game, or just looking for something different to do on a gorgeous Saturday afternoon in Nashville, please come join us.
Toward the end of the month, on Sept. 26, several other authors will join me that afternoon for A Taste of Bellevue at Red Caboose Park.
And speaking of signings, I don't know if it will take place, but Phat Bites Deli in Donelson just started carrying my book, and I will be doing a reading there in the near future.
Thanks for reading.