From Music City to Speed City
I cannot tell you how much I am looking forward to my Memorial Day weekend visit to Indianapolis. Not only will I be attending my first Indianapolis 500, but I also have a book signing at Indy Reads Books on Friday, May 27 from 6-8 p.m.
If you're in Speed City for the race, I hope you'll drop by the bookstore and say hello. And pass the word to your friends and family in the area. I am looking forward to making a lot of new friends while in town, especially the Speed City Sisters in Crime chapter. I'm a member of the Nashville chapter – a Mister Sister, they call us guys.
Nashvillians know my story, but if you're reading for the first time, here's my nutshell bio: I was a sports writer and copy editor for The Tennessean (Nashville's morning paper) for 36 years; I've written one fictional true-crime thriller, Vendetta Stone, with the sequel on the way; I've also written Westerns and a couple of screenplays including one based on Vendetta Stone; and I've been an extra on several TV and film productions, most notably Nashville, which just got cancelled after four seasons. #Nashies are howling, and producer Lionsgate TV is shopping the show to other networks. I also do some freelance journalism for several publications, including The Ledger.
Which bri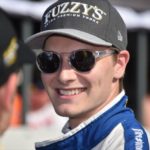 ngs me back to the Indianapolis trip. I recently interviewed Josef Newgarden (Indy photo by Dana Garrett), a 25-year-old Nashville-area native who has a legitimate chance to win the Centennial running of the greatest spectacle in racing. That article will appear in The Ledger on May 27, and also appear online. Here's Josef on the possibility of winning the 100th running:
"If you're going to win it, the 100th year is a good year to win it. But you take it no matter what year."
And her very well may win it. Newgarden will start in the middle of the front row in his blue No. 21 Preferred Freezer Services Chevrolet on Sunday, qualifying with a speed of 230.700 miles per hour on Pole Day. Only pole-sitter James Hinchcliffe was faster at 230.760, edging out Newgarden as the final qualifier.
Last year was a breakout season for Josef with two wins, two seconds and one pole position. His 2016 season has hit some speed bumps, but he was third at Alabama and appears to be peaking at the right time. Usually an objective reporter, I have to admit that itwill be hard not to cheer for my fellow Tennessean on race day. But I'm just looking forward to the whole Indy experience.
Newgarden wouldn't be the first Nashville-based driver to win Indy. Dario Franchitti was living in nearby Franklin, Tennessee, and still married to Ashley Judd when he won in 2010 and again in 2012. But he would become Nashville's first homegrown Indy 500 champ.
As always, thanks for reading.