College Football Season Has Arrived; Rebuilding Vanderbilt Edges by Hawaii
By TOM WOOD / AUGUST 27, 2023
It wasn't easy — not nearly as lopsided as last year's score — but Vanderbilt University's Team 3 under coach Clark Lea's opened the season with a 35-28 weather-delayed victory over Hawaii on Saturday night at FirstBank Stadium.
The ongoing construction at the stadium as well as the rebuilding project by Lea looked shaky at times. Those construction efforts and the prospects for a postseason bowl game are the subject of my latest story for the Nashville Ledger.
Vandy, coming off a 5-7 season, will have to beat all four non-conference foes as well as a couple of SEC rivals in order to reach a bowl game, so a loss to Hawaii would have been a major setback. Vandy won 63-10 last year at Hawaii; this year's game was in doubt until the final minutes when De'Ricky Wright's second interception of the game sealed the victory.
The Commodores looked solidly inconsistent in the opener, playing well at times but making too many errors. The pass defense was shaky but Wright's two huge INTs made up for it. On offense, sophomore QB AJ Swann threw for 358 yards and three TDs while Jayden McGowan returned a kickoff 97 yards for another score.
Up next for Vandy (1-0) is Alabama A&M next Saturday night. Meanwhile, No. 12 Tennessee opens the season next Saturday at Nashville's Nissan Stadium against Virginia (ABC/11 am CT, noon ET). That ought to be a great game, too, and could be a preview of a future SEC game if — as many think will happen — UVA and North Carolina switch leagues from the ACC to the SEC.
College football is back … rah-rah, siss, boom-bah!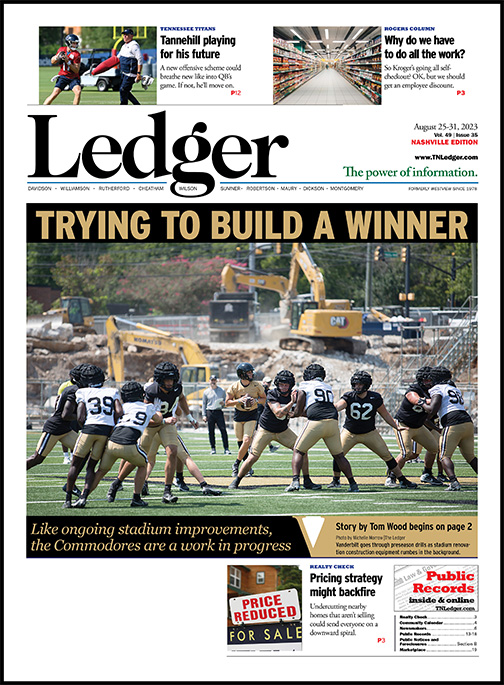 On and off the football field, Vanderbilt is a work in progress regarding both facilities and the SEC team led by coach Clark Lea.
Congratulations to author Robert Mangeot on winning several awards at the Killer Nashville International Writers' Conference earlier this month in Franklin, Tennessee. Bob earned a Claymore Award finalist in the Best Short Story Collection / Anthology category with "Parts of the Problem." The Claymore Award is for unpublished works while the Silver Falchion Award goes for already published books. My current project "Doomstone and Other Thrilling Tales" was a Claymore Award finalist.
The Claymore honor — and it's a very big deal to make it to the finals — comes on the heels of July's Tennessee Press Association Awards, where several of my 2022 articles helped the Ledger weekly newspapers in Nashville and Knoxville win numerous awards.
The General Excellence Award went to Knoxville and I was among the writers who helped Knoxville win first place for Business reporting. In Nashville, I was among the writers who won Best Sports Writing honors. I also had three second-place finishes for the Ledger.
The Ledger papers in Knoxville and Nashville won numerous Tennessee Press Association awards that were announced in July.
Here are some my the other recent Ledger stories:
Music City Grand Prix In Fast Company
As I write this, the third annual Music City Grand Prix revs up the engines for Sunday's 80-lap street race that begins at Nissan Stadium and crosses the Cumberland River via the Korean Veterans Memorial Bridge.
In 2024, due to construction of the new Titans stadium, the course will move downtown, racing along Lower Broadway and across the bridge. That's the subject of my Aug. 4-10 Ledger story, where you'll also see a map of the new course layout. IndyCar is moving the race from early August to mid-September, and it will be the Series' season-finale, where the champion will also be crowned.
I also write about Nashville driver Josef Newgarden and his quest to become the race's first American champion. It's not too much of a stretch to say that in just three years, the Music City Grand Prix has become IndyCar's second-biggest event behind the Indianapolis 500 — which Newgarden won for the first time in May.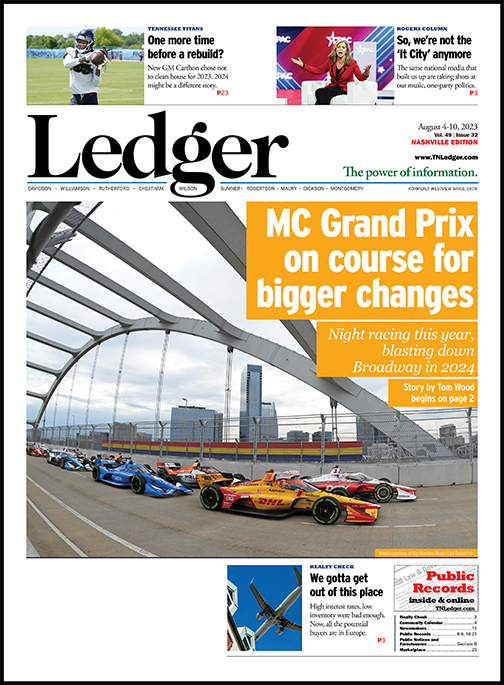 -Ledger cover by Michael Hopey
Summer Tourism Visitors: SEC, NHL
Here are the recent covers and story links to this busy, busy sports summer–from June's sold-out NASCAR Ally 400 at Nashville Superspeedway to the historic NHL Awards and Draft at Bridgestone Arena (held for the first time at the same venue in one city) deaths to upcoming SEC Football Media Days, which is cover story in the July 14-20 edition of the Ledger.
I spoke with former Vanderbilt quarterback Jordan Rodgers, who will be on Lower Broad on Tuesday night as one of the SEC Nation hosts. We had a great conversation, including the fact that he thinks UT could win the national championship this season.
–-Ledger covers by Michael Hopey
-Ledger cover by Michael Hopey
Another tourism aspect I've written about this summer is the state's entertainment industry. I recently spoke with Bob Raines, director of the Tennessee Entertainment Commission, about that growing segment and the fact that Nashville is starting its own Music, Film and Entertainment Commission.
As always, thanks for reading
Tom Wood