Time for Books, Boo-o-o-o's and Barbecue
October's always a busy month for authors, chock-full of festivals and conventions. But it sure is a lot of fun, and we've got several in our area that I'd like to remind you about.
My hectic month of promoting Vendetta Stone and several anthologies began on Oct. 3 with a visit to the soggy (and eventually rain-shortened) Autumn Street Fair in McMinnville. I joined a handful of Middle Tennessee authors, including (photo, from left) Christian romance writer Reba Stanley, poet VeerajaR, memoir author Col. Thomas B. Vaughn and crime/mystery novelist R.D. Sherrill.
Lots of blue in that photo, but our spirits weren't dampened by on a cold, rainy day. I do hope the weather's better for these upcoming events, several of which are outdoors. Books and rain just don't mix.
Next weekend is the Southern Festival of Books, a great annual event at War Memorial Plaza in downtown Nashville. I'll be hosting one session for local author John Neely Davis, who will be speaking about his most recent book, Bear Shadow. I'm in a Franklin critique group with John, and he is a compelling writer. Come listen to
Most of the speaking events are indoors, but the author tents are outside and the weather can be a factor on attendance. It rained a lot last year,
On Oct. 24, look for our group of authors at the Jack Daniel's International BBQ Championship in Lynchburg. This one draws crowds of 20,000 from all over the country, and contestants from across the globe. Our authors went last year for the first time and couldn't wait to get back this year. We'll have 10 authors at that event with a wide range of genres, from thrillers and mysteries to westerns and memoirs, and a few others to be finalized.
Finally, I'll be spending Halloween at the Killer Nashville writers convention at the Omni Hotel. This is the 10th anniversary of the event and this year has a fan-friendly BookCon that you'll want to check out. We'll have up to 10 authors there as well, and this event could be the start of something big. Halloween costumes are encouraged (haven't decided what I'll be wearing; suggestions are welcomed). Just don't boo the authors.
Hope you'll check  out one of these great events. The Southern Festival of Books and Killer Nashville are major book events and the Jack Daniel's competition is an international competition.
Hope our paths cross in the near future, if they haven't already.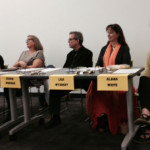 Looking back at September: Bellevue Branch was the place to be on Sept. 26. I'm a member of the Middle Tennessee chapter of Sisters in Crime (guys are AKA Mister Sisters), which showcased an event at Nashville's year-old public library.
"Cozies, Cops and Conspiracies – Five Local Authors On The Case" featured award-winning Nashville authors  Jenna Bennett, J.T. Ellison, Alana White, Stephen Womack and Lisa Wysocky on the panel discussing their books and their craft that day.
I was also at two great events this month that attracted thousands of people, the Decatur Book Festival over Labor Day weekend in Atlanta and  Made in Nashville a week later at Centennial Park.
Great new bookstore in Chattanooga: On my way to the Decatur Book Festival, I stopped in Chattanooga to check out a brand-new independent bookstore I'd heard and read about, Star Line Books on Market Street.
I met the owner, Star Lowe, and it turns out we have a lot in common. We both went to Middle Tennessee State University, both majors in Mass Communications and even had the same advisor, Glenn Himebaugh. Small world.
Long story short, I had a great time talking to her and the crew, and she has agreed to carry Vendetta Stone in her store. I feel very fortunate to be there and hope to do a signing at some point.
If you're in the Chattanooga area, check out the store. It's really easy to find, located directly across the street from the Chattanooga Choo Choo hotel and entertainment complex.
Thanks for reading.