First Responders to Covenant Shootings Discuss Emotional Support They Received
By TOM WOOD / APRIL 20, 2023
I recently attended a Metro Nashville Police media briefing where the first responding officers spoke for the first time about their actions in the horrific March 27 mass shooting at Covenant School which resulted in six deaths … three children and three adults identified as Evelyn Dieckhaus, William Kinney and Hallie Scruggs, all age 9; Mike Hill, 61; Cynthia Peak, 61; and Katherine Koonce, 60.
Also killed by police was the shooter. Their rapid response (13 minutes) prevented more deaths, and they spoke not only about their actions leading up to that point but also the emotional support they've received from a grateful community. That's what I write about in the April 21-27 edition of the Ledger.
"It's tough, but our department's done a phenomenal job. Our support doesn't just go toward officers; it goes to family," Det. Mike Collazo said. "So we're working on that, setting up interviews for our family members to go through, talk to counselors, talk to the chaplain. And it helps. A lot of the community has reached out, has actually talked about our families. And they're praying for our families and they're thinking about our families. And it goes a long way for us."
Collazo and Officer Rex Engelbert were the first two policemen to reach and take out the shooter. Police Chief John Drake, Midtown Hills precinct commander Dayton Wheeler, and detective Sgt. Jeff Mathes attended the media briefing with Collazo and Engelbert.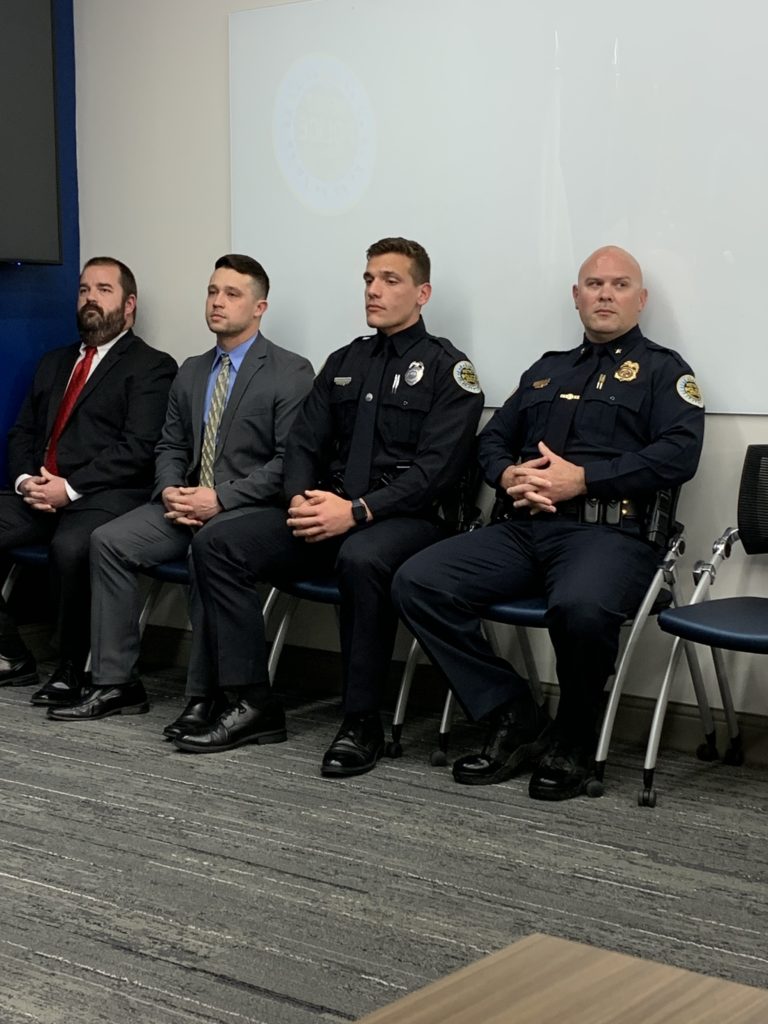 From L-R: Det. Sgt. Jeff Mathes, Det. Mike Collazo, Officer Rex Engelbert and Midtown Precinct Commander Dayton Wheeler.
–Photo by Tom Wood
I also spoke with British social and crisis psychologist Dr. Shamender Talwar, who when shown a photo of the struggling officers sitting at the media briefing room had tears in his eyes before he spoke.
"The stigma of mental health should be taken seriously. The new pandemic after COVID is mental health issues, mental health illness, mental health situations. And Nashville is an eye-opener," Talwar says. "They are suffering post-trauma to what they've witnessed and they need support as much as the parents.
Here are some my the other recent Ledger stories:
VandyBoys Visit UT This Weekend
By TOM WOOD / APRIL 14, 2023
For 16 consecutive seasons, the Vanderbilt baseball program has advanced to the NCAA tournament on the road to Omaha and the College World Series. But after last year's ride ended early, a lot of fans didn't expect the VandyBoys to bounce back like they have this season.
That was the subject of my article in the April 14-20 edition of the Nashville Ledger.
This weekend (April 21-23) Vand