NFL draft in Nashville is the main show but ex-Vandy QB's fate a good sideshow 
I had an opportunity recently to meet former Vanderbilt quarterback Kyle Shurmur and discuss his potential future in the National Football League.
The NFL Draft that will be held in the streets of downtown Nashville April 25-27 is arguably the biggest event Music City has ever hosted. Certainly the biggest sporting event and perhaps even larger than the annual CMA Music Festival.
It is free to the public. That means some 300,000 (some estimates NFL fans from across the nation will descend on Nashville each day to watch this latest gathering of what I like to call "The Instant Millionaires' Club."
While most pre-draft coverage has focused on the biggest stars of the sport, Shurmur has gotten his fair amount of looks — from the scouts as well as the media.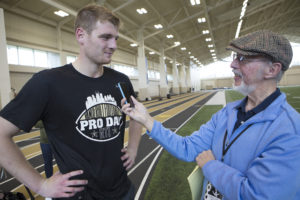 Part of it is because of his record-breaking career at Vandy, but some of it is also because his father Pat is the head coach of the New York Giants. Could Kyle someday be playing for his father? Against him? Will the Giants draft him in the latter rounds if he hasn't been selected by another team?
"Football's football, and at the end of the day, obviously, it'd be cool to be around my dad," Kyle Shurmur said. "But at the same time, he's got a job to do, and I have a job to do. So any opportunity I'll be grateful for."
My opinion, for what it's worth, is that Shurmur certainly would get a shot at the NFL because it is merited on his stats. He has the size, the smarts and the heart to play on Sundays. Will he ever be a starter in the NFL? Only time will tell.
CONGRATS TO LIPSCOMB BASKETBALL: Win or lose in Thursday's (April 4) National Invitation Tournament championship game, kudos to coach Casey Alexander and the Lipscomb University men's basketball team.
The Bisons will meet Texas for the NIT crown at Madison Square Garden. No longer as prestigious as the NCAA Championship, winning the NIT title would nevertheless be a high point for Lipscomb, which won an NAIA championship in 1986.
I covered Alexander when he was a spitfire guard for Belmont, and have covered Lipscomb games the past few years when they hosted Florida Gulf Coast in the Atlantic-Sun Conference showdowns. Casey's teams have gotten stronger each year he's been at the school, earning their first NCAA Tournament berth a year ago.
The Bisons just missed returning to the NCAA field this season, falling to Liberty in the A-Sun tourney title game. But despite that setback, this season has proven to be a pinnacle of success for the Bisons.
Reaching the NIT semifinals was tough — winning three road games in the state of North Carolina, the cradle of college basketball. The Bisons overcame Davidson, UNC Greensboro and N.C. State to advance to Tuesday night's NIT semifinal.
In that game, the Bisons had to overcome an 11-point deficit in the final eight minutes and held Wichita State scoreless the last 3-1/2 minutes to seal the victory.
And now Texas. A David vs. Goliath matchup in terms of national perception of the progams.
Go get 'em, Bisons.
BELMONT COACH BYRD RETIRES: I'll never forget a conversation I had with retiring Belmont Bruins basketball coach Rick Byrd back in the mid-1990s when the school had reached the NAIA semifinals for the second consecutive year, and had announced plan to move up to the NCAA Division I level.
I remember telling coach Byrd that his team would never again play for a national championship. His teams proved me wrong eight time during his tenure, reaching the NCAA round of 64 and therefore being eligible to play for the NCAA crown.
This season, the Bruins got their first NCAA Tournament victory, beating Temple 81-70 in the First Four before losing to Maryland 79-77 in the first round. It was a heck of a ride and the perfect way for Rick to end his remarkable coaching career.
So congratulations to one of the best coaches I ever had the pleasure to write about.
UPCOMING EVENTS: I will be appearing at the Main Street Festival in Franklin with number of local authors April 27-28. You can also get a copy of Vendetta Stone at Mill Creek Mercantile in Donelson, or order one at Parnassus.
Kudos to Franklin author Bill Peach for organizing the June 1-2 Authors Circle Franklin Book Festival at Williamson County Library. More than 40 Nashville-area authors — and even a few outside the area — will be participating in panel discussions and meet-and-greets with the public.
I will be hosting a panel on Saturday at 2 p.m. to discuss anthologies with Michael J. Tucker, Kathy Rhodes, Bill Woods and Catherine Moore. We're working on one that will be out later this year.
Go to my page on Facebook — Tom Wood – Vendetta Stone — for more information.
And as always … thanks for reading.