Veteran sports writer and copy editor Tom Wood has covered a wide variety of events — ranging from Nashville universities to boxing, from the Iroquois Memorial Steeplechase to the 1996 Atlanta Olympic Games — for The Tennessean, where he also wrote a number of entertainment features. After his retirement from that newspaper, he has continued to contribute freelance articles for several news outlets.  Several are featured below.
Mr. Wood is a member of the Harpeth River Writers critique group, which in 2019 published the water-themed anthology WORDS ON WATER. You can't live without it; just as water quenches thirst, books quench the soul. Indulge your fascination with water in this impressive anthology brimming with more than two-dozen prose and poetic works by The Harpeth River Writers. Your reading forecast may bring forth a well of tears, the pleasure of a gentle summer rain, or the rage of an ocean squall. From desert sands to deep southern rivers, and even local laundromats, these nine authors bring wet and wild narratives. Are you ready to plunge into a great read? The Harpeth River Writers is a collective of award winning authors from Tennessee, whose divergent talents include fiction, memoir, and poetry, spanning 18 published books.
The Harpeth River Writers is a collective of award winning authors from Tennessee, whose divergent talents include fiction, memoir, and poetry, spanning 18 published books. The collective consists of Sandy Ward Bell, Suzanne Webb Brunson, Catherine Riddle Caffey, John Neely Davis, Micki Fuhrman, Catherine Moore, Michael J. Tucker, Tom Wood, and Bill Woods.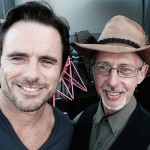 Mr. Wood also has entered the world of acting over the last year, appearing in a music video for local band The Features, acting as a background extra in the TV series "Nashville" on numerous occasions (at left with Chip (Deacon) Esten after a 2015 taping in Gallatin, and appearing as an extra in the movie "The Identical", starring Ray Liotta and Ashley Judd. There have been a couple of other movie appearances ("Providence, in theaters now (2016) and in one episode of "Still The King" starring Billy Ray Cyrus and debuting in June 2016 on CMT. (See a gallery of Mr. Wood in various acting roles.)
* * * * * *
My short story "Death Takes a Holliday" is now available via publisher Troy Smith and Western Trail Blazer on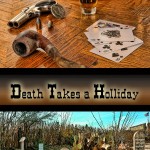 amazon: http://www.amazon.com/Death-Takes-Holliday-Tom-Wood-ebook/dp/B00I53B8XM/ref=sr_1_1?s=digital-text&ie=UTF8&qid=1391233129&sr=1-1&keywords=death+takes+a+holliday or on smashwords:
http://www.smashwords.com/books/view/403417   Smashwords will have it distributed to Apple, Sony, Kobo, etc. Here are the covers by Karen Michelle Nutt that ran with the e-book as well as the cover for the just-released Western Trail Blazer cover for "Weird Western Yarns, Vol. 1."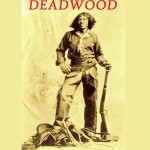 We have launched of our Western historical fiction project about Tennesseans who made their mark in the old West. Joining me for this series are Troy Smith, Vonn McKee, John Davis and Cameron Judd. My first story "A Live Wire in Deadwood" is about cowboy Deadwood Dick, who was born a slave on a Davidson County plantation. He left Nashville at age 15.
This story is no longer available in ebook format at http://amzn.to/1vySZtj and https://www.smashwords.com/books/view/517670. Our short stories will appear first online as e-books, then they will be released in a book form just like "Weird Western Yarns" and all the other Western Trail Blazer books.
* * * * * *
Blog post for Killer Nashville
July 10, 2013
I always loved a good mystery, but never, ever, in my thirty-six-year career as a sports writer and copy editor at a major Southern daily newspaper did I imagine writing one. So when I decided it was time to write my Great American Novel, a tale of mystery was the last thing I envisioned. Even when the idea for a newspaper-rooted story took hold (don't we all write what we know?), I wondered if I could pull off the monumental task I had set before myself.
<…read more>
* * * * * *
Articles for The Ledger
From May 31, 2019: 
Nothing but the Truth
Higher power led cold-case P.I. Wysocki to her calling
An 'otherworldly' experience on an otherwise perfectly normal night 15 years ago changed Sheila Wysocki's life.
She calls the 2004 event at her Nashville home a "God nod" (one of Wysocki's pet phrases) and tells how she was in bed doing Bible-study "homework," not at all thinking about the murder of her college roommate two decades earlier.
Wysocki, who is now considered one of the nation's leading cold-case private investigators, says it was something she "fell into. It's not what I strived to be in my life. I wanted to be a mom, a good one, and I wanted to be a good wife.
"But I believe in a higher calling and a higher purpose, and I think that being a P.I. – every time I try to stop, a fantastic, complicated case comes along that I know I can resolve – and, I mean, that's what I'm supposed to be doing. And it also gives me a lot of joy."
****
From August 30, 2019: 
Commodore on the Cusp
Vaughn shrugs off doubters as he unleashes the star within
You can't see it, but Ke'Shawn Vaughn confirms its existence, covered up by bulky shoulder pads and well beyond the scope of reality television star Dr. Pimple Popper.
It's a chip on his shoulder. A big one. Usually hidden with a broad, endearing smile that belies just how much it drives the heralded running back going into his final season at Vanderbilt.
The phrase's dictionary definition is 'to have an angry or unpleasant attitude or way of behaving caused by a belief that one has been treated unfairly in the past." Vaughn isn't angry or unpleasant — just the opposite — but it aptly describes both his and the team's approach to the 2019 season.
"That's fair to say. Right now, it's bigger than me," Vaughn says when asked if he plays with a chip on his shoulder. "Right now, it's all about this team. And we still get doubters to this day."
****
From July 26, 2019: 
A Tennessean's dream of walking on the moon
It's a longshot for Mt. Juliet astronaut, but …
A Tennessean on the moon? It could happen. In his July 20 remarks to celebrate the 50th anniversary of man first landing on the moon in 1969, Vice President Mike Pence said the U.S. is planning a return trip to the moon "within the next five years, and the next man and the first woman on the moon will be American astronauts. We're going back."
That's good news for Murfreesboro native Barry (Butch) Wilmore, who grew up in Mt. Juliet and graduated from Tennessee Tech before a stellar Navy career that propelled him to acceptance into the NASA Astronaut Corps in 2000.
Wilmore, who has flown two space missions, including a 5½-month stay aboard the International Space Station 2014-15 for 178 total days in space, says he would jump at the chance to go to the moon, but won't be sorry if he doesn't get selected.
****
From June 28, 2019: 
Hemp is hip and tobacco is out 
Springfield farmer Corbin leads the green rush to Tennessee's fastest-growing crop
Hemp is everywhere. According to the Tennessee Department of Agriculture, the cannabis plant's one-year growth of hemp, which has sparked the CBD oil craze, has been phenomenal.
In 2018, there were 226 licensed hemp growers in Tennessee who worked 1,034 acres in 221 fields scattered across 65 counties. This year, more than 2,900 Tennessee licensed farmers are growing hemp in more than 40,000 acres on 6,400 fields in every county.
You can read all the details this week in my Nashville Ledger cover story. The main article begins with the tale of Springfield, Tenn., farmer Bill Corbin, whose farm I visited last week. Bill is a real character, a salt-of-the-earth (maybe that should be hemp-of-the-earth) kind of guy who is instantly likable and passionate about growing hemp.
Bill spent his entire life growing and working in tobacco fields, a third-generation tobacco farmer. In 2015, he began growing hemp as well as tobacco. This year, he is no longer growing tobacco, only hemp.
****
From June 14, 2019: 
Time to GET OUT of Nashville
Want to avoid the CMA Fest invasion? Ledger has some tips for short getaways
If you like jam-packed, can't-breathe crowds squeezed into every nook and cranny of Lower Broadway streets and clubs, if you like being part of the scene, if you like the fact that the NFL Draft accounted for a record $133 million in direct spending in Nashville and set another record with overall economic impact of $224 million, then you're probably already shaping the brim of your cowboy hat and polishing your boot-scooting skills, eager to head back downtown for the June 6-9 CMA Fest.
But if you're claustrophobic or suffering from a fear of crowds (that's enochlophobia, BTW), still miffed about increased traffic, ticked about not being able to get a table at your favorite restaurant or – insert favorite grumbles here – the Ledger only one piece of advice.
GET OUT!
Hit the road. A four-day weekend getaway from Music City is what you need, though you may want to take off the whole week. Your blood pressure will drop while visitors dance the nights away and spend their money while you're gone.
It's a win-win!
****
From May 24, 2019: 
Spilling the secrets of 'Secret City'
Oak Ridge historian Smith tells stories from the founding of city during the Atomic Age
Who knew the beginning of the Atomic Age was so funny? Sort of like the Humor in Uniform section of "Reader's Digest," Oak Ridge historian Ray Smith uses homespun humor to tell a condensed version of the key role his city played in the development of the atomic bombs that ended World War II.
Instead of dwelling on the horrors of war, facts and figures or sobering statistics, Smith combines well-crafted anecdotes, perceptive wit and superb oratory skills to present an informative, inspirational and entertaining multimedia narrative of the founding of Oak Ridge.
Like a modern-day alchemist, he deftly changes atomic matter into a laughing matter.
****
From April 26, 2019: 
From Carolina Blue to Black & Gold
New Vanderbilt men's basketball coach Stackhouse brings stability to program
The easy path. That's never been the way for Jerry Stackhouse. He's always taken the hard road to success.
Legendary North Carolina basketball coach Dean Smith made sure of that, and it was a lesson that Vanderbilt's new men's basketball coach has never forgotten.
"(Coach Smith) always did it the right way. He didn't have to try to sell me," Stackhouse, 44, recalls. "He sold me on the program … didn't promise me anything, didn't promise me that I was going to come in and play 30 minutes a game – which I didn't.
"But he promised me that he'd be a foolish coach if he didn't play his best players."
Stackhouse flashed a Cheshire Cat grin at that recollection, then turned serious, saying it's the kind of atmosphere he intends to bring to Vanderbilt, which fired coach Bryce Drew in late March after an 0-19 run through the Southeastern Conference (including the first-round tournament loss) and a 9-23 record overall.
****
From March 1, 2019: 
Is Nashville Ready for High-Tech?
Companies and entrepreneurs have already arrived in Music City with more on the way
How can Nashville enhance its reputation as a tech savvy city? What do cities like San Francisco, Seattle, Austin, Texas – even Huntsville and Chattanooga – have that Nashville doesn't?
Should Nashville want to be considered a mini Silicon Valley?
Those are just some of the questions facing Nashville with the impending arrival of Amazon and its 5,000-job Operations Center of Excellence. Construction has already begun on the 15-acre campus at the $1 billion Nashville Yards project, which also will include retail, apartments, an entertainment center and a Grand Hyatt luxury hotel.
And it's not just Amazon. Nashville is now home to tech-enabled companies like AllianceBernstein, Lyft, UBS, Ernst & Young, Eventbrite, Postmates and Houzz, among others.
The doughnut counties surrounding Nashville have also seen growth in luring tech industry, most notably in Montgomery County where Google is building a $600 million data center.
****
From Feb, 15,2019: 
Vandy's unconventional AD hire
Is sports marketing exec who's never run college program just what Vanderbilt needs?
Malcolm Turner has known one precious mentor all of his life. Another was part of his life for an all-too-brief span.
But there is no question both have been important role models in helping determine what Turner, 47, hopes to accomplish as Vanderbilt's new athletics director.
It is Turner's first foray into collegiate athletics administration and comes at a pivotal moment in time for Vanderbilt, which faces numerous questions on a range of issues from potential coaching changes to waning attendance, from facilities to fundraising.
Nevertheless, Turner appears to be a perfect fit for Vandy because of his strong sports business career and a superlative educational background. He was named to the position in early December and began Feb. 1, replacing the late David Williams II, who announced his retirement in September and unexpectedly died Feb. 8 at age 71. Williams was the SEC's first black athletic director.
****
From Jan. 25, 2019: 
Change, charm in Hillsboro Village
Shopping enclave has long history of old favorite stores giving way to new ventures
Charm and change. Those two words come up often when talking about Hillsboro Village, the ever-trendy, four-block Nashville shopping district which is quickly approaching its 100th anniversary.
The charm has been there since Day One (so I've read; I'm not that old).
And the change? Well, that term has probably been attached to the Village since Day Two.
"Do you remember that old daytime (TV) show 'As the World Turns?' I want to call it, 'As the Village Turns,' says Scott Davis, owner of Davis Cookware and Coffee, chuckling about all the changes he's seen in 50 years of working in Hillsboro Village.
"There's always some drama. And there's always what I call perspective."
****
From Nov. 30, 2018: 
The Good, the Bad and the Ugly summarize first 100 days of Bird, Lime in Music City
Forget politics, religion, sports or movies. If you want to start an argument in Nashville these days, bring up "shared urban mobility devices" – aka scooters.
Everyone has an opinion on their future in Music City and their role in Nashville's burgeoning transportation problems.
Fans love riding scooters, and foes hate dodging them, but we're all dealing with them. The dockless, electric vehicles reach speeds up to 15-18 mph, and can be ridden or parked anywhere – including sidewalks, parks, loading zones outside businesses.
Scooter operators Bird and Lime each boast 1,000-unit fleets here, which some see as part of the problem, not the solution.
****
From June 29, 2018: 
Dutchman's Curve: 100 Years Later
Why ' the worst train crash in American history – 101 dead – was quickly forgotten
Standing out here in the freshly-mown grasses of Richland Park Greenway, several yards from the Dutchman's Curve Train Wreck historical marker placed alongside White Bridge Road, I listen for ethereal echoes of the past.
This is as much a ghost story as it is a history lesson.
Call it 'Ghosts of Dutchman's Curve' because they still whisper to us as the 100th anniversary of the nation's deadliest train wreck fast approaches. Remember us, they murmur on the gentle wind that stirs the humid air.
It is Saturday, June 9, a little after 7 a.m. – exactly 99 years and 11 months after the accident occurred. Exactly where I am standing on this sun-splashed morning in Belle Meade. One month shy of a day of remembrances that will take place for one of Nashville's largely forgotten tragedies – yet one that still profoundly resonates with many people nearly a century later.
"From the very beginning of this journey – when I first started this project – I felt like the ghosts of Dutchman's Curve had chosen me to learn their names and tell their story. I heard their voices and did as they asked," says Betsy Thorpe, author of the 2014 book, "The Day the Whistles Cried: The Great Cornfield Meet at Dutchman's Curve.''
****
From June 29, 2018:
'Super Bowl of bass fishing' will have huge economic impact on area in spring
The Super Bowl is coming to Knoxville! Actually, it's "the Super Bowl of Bass Fishing" – an important distinction, to be sure. But the widely accepted comparison aptly describes the impact that next spring's bass fishing national championship is expected to have on the area.
The 49th GEICO Bassmaster Classic presented by DICK'S Sporting Goods will be held March 15-17 on the Tennessee River, including Fort Loudoun and Tellico lakes and the Holston and French Broad Rivers. Competitors will take off daily from Volunteer Landing downtown, and weigh-in ceremonies will be held inside UT's mammoth Thompson-Boling Arena.
Additionally, the fan-friendly Bassmaster Classic Outdoor Expo will be held each day in the Knoxville Convention Center and the newly renovated World's Fair Exhibition Hall.
"It's a huge get for the Knoxville area, the region and the state," says Chad Culver, senior director of the Visit Knoxville Sports Commission, which recently hosted USA Cycling Professional Road, Individual Time Trial and Criterium National Championships.
****
From Dec. 16, 2016
After weathering fan doubts, head-scratching losses, VU coach finds redemption
"I spent the last 24 months driving past this orange mailbox, and I wanted to hit it every day. Every day. Sometimes I'd swerve and I'd pull back and just keep going. Now I don't have to hit it. I just wave at it."
— Vanderbilt coach Derek Mason on his team's win against rival Tennessee
In these heady times – rich and intoxicating for Vanderbilt players, coaches and fans – Commodore head football coach Derek Mason is somewhere between the calm in the storm and the storm itself.
Vandy has earned its first postseason appearance in three years – its eighth all-time and the first under Mason.
The Commodores also ended a roller coaster of a season by winning four of the last six regular-season games. They were at their most impressive in the last two at home, thumping Ole Miss 38-17 and then rallying from a three-point halftime deficit to overwhelm Tennessee 45-34 in the finale.
Vandy will now face the North Carolina State Wolfpack in the Independence Bowl on Dec. 26 in Shreveport, Louisiana. It is a battle of 6-6 teams, a lesser bowl in the grand scheme of college football's postseason, but one with so much meaning for the 46-year-old Mason and win-starved Commodores fans.
****
From Nov. 25 2016
Vanderbilt's new coaches work to reverse fading attendance
Memorial Gym Magic hasn't exactly disappeared, but fans of Vanderbilt's storied basketball programs certainly have. In droves.
Only time will tell if new Commodores coaches Bryce Drew and Stephanie White can halt the attendance tailspin of the final six seasons under Kevin Stallings and Melanie Balcomb, but early indications offer hope of an upsurge both on the court and at the box office.
Vandy's combined home attendance (men and women) dropped a staggering 4,207 fans per game in a six-season span from the 2010-11 season through 2015-16, NCAA attendance records reveal.
Drew, who excelled as both a player and a coach at Valparaiso University, is the Commodores' new magic man.
He has been tasked with the job of re-igniting the fan base, of taking the program to the next level, of rekindling that missing aura and – once again – filling seats at one of the nation's iconic gymnasiums.
A high-achiever all his life, Drew is certainly aiming high for his fledgling program here.
Read more
****
From Sept. 30, 2016
Nashvillian, MVP favorite has quickly won the heart of Red Sox Nation
A month or so ago, Boston fans selected Nashville native Mookie Betts as their favorite Red Sox player in the fifth annual New England Sports Survey.
And in voting for the player "most admired for their contributions to the team," it wasn't even close. The 23-year-old Overton High School graduate drew 34 percent of the votes – well ahead of the 21 percent accorded David "Big Papi" Ortiz, who is having a stellar final season for the Red Sox and is one of the most popular New England sports figure of all time.
The survey, conducted by Channel Media & Market Research polled 10,968 Red Sox fans, a healthy sampling.
Come mid-November, we'll find out if the rest of the baseball world agrees – or perhaps the other way around – when the American League Most Valuable Player and other postseason honors are announced.
Betts and Ortiz are considered by many baseball observers as among five front-runners for the annual honor along with Houston Astros second baseman Jose Altuve, third baseman Josh Donaldson of the Toronto Blue Jays (the defending AL MVP) and outfielder Mike Trout of the Los Angeles Angels. Baltimore Orioles third baseman Manny Machado is also a leading contender.
"Mookie absolutely is going to come down to the wire as one of the finalists in the American League for MVP. I think he's got a real shot to win it," says Buster Olney, a former Nashville Banner sports writer who now is a senior writer for ESPN and also serves as the network's MLB analyst and Sunday Night Baseball reporter.
****
From April 24, 2015
New ballpark boosts area already teeming with new homes, restaurants, businesses
For months, sounds of construction surrounded the Nashville Sounds' sparkling new First Tennessee Park in Germantown.
The constant thump-thump-thump of pounding jackhammers competed with the irritating, high-pitched beeps of vehicles backing up. Ka-ching! Cranes lifted steel beams into place, keeping time with a syncopated thrumming of never-ending drilling. Ka-ching!
The chugs of a Sod Installer Roller laying grass over dirt in the infield, the outfield and on the berm behind the left-centerfield wall. Ka-ching! A foreman's shouted instructions to laborers on where this or that goes. Ka-ching!
Now the prominent sound is of ringing of cash registers – Ka-ching! – as baseball returns to its Music City roots, and redevelopment of this historic North Nashville neighborhood hits the stratosphere.
Since April 17 – when the Nashville Sounds opened their new home – one hears resonances of children squealing and parents oohing and ahhing at the lush greenery and shiny magnificence of this 10,000-seat facility at the historic Sulphur Dell site, of vendors shouting "getcha co-o-old beer here," of the singing of the national anthem and the umpire's throaty shout of "Play ball!" followed by cheers, boos and postgame fireworks.
** ** ** ** ** ** ** ** ** ** **
From May 2, 2014
By this time next week, Thursday night at the earliest and Saturday afternoon at the very latest, Jordan Matthews will have a job lined up.
Fitz Lassing already has one.
Two Vanderbilt graduates with economic majors, football teammates, young men with shared goals, faith and values, they are preparing to leave the relatively sheltered campus life on West End and head for the fast lane.
They're just taking different paths.
From Dec. 13, 2013
The Titans (5-8) and University of Tennessee (5-7) have experienced down years. The NFL team's playoff hopes are on the ropes, while the Vols failed to make a college postseason football bowl game for the third consecutive year.
Meanwhile, Vanderbilt University (8-4) is headed to its third consecutive bowl game under coach James Franklin. And the NHL Predators (15-14-3) are struggling to ride a roller coaster season.
But how much do those season records factor into merchandise sales? It depends on who you ask and when you visit.
-DECEMBER 13, 2013
More from the Nashville Ledger
Articles for the Fort Myers News-Press
From Jan. 14, 2017
College basketball: FGCU holds off feisty Lipscomb
NASHVILLE, Tenn. – Zach Johnson watched his Florida Gulf Coast basketball team squander a big first-half lead. And with another meltdown a real possibility, the sophomore guard wasn't about to let it happen again.
Thanks in large part to Johnson's big plays down the stretch, the Eagles (14-5, 3-0 ASUN) hung on for an 84-80 victory over scrappy Lipscomb (10-10, 2-1) on Saturday night at Allen Arena.
After Lipscomb rallied from 12 down for a 40-40 halftime tie, FGCU rebuilt its lead to 14 at 74-60 with six minutes left in the game. But the Bisons — much like they ended the first half — came back strong and made the Eagles work for their third consecutive league road victory and seventh overall.
"We knew they were a real good offensive team and they were definitely going to have some runs just like we had some. It's just how you sustain them and how you're going to hold your own," said Johnson, who led FGCU with 23 points.
From Nov. 20, 2016
College volleyball: FGCU misses NCAA berth after falling to Lipscomb in ASUN final
NASHVILLE, Tenn. —  A record-setting season came to an end with a few tears and a lot of determination.
Third-seeded Florida Gulf Coast (27-6) dropped a 3-1 heartbreaker to top seed and defending champion Lipscomb (22-7) in the Atlantic Sun volleyball championship on Saturday night at Allen Arena.
The victory gives the host Bisons the league's automatic big to the 64-team NCAA Tournament. Pairings will be announced next Sunday.
From Feb. 15, 2015
NASHVILLE, Tenn. – For 34 minutes, it looked like it was going to be another St. Valentine's Day massacre. FGCU was in complete control, sporting a 13-point lead with six minutes remaining at Lipscomb University. Then the Bisons got hot down the stretch, made a charge and turned a snoozer into a thriller.
When the dust finally settled Saturday, the league-leading Eagles (19-7, 9-1 A-Sun) had survived for a 76-74 victory before 1,213 roaring fans at Allen Arena.
From Jan. 30, 2015
NASHVILLE, Tenn. – That 14-game win streak for league-leading Florida Gulf Coast University looks pretty impressive. But the numbers put up in those first few minutes of Thursday night's rout at Lipscomb were actually pretty horrible. The Eagles (19-2 overall, 6-0 A-Sun) got off to a terrible start but eventually coasted to a 71-49 victory over Lipscomb (8-12, 3-3) at Allen Arena.
From May 17, 2014
NASHVILLE, Tenn. – Zack Tillery and FGCU coach Dave Tollett were beaming with pride and eagerly looking forward to the upcoming Atlantic Sun Conference tournament after winning the regular-season championship Friday.
From Jan. 29, 2014
Florida Gulf Coast beats Lipscomb
Articles for the Naples Daily News
From Nov. 20, 2016
College volleyball: FGCU loses to Lipscomb in Atlantic Sun championship
NASHVILLE, Tenn. — Disappointment quickly gave way to determination for the Florida Gulf Coast volleyball team.
Third-seeded FGCU (27-6) was still looking for its first Atlantic Sun crown after suffering a heartbreaking 3-1 loss to top seed and defending champion Lipscomb (22-7) on Saturday night at Allen Arena.
From Feb. 15, 2015
NASHVILLE, Tenn. — Sitting alone atop the Atlantic Sun Conference, riding a program-best eight-game winning streak, is like playing king of the hill.
From May 17, 2014
NASHVILLE — A genuine hometown hero carried Florida Gulf Coast to its first Atlantic Sun Conference baseball championship in four years.
Zack Tillery, a junior third baseman-pitcher from Barron Collier High School, hit the game-winning home run and picked up the save in a 3-2 victory over Lipscomb in the first game of Friday's doubleheader at Dugan Field.
* * * * * *
Articles for The Knoxville News Sentinel
From Spring Fling, May 19-24, 2014
Second Class A-AA title in a row has CAK wanting more
May 24, 2013
Moments after Christian Academy of Knoxville successfully defended its Class A-AA soccer championship, some of the smiling, eager underclassmen were already thinking ahead to more hardware for the Warriors' trophy case.Three-peat? Nope.   <…read more>
More from the Knoxville News Sentinel