Veteran sports writer and copy editor Tom Wood has covered a wide variety of events — ranging from Nashville universities to boxing, from the Iroquois Memorial Steeplechase to the 1996 Atlanta Olympic Games — for The Tennessean, where he also wrote a number of entertainment features. After his retirement from that newspaper, he has continued to contribute freelance articles for several news outlets.  Several are featured below.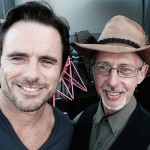 Mr. Wood also has entered the world of acting over the last year, appearing in a music video for local band The Features, acting as a background extra in the TV series "Nashville" on numerous occasions (at left with Chip (Deacon) Esten after a 2015 taping in Gallatin, and appearing as an extra in the movie "The Identical", starring Ray Liotta and Ashley Judd. There have been a couple of other movie appearances ("Providence, in theaters now (2016) and in one episode of "Still The King" starring Billy Ray Cyrus and debuting in June 2016 on CMT. (See a gallery of Mr. Wood in various acting roles.)
* * * * * *
My short story "Death Takes a Holliday" is now available via publisher Troy Smith and Western Trail Blazer on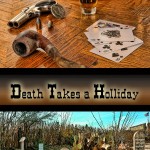 amazon: http://www.amazon.com/Death-Takes-Holliday-Tom-Wood-ebook/dp/B00I53B8XM/ref=sr_1_1?s=digital-text&ie=UTF8&qid=1391233129&sr=1-1&keywords=death+takes+a+holliday or on smashwords:
http://www.smashwords.com/books/view/403417   Smashwords will have it distributed to Apple, Sony, Kobo, etc. Here are the covers by Karen Michelle Nutt that ran with the e-book as well as the cover for the just-released Western Trail Blazer cover for "Weird Western Yarns, Vol. 1."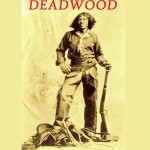 We have launched of our Western historical fiction project about Tennesseans who made their mark in the old West. Joining me for this series are Troy Smith, Vonn McKee, John Davis and Cameron Judd. My first story "A Live Wire in Deadwood" is about cowboy Deadwood Dick, who was born a slave on a Davidson County plantation. He left Nashville at age 15.
This story is now available in ebook format at http://amzn.to/1vySZtj and https://www.smashwords.com/books/view/517670. Our short stories will appear first online as e-books, then they will be released in a book form just like "Weird Western Yarns" and all the other Western Trail Blazer books.
* * * * * *
Blog post for Killer Nashville
July 10, 2013
I always loved a good mystery, but never, ever, in my thirty-six-year career as a sports writer and copy editor at a major Southern daily newspaper did I imagine writing one. So when I decided it was time to write my Great American Novel, a tale of mystery was the last thing I envisioned. Even when the idea for a newspaper-rooted story took hold (don't we all write what we know?), I wondered if I could pull off the monumental task I had set before myself.
<…read more>
* * * * * *
Articles for The Ledger
From June 29, 2018:
'Super Bowl of bass fishing' will have huge economic impact on area in spring
The Super Bowl is coming to Knoxville! Actually, it's "the Super Bowl of Bass Fishing" – an important distinction, to be sure. But the widely accepted comparison aptly describes the impact that next spring's bass fishing national championship is expected to have on the area.
The 49th GEICO Bassmaster Classic presented by DICK'S Sporting Goods will be held March 15-17 on the Tennessee River, including Fort Loudoun and Tellico lakes and the Holston and French Broad Rivers. Competitors will take off daily from Volunteer Landing downtown, and weigh-in ceremonies will be held inside UT's mammoth Thompson-Boling Arena.
Additionally, the fan-friendly Bassmaster Classic Outdoor Expo will be held each day in the Knoxville Convention Center and the newly renovated World's Fair Exhibition Hall.
"It's a huge get for the Knoxville area, the region and the state," says Chad Culver, senior director of the Visit Knoxville Sports Commission, which recently hosted USA Cycling Professional Road, Individual Time Trial and Criterium National Championships.
From Dec. 16, 2016
After weathering fan doubts, head-scratching losses, VU coach finds redemption
"I spent the last 24 months driving past this orange mailbox, and I wanted to hit it every day. Every day. Sometimes I'd swerve and I'd pull back and just keep going. Now I don't have to hit it. I just wave at it."
— Vanderbilt coach Derek Mason on his team's win against rival Tennessee
In these heady times – rich and intoxicating for Vanderbilt players, coaches and fans – Commodore head football coach Derek Mason is somewhere between the calm in the storm and the storm itself.
Vandy has earned its first postseason appearance in three years – its eighth all-time and the first under Mason.
The Commodores also ended a roller coaster of a season by winning four of the last six regular-season games. They were at their most impressive in the last two at home, thumping Ole Miss 38-17 and then rallying from a three-point halftime deficit to overwhelm Tennessee 45-34 in the finale.
Vandy will now face the North Carolina State Wolfpack in the Independence Bowl on Dec. 26 in Shreveport, Louisiana. It is a battle of 6-6 teams, a lesser bowl in the grand scheme of college football's postseason, but one with so much meaning for the 46-year-old Mason and win-starved Commodores fans.
From Nov. 25 2016
Vanderbilt's new coaches work to reverse fading attendance
Memorial Gym Magic hasn't exactly disappeared, but fans of Vanderbilt's storied basketball programs certainly have. In droves.
Only time will tell if new Commodores coaches Bryce Drew and Stephanie White can halt the attendance tailspin of the final six seasons under Kevin Stallings and Melanie Balcomb, but early indications offer hope of an upsurge both on the court and at the box office.
Vandy's combined home attendance (men and women) dropped a staggering 4,207 fans per game in a six-season span from the 2010-11 season through 2015-16, NCAA attendance records reveal.
Drew, who excelled as both a player and a coach at Valparaiso University, is the Commodores' new magic man.
He has been tasked with the job of re-igniting the fan base, of taking the program to the next level, of rekindling that missing aura and – once again – filling seats at one of the nation's iconic gymnasiums.
A high-achiever all his life, Drew is certainly aiming high for his fledgling program here.
Read more
****
From Sept. 30, 2016
Nashvillian, MVP favorite has quickly won the heart of Red Sox Nation
A month or so ago, Boston fans selected Nashville native Mookie Betts as their favorite Red Sox player in the fifth annual New England Sports Survey.
And in voting for the player "most admired for their contributions to the team," it wasn't even close. The 23-year-old Overton High School graduate drew 34 percent of the votes – well ahead of the 21 percent accorded David "Big Papi" Ortiz, who is having a stellar final season for the Red Sox and is one of the most popular New England sports figure of all time.
The survey, conducted by Channel Media & Market Research polled 10,968 Red Sox fans, a healthy sampling.
Come mid-November, we'll find out if the rest of the baseball world agrees – or perhaps the other way around – when the American League Most Valuable Player and other postseason honors are announced.
Betts and Ortiz are considered by many baseball observers as among five front-runners for the annual honor along with Houston Astros second baseman Jose Altuve, third baseman Josh Donaldson of the Toronto Blue Jays (the defending AL MVP) and outfielder Mike Trout of the Los Angeles Angels. Baltimore Orioles third baseman Manny Machado is also a leading contender.
"Mookie absolutely is going to come down to the wire as one of the finalists in the American League for MVP. I think he's got a real shot to win it," says Buster Olney, a former Nashville Banner sports writer who now is a senior writer for ESPN and also serves as the network's MLB analyst and Sunday Night Baseball reporter.
****
From April 24, 2015
New ballpark boosts area already teeming with new homes, restaurants, businesses
For months, sounds of construction surrounded the Nashville Sounds' sparkling new First Tennessee Park in Germantown.
The constant thump-thump-thump of pounding jackhammers competed with the irritating, high-pitched beeps of vehicles backing up. Ka-ching! Cranes lifted steel beams into place, keeping time with a syncopated thrumming of never-ending drilling. Ka-ching!
The chugs of a Sod Installer Roller laying grass over dirt in the infield, the outfield and on the berm behind the left-centerfield wall. Ka-ching! A foreman's shouted instructions to laborers on where this or that goes. Ka-ching!
Now the prominent sound is of ringing of cash registers – Ka-ching! – as baseball returns to its Music City roots, and redevelopment of this historic North Nashville neighborhood hits the stratosphere.
Since April 17 – when the Nashville Sounds opened their new home – one hears resonances of children squealing and parents oohing and ahhing at the lush greenery and shiny magnificence of this 10,000-seat facility at the historic Sulphur Dell site, of vendors shouting "getcha co-o-old beer here," of the singing of the national anthem and the umpire's throaty shout of "Play ball!" followed by cheers, boos and postgame fireworks.
** ** ** ** ** ** ** ** ** ** **
From May 2, 2014
By this time next week, Thursday night at the earliest and Saturday afternoon at the very latest, Jordan Matthews will have a job lined up.
Fitz Lassing already has one.
Two Vanderbilt graduates with economic majors, football teammates, young men with shared goals, faith and values, they are preparing to leave the relatively sheltered campus life on West End and head for the fast lane.
They're just taking different paths.
From Dec. 13, 2013
The Titans (5-8) and University of Tennessee (5-7) have experienced down years. The NFL team's playoff hopes are on the ropes, while the Vols failed to make a college postseason football bowl game for the third consecutive year.
Meanwhile, Vanderbilt University (8-4) is headed to its third consecutive bowl game under coach James Franklin. And the NHL Predators (15-14-3) are struggling to ride a roller coaster season.
But how much do those season records factor into merchandise sales? It depends on who you ask and when you visit.
-DECEMBER 13, 2013
More from the Nashville Ledger
Articles for the Fort Myers News-Press
From Jan. 14, 2017
College basketball: FGCU holds off feisty Lipscomb
NASHVILLE, Tenn. – Zach Johnson watched his Florida Gulf Coast basketball team squander a big first-half lead. And with another meltdown a real possibility, the sophomore guard wasn't about to let it happen again.
Thanks in large part to Johnson's big plays down the stretch, the Eagles (14-5, 3-0 ASUN) hung on for an 84-80 victory over scrappy Lipscomb (10-10, 2-1) on Saturday night at Allen Arena.
After Lipscomb rallied from 12 down for a 40-40 halftime tie, FGCU rebuilt its lead to 14 at 74-60 with six minutes left in the game. But the Bisons — much like they ended the first half — came back strong and made the Eagles work for their third consecutive league road victory and seventh overall.
"We knew they were a real good offensive team and they were definitely going to have some runs just like we had some. It's just how you sustain them and how you're going to hold your own," said Johnson, who led FGCU with 23 points.
From Nov. 20, 2016
College volleyball: FGCU misses NCAA berth after falling to Lipscomb in ASUN final
NASHVILLE, Tenn. —  A record-setting season came to an end with a few tears and a lot of determination.
Third-seeded Florida Gulf Coast (27-6) dropped a 3-1 heartbreaker to top seed and defending champion Lipscomb (22-7) in the Atlantic Sun volleyball championship on Saturday night at Allen Arena.
The victory gives the host Bisons the league's automatic big to the 64-team NCAA Tournament. Pairings will be announced next Sunday.
From Feb. 15, 2015
NASHVILLE, Tenn. – For 34 minutes, it looked like it was going to be another St. Valentine's Day massacre. FGCU was in complete control, sporting a 13-point lead with six minutes remaining at Lipscomb University. Then the Bisons got hot down the stretch, made a charge and turned a snoozer into a thriller.
When the dust finally settled Saturday, the league-leading Eagles (19-7, 9-1 A-Sun) had survived for a 76-74 victory before 1,213 roaring fans at Allen Arena.
From Jan. 30, 2015
NASHVILLE, Tenn. – That 14-game win streak for league-leading Florida Gulf Coast University looks pretty impressive. But the numbers put up in those first few minutes of Thursday night's rout at Lipscomb were actually pretty horrible. The Eagles (19-2 overall, 6-0 A-Sun) got off to a terrible start but eventually coasted to a 71-49 victory over Lipscomb (8-12, 3-3) at Allen Arena.
From May 17, 2014
NASHVILLE, Tenn. – Zack Tillery and FGCU coach Dave Tollett were beaming with pride and eagerly looking forward to the upcoming Atlantic Sun Conference tournament after winning the regular-season championship Friday.
From Jan. 29, 2014
Florida Gulf Coast beats Lipscomb
Articles for the Naples Daily News
From Nov. 20, 2016
College volleyball: FGCU loses to Lipscomb in Atlantic Sun championship
NASHVILLE, Tenn. — Disappointment quickly gave way to determination for the Florida Gulf Coast volleyball team.
Third-seeded FGCU (27-6) was still looking for its first Atlantic Sun crown after suffering a heartbreaking 3-1 loss to top seed and defending champion Lipscomb (22-7) on Saturday night at Allen Arena.
From Feb. 15, 2015
NASHVILLE, Tenn. — Sitting alone atop the Atlantic Sun Conference, riding a program-best eight-game winning streak, is like playing king of the hill.
From May 17, 2014
NASHVILLE — A genuine hometown hero carried Florida Gulf Coast to its first Atlantic Sun Conference baseball championship in four years.
Zack Tillery, a junior third baseman-pitcher from Barron Collier High School, hit the game-winning home run and picked up the save in a 3-2 victory over Lipscomb in the first game of Friday's doubleheader at Dugan Field.
* * * * * *
Articles for The Knoxville News Sentinel
From Spring Fling, May 19-24, 2014
Second Class A-AA title in a row has CAK wanting more
May 24, 2013
Moments after Christian Academy of Knoxville successfully defended its Class A-AA soccer championship, some of the smiling, eager underclassmen were already thinking ahead to more hardware for the Warriors' trophy case.Three-peat? Nope.   <…read more>
More from the Knoxville News Sentinel