Nashville to Atlanta: Killers, Thrillers and Chillers
What a great time we had at the 11th annual 2016 Killer Nashville Writers Conference last weekend in Franklin. I saw lots of old writing pals, made a bunch of new ones and we got some great writing advice from Guests of Honor this year Janet Evanovich and Kevin O'Brien as well as prolific author Robert J. Randisi, who received the 2016 John Seigenthaler Legends Award. Also on hand were bestselling authors Ann Perry and William Kent Krueger. Dick Belsky – who writes as R.G. Belsky – won this year's Claymore Award. Below are some of my favorite convention photos from this year.
And now it's on to Atlanta for the the Decatur Book Festival over Labor Day weekend. I'll be in the Sisters in Crime booth (I'm a Mister Sister) with some of the same authors who attended Killer Nashville, plus many more. If anything like the last couple of years, it's going to be hot and  humid, huge crowds – and a lot of fun. If you're in the Atlanta area, please come say hi.
After Atlanta, three other major events are lined up for October.
On October 1-2, I will be with nine other Nashville authors making an appearance at Fall Fest at the Hermitage. It's a great event with food, festivities, music and many more vendors. I'll share more information next month when it gets closer, but I'm glad I can confirm the event on our schedule. Others confirmed as Fall Fest authors are Blake Fontenay, Iscah, Skip Nipper, Kathy Rhodes and Jaden Terrell. I'll add more names to the list as soon as I hear back.
The Granddaddy of Nashville book events, of course, is the Southern Festival of Books: A Celebration of the Written Word, set for October 14-16 and sponsored by Humanities Tennessee. It's always a special weekend, and I hope to see you there. Look for the Sisters in Crime – Middle Tennessee booth as well as the Authors Circle booth. That's where I'll be located this year, along with several of Nashville's top thriller and mystery writers, including Jaden Terrell, Robert Mangeot, Alana White, Lisa Wysocky and many, many others.
Then on October 22, look for our merry band of authors at the Jack Daniels World Championship Invitational Barbecue in Lynchburg, Tennessee. Confirmed for this event so far are Jaden Terrell, R.D. Sherrill, Bill Holley, Allan E. Ansorge (a Killer Nashville friend from Wisconsin) and Keith Bartlett. More on them next month.
Help out a fellow writer: Nashville author Alan Lewis needs your help. He's started a GoFundMe campaign to offset bills for an upcoming medical procedure. He's a really good guy and I hope you'll help him out. The goal is $4,800, and almost $3,000 has been donated in just nine days. If you can help with a small donation, it will be greatly appreciated. Thanks in advance!
TV talk: If you haven't yet heard, "Nashville" will return to the airwaves on January 5. The show moved from ABC to CMT and Hulu for its fifth season – which will begin taping in early September. Many of you know this, but I was an extra on "Nashville" for all four seasons, and I have written often about my experiences on the show. In the May 27 edition of The Ledger, I wrote about the show's cancellation and how it affected some of my fellow background actors. Click here to read their remembrances.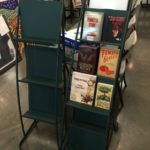 Looking forward: Great news. You can now get copies of Vendetta Stone and books by other local authors at Picture This creat!ve framing & ga//ery in Hermitage, Tennessee. Owner Matt Fischer is the man responsible for the Fall Fest at the Hermitage, and when I went to meet him and talk about the event, I suggested that his gallery and gift shop would be a great place to carry works by local authors. He agreed, and already has a half-dozen books on display with more to come. Books make great gifts and the holidays are fast approaching. Hope you'll drop in and check out what Matt's store has to offer.
As always, thanks for reading.