'Nashville' is cancelled; long live Nashville!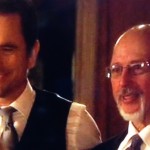 Count me among those who are not happy with ABC's somewhat surprising cancellation of the 'Nashville' television show after four seasons; full disclosure – I was an extra (background character actor) all four seasons it was on the air.
But namesake Nashville and its burgeoning film industry will survive – and perhaps even thrive in the wake of the show's departure. Only time will tell on the impact.
Nashville had grown a world-wide reputation long before the TV show was ever conceived by creator Callie Khouri. In fact, the Music City moniker was what attracted Callie to build a show around her adopted hometown. Granted, her TV show helped take the city to an even higher plane, but fans were flocking to Nashville for country music events and concerts. That won't stop, just because there is no longer a television show named for our fair city. Dallas has done pretty well since 'Dallas' went off the air in 1991 (even revived 2012-14 on TNT).
At the Nashy Awards last month, Callie hinted that even if 'Nashville' got cancelled, there would perhaps be other Nashville-based projects fostered by her and husband T Bone Burnett, the legendary music producer.
"Nashville is a place that I have come to love so deeply," Callie said. "I just feel a personal responsibility to bring as much to this town and to bring other shows here. I'm constantly trying to think of shows I can bring here. My husband and I both want to do more things here."
Current Nashville mayor Megan Barry bemoaned the cancellation of 'Nashville' in a written statement released to the media, calling it "a loss for ABC and for the millions of fans across the world who have grown to love this show," but also looked to future productions here.
"We have enjoyed hosting the cast and crew of the show over the last four years and look forward to future opportunities for film and television production here in Nashville."
It's possible, but unlikely that 'Nashville' could be picked up for a fifth year by another network – 100 episodes is a benchmark for U.S. syndication purposes, and Nashville has an 86-episode run, with two final episodes (May 18 and 25) yet to air. Several online petitions by #Nashies have been started to beseech ABC to bring back 'Nashville' – you can find one here. Can't imagine that ABC is in the picture anymore, but you never know.
By late Friday, various media – including Entertainment Weekly and The Tennessean – reported that 'Nashville' co-producer Lionsgate was shopping the show to other networks CMT and streaming service Hulu, and that DirecTV and Epix might also be in play.
EW's report said that Lionsgate television group chairman Kevin Beggs wrote an email to employees that "We're looking for a new home. We never give up on a great show."
So whatever happens bears watching. Meanwhile, it will certainly be worth watching the final two episodes of season four.
The May 18 episode will feature an appearance by Sir Elton John. I was in the crowd for that one, and he treated us to several of his hit songs between takes. That taping was quite a thrill.
I was also on the set for the May 25 finale, which shot two endings, depending on whether it was renewed or cancelled. Guess we know which one will air.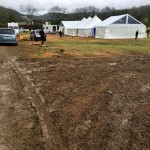 Being an extra on the show was a lot of fun, even though we were there sometimes as long as 15 hours (mostly in the holding area, not on set that whole time). You also film in some brutal weather conditions, but that's part of it. I made a lot of friends over the years, got to meet the stars (Charles 'Chip' Esten was especially giving of his time to talk to extras) and – perhaps most importantly – got a good behind-the-scenes look at what goes into producing a TV show.
That last one is a big deal for me, because I would love to see Vendetta Stone become a TV or film project one of these days.
Everybody who has read my book says it is film-worthy, and my screenplay based on the book made it to the semifinals of the 2015 Nashville Film Festival screenwriting competition.
Because I was a reporter and copy editor at The Tennessean for so long, I was often cast as one when we had the mayoral scandal storyline. Also got cast as a stand-in once, did a lot of crowd scenes and played an upscale event attendee a lot. And a cowboy.
It was fun while it lasted, but more projects are already underway in Nashville – notably 'Still the King' with Billy Ray Cyrus (I was on one episode), and more projects are being considered.
Later this month: I will be attending my first Indianapolis 500 on Memorial Day weekend. While there, I am doing a signing at Indy Reads Books on May 27 at 6 p.m. If you're in Speed City for the race, I hope you'll drop by the bookstore and say hello. And pass the word to your friends and family in the area.
As always, thanks for reading.