Writing conferences blossom in springtime
Spring cleaning around the house is on hold. Spring writing events are in full bloom.
The weekend of April 15-17, I was at the inaugural Outer Banks Writing Retreat with other members of the Southeast chapter of Mystery Writers of America. It was a week-long event, but prior commitments cut that in half for me. I was able to make it to the workshop events and visit with the Dare County Arts Council over the weekend.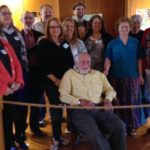 You'll never meet a nice group of people – or blood-thirstier writers – than Beth (Jaden) Terrell, Stacy Allen, Maggie Toussaint, Joseph Terrell, Tim Caviness, Alan Gratz, Philip Ciofari, Jerri Ledford, Rebecca Butler, Mary Ingmire, JD Allen, Linda (LD Masterson) Leszczuk, Nancy DeMarco and Ed Wilson.
I learned a lot, laughed a lot and made some new friends – and my reading list just got a lot longer. If you appreciate thrillers, mysteries, suspense and other genre books, then you will definitely want to check out these authors.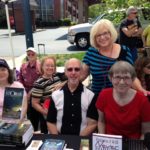 Another good place to meet authors and talk books was the Franklin Main Street Festival on the weekend of April 23-24. This is always a fun event, sharing the Authors Circle booth with a more than a dozen of my writing buddies. We had a few newcomers join us, including Shana Thornton, who launched a new book at Parnassus a couple of days later. I also had the pleasure of getting to know children's author Kathy Peach, who lives in the Phoenix area but was here visiting her father, Bill Peach, our Authors Circle ringleader. Bill has a new book out, Main Street Philosopher. Check it out!
Between those book events, I participated in the Nashville Writers Conference at Regal Cinema, part of this year's Nashville Film Festival. I attended numerous screenplay workshops and seminars hosted by some of the top screenwriters in the world, including Jeb Stuart (Die Hard, The Fugitive) and Andrea Berloff (Straight Outta Compton, World Trade Center). It was inspiring, to say the least, and I made a lot of contacts in the process. The Tennessee Screenwriting Association meets each Wednesday at Watkins College of Art, Design & Film at 7 p.m. If you have a story to tell, please join us.
As always, thanks for reading.