'Nashville' Nuptials … It was THE Wedding of the Century
Well, that might be stretching it, but it is certainly the case for Nashville fans. Indeed, it certainly ranks as prime-time television's wedding event of the year, one that fans have been waiting for since the show debuted on October 12, 2012.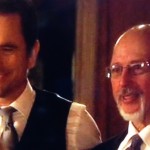 In case you haven't heard, Rayna James (Connie Britton) and Deacon Claybourne (Charles 'Chip' Esten) tied the knot when the ABC series returned on Wednesday, March 16. I'm one of the Nashville extras – background character actors is the official term – that attended the wedding. It was a grand wedding and it was fun being one of the special guests invited to attend the ceremony. This is the scene I shared with Deacon following the vows, getting our picture taken for their memory book.
Working as a 'Nashville' extra is something that I've been doing off and on since that first episode. I've made lots of friends over the years, some I met that very first day when I stood in a line with about 1,500 people at a warehouse to meet with a show representative and apply for a spot as an extra. Two days later, I got an email that I had been selected. I wrote about the state of Nashville's growing TV/film industry, my experience and what it's like for others on set for the Nashville Ledger. You can read that article here.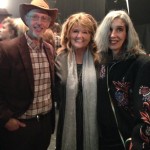 Being an extra is a lot of fun; over the years I've met folks from all walks of life. Many are in the music industry – Susie Monick, Donna Frost, Bobby Cochran, Stephanie Adlington, Demetriss Tapp, Dottie L. Snow Tubb, to name a few. Others are actors / models like Thom Booton, Reen Vogel, Robin Daugherty, Olivia Franchessca, Keith Sausedo, Zan Buckner and Steve Alberts, but others I've met are retired military, or just retired; law-enforcement types, ministers, counselors; work in real estate, work for the state, work at banks, grocery stores, malls, gift shops, hair salons or some other retail; like me, have a media background in newspapers, TV, radio, film, photography or advertising; work in hospitals or doctor's offices; own their own businesses, raise families, are still in school – it's just an amazing cross-section of backgrounds.
Most of us extras live in the Nashville area, but I've met people from most of the surrounding states – Kentucky, Alabama, Georgia … even a few from Florida, Illinois and Ohio … and even wilder, from England, Wales, Scotland, France, Colombia, Ukraine – who wanted to be part of the Nashville experience. Not only have I made a bushel of new friends, but I've renewed ties with some old ones. One in particular I'd like to mention is Chuck Shaw, whom I first met at Middle Tennessee State University in the mid-1970s. I was just beginning my sportswriting career on the student newspaper Sidelines and Chuck was one of the school's cheerleaders. After college, we drifted down different paths. Next time we saw each other was during that first season of Nashville. We've been in several movies together, including Providence.
I've had several opportunities to talk to the stars of 'Nashville' – Chip Esten goes out of his way to take selfies with extras, and Connie Britton and Hayden Panettiere often cut up with the crowd between takes. A special treat was getting to talk to show creator / producer / director Callie Khouri at the end of Season 3. The main reason I became an extra to get a behind-the-scenes glimpse of what goes into making a TV show. I think my novel  Vendetta Stone would translate very well to film and my screenplay based on the book was a semifinalist at the 2015 Nashville Film Festival screenwriting competition, so I'm optimistic that it will happen someday.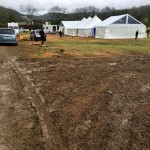 I suppose there's a certain amount of glamour to being an extra – er, background character actor. At least that's what my relatives think. But we report at all hours, work very long days (I was on set for 15 hours once), and we sometimes deal with severe weather conditions, both on the set and off. The days we shot the wedding scenes, it was cold and rainy. Very cold and very rainy. The tents you see in this photo are called the holding area. That's where extras stay between takes. We had to walk through all that mud to get to the indoor set where the filming was done. I had mud up to my knees. We froze a couple of years ago filming at the home stadium of the Tennessee Titans, working 6 p.m.-6 a.m. If it's really bad, February's 8-inch snowstorm we had, for example, they'll delay or postpone shooting schedules.
But it isn't always that bad. The crew goes out of their way to make it as pleasant – and painless – for everyone. We get paid, we get fed, we get to see the stars perform, we get to hear some excellent music – and we get to play dress-up for different roles (I was often 'typecast' as a reporter when Eric Close was the conniving mayor and held press conferences) and we get to hang out with fun, friendly people – each other. Mostly, we get to play. But we're serious about what we do when we're on the set. We bring authenticity to the show, and the actors feed off it.
I don't know how long the show will continue – it seems every year, there's talk of cancellation (it hasn't yet been renewed for a fifth season) or moving production to another city. But I do know Nashville wouldn't be what it has become if filmed anywhere but Music City.
LITERARY EVENTS
I had a great time at the Dahlonega (Ga.) Literary Festival on March 12. I was on a panel with regional writers Mike Brown, Evan Guilford-Blake, Jim Henninger, J. Frank James, Ron Miller and Carol Williams. We were supposed to discuss writing intense scenarios that Saturday, and we talked about everything but that subject. Sigh. There were 27 regional authors at the event, as well as a number of other authors who are a lot more well-known than us. I enjoyed meeting Kelsey Browning and Lisa Clark O'Neil (at left).
Upcoming: I'll be attending the Southern Literary Festival at MTSU (March 24-26) thanks to the Nashville Meetups. Look for April to be an extremely busy month. Up first is a trip to the Outer Banks Retreat sponsored by the SE chapter of Mystery Writers of America, then I'm back home for the Nashville Film Festival screenwriters conference (April 20-22) and the Franklin Main Street Festival on April 23-24. The latter is always a fun event, sharing the Authors Circle booth with a dozen or so of my writing buddies. …
May kicks off with a literary event at Donelson Branch Library on the 7th from 10 a.m.-noon. I will be moderating a panel discussion with fellow authors Jaden Terrell, Iscah , John Neely Davis and Blake Fontenay. Admission is free and the public is invited. … I will close out the month by attending my first Indianapolis 500. While there, I will do a signing at Indy Reads Books on May 28 from noon-3 p.m. That will be a blast.
Screen scene: The Tennessee Screenwriting Association meets each Wednesday at Watkins College of Art, Design & Film at 7 p.m. If you have a story to tell, please join us.
As always, thanks for reading.