Celebrating Three Decades of Marriage
Thirty years sounds a lot longer than three decades. One thousand, nine hundred and fifty-seven days seems rea-a-a-a-lly long.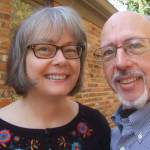 But on February 14 – Valentine's Day – that's how long Bennie and I will have been married.
It has been a fast, amazing and wondrous journey that we've shared, and I'm looking forward to many more years ahead. The last few years have been especially amazing, at least to me.
Thirty years. Has it been that long?
Thirty years ago, Ronald Reagan was president, and the nation was still in the throes of disbelief over the Challenge disaster. Just days earlier, on Jan. 28, 1986, the space shuttle exploded just 73 seconds after what seemed a successful launch. Seven astronauts died in that tragedy.
Thirty years. Has it been that long?
Top movies of February 1986 were Down and Out In Beverly Hills, F/X, Iron Eagle and Hannah and Her Sisters. The chart-topping songs included "Say You, Say Me" by Lionel Richie and "That's What Friends Are For" by Dionne and Friends.
Thirty years. Has it been that long?
The first week of February, 1986, I was in my tenth year as a sportswriter at The Tennessean, covering Ohio Valley Conference basketball teams like Middle Tennessee State, Tennessee State, Austin Peay and Tennessee Tech. Bennie was a practical nurse at Saint Thomas Hospital.
We were finalizing wedding plans, dealing with all the little details that go into such an life-changing event. It was a hectic few weeks, to be sure, and our parents were a great help in making sure the wedding went off without a hitch.
So why did we get married on Valentine's Day? I like to think our marriage was destined, but there was a little more involved. Actually, it was more the date than the day.
Since we were both born on the 14th and we met on the 14th of October in 1985, I thought it would good karma to get married on the 14th. This was just before Thanksgiving when Bennie accepted my proposal and we began looking at dates.
Family members from North Carolina wanted to attend the wedding, so it needed to be a 14th that landed on a weekend – Friday, Saturday or Sunday. We looked at December 14, 1985. It was a Saturday, but too soon to make so many plans. January 14, 1986. My birthday, nope. And it was a Tuesday. February 4, a Friday, good … wait a minute!
Valentine's Day?!? Wow! And that was it.
Our celebration has already begun with a "Thirty for Thirty" shower of roses that I have been delivering to Bennie on a regular basis. Beautiful bouquets have filled the house the way she has filled my heart.
Life hasn't always been a bed of roses, to turn a cliche, but there have been so many more ups than downs in the life we have shared together. This 1963 classic by The Tymes says much about our life together, as does this 1969 hit by Spiral Staircase.
Thirty years. Has it been that long?
Seems like just yesterday.
January was a blast: Hope everybody stayed warm last month. Don't know what the weather was like where you are, but we got eight inches or more on Jan. 22-23. A week later, it was topping 70 degrees and Music City did a great job hosting the NHL All-Star Game at Bridgestone Arena.
A couple of years ago, The New York Times crowned Nashville as the next "It" City and all these major events, with the SEC men's basketball tournament up next in early March, Nashville shows it has no plans to relinquish that moniker anytime soon.
I also got to cover a couple of college basketball games for newspapers in Florida in January, and I will be providing state wrestling coverage for the Knoxville News Sentinel in February. March will likely bring some more sports journalism assignments.
Upcoming writing events: Speaking of March, I will be at the Dahlonega (Ga.) Literary Festival on March 12. If you're in Atlanta, or Northern Georgia, come say hello. UPDATE 2/12/16 – I just got my schedule for Dahlonega: I'm on a panel with regional writers discussing intense scenarios. Joining me will be Mike Brown, Evan Guilford-Blake, Jim Henninger, J. Frank James, Ron Miller and Carol Williams. Looking forward to this event.
April will be a busy month. Up first is a trip to the Outer Banks Retreat sponsored by the SE chapter of Mystery Writers of America, then I'm back home for the Nashville Film Festival screenwriters conference (April 20-22) and the Franklin Main Street Festival on April 23-24. The latter is always a fun event, sharing the Authors Circle booth with a dozen or so of my writing buddies. … May kicks off with a literary event at Donelson Branch Library on the 7th from 10 a.m.-noon. I will be moderating a panel discussion with fellow authors Jaden Terrell, Iscah and Blake Fontenay. Admission is free and the public is invited. … I will close out the month by attending my first Indianapolis 500. While there, I will do a signing at Indy Reads Books on May 28 from noon-3 p.m. That will be a blast.
Screen scene: The Nashville TV show returns from its winter hiatus on March 16. I can't divulge details, but I think I have a featured role as an extra. I hope it didn't wind up on the cutting room floor. We'll know soon if "Nashville" is going to be renewed for another season. Hearing good things, but nothing official. … The 2016 board of directors of the Tennessee Screenwriting Association has been finalized. Allen Carver is our president this year with past president Bob Giordano serving as VP this year. Jarrod Ruez is the treasurer and I will serve as secretary. Other board members for the coming year are Dustin Alexander III, David Deverell, Gary Frazier, Casey Laarcamp, Rob Lindsay, Doug Steier and Paula Weaver. It's a good group to be working with and if you think you have a story to tell, come join us. We meet each Wednesday at Watkins College of Art, Design & Film at 7 p.m.
As always, thanks for reading.