It's Always a Killer Convention
My writing journey didn't begin at the Killer Nashville International Writers' Conference. I got the idea for Vendetta Stone several years before actually attending Nashville's premier writers' event.
What Killer Nashville did do for me, however, was expand my horizons, get expert advice and make important publishing contacts that helped me polish my story, refine my ideas and increase my awareness of how much goes into getting a novel published.
Now it's your turn.
The 2015 Killer Nashville conference – which is the brainchild of Clay Stafford – starts Thursday, Oct. 29, at the Omni Hotel and runs through Sunday, Nov. 1. There are more than 60 great how-to seminars, lectures and fun events (including a Crime Scene puzzle that you can try to solve) during the conference's four-day run, including Saturday's question-and-answer sessions with some of the genre's top names.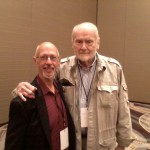 This elite conference is celebrating its 10th anniversary with Saturday night's gala and the announcement of the second recipient of the John Seigenthaler Legends Award. The inaugural presentation of the award went to Donald Bain.
John was the longtime editor and publisher at The Tennessean during much of my journalism career, and he offered me some great constructive criticism and advice during the writing process of Vendetta Stone.
If you're registered for the conference, I hope you'll attend Friday's session No. 17, titled "Men of Mystery: Male Sleuths" at 1:45 p.m., in Broadway C ballroom. I will be the panel leader for fellow authors Peter H. Green, Rick Reed, Bryan Robinson and Ray Wenck.
On Saturday, I will be hosting an Authors Circle table at the Killer Nashville Book Con, which is open to the public and a free event. I'll have several books with my short stories as well as Vendetta Stone. The other authors at our table are Peter H. Green, Phyllis Gobbell, R.D. Sherrill, Michael Guillebeau, Veera Rajaratnam, Ed Cole, Iscah,  Lauren Hope and Turner French. Not just mysteries an thrillers, either. We'll have Westerns, poetry, historical fiction and fantasty, to name a few other genres.
The Book Con runs from 10 a.m.-5 p.m. in Broadway Ballroom E, where Clay and Jaden Terrell will be conducting Q&A's with the convention's guests of honor and other panelists. I am on a panel Saturday at 4 p.m., with Chris Knopf and Ken Vanderpool. We'll be discussing "The Harder Edge of Crime Fiction."
It's going to be a fun weekend. Be sure and say hello if you're there.
 Earlier this month:
On Saturday, October 24, Authors Circle made an appearance at the Jack Daniel's World Championship International Barbecue in Lynchburg, TN. This event draws crowds of 20,000 from all over the country, and contestants from across the globe. Our authors went last year for the first time and couldn't wait to get back this year. We had a wide range of genres, from thrillers like Vendetta Stone to mysteries to westerns, memoirs and Southern fiction. Joining me in Lynchburg with their works were Bill Holley, Neil Jones, Blake Fontenay and Michael Guillebeau.
Looking to November: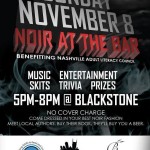 We're back in Nashville on November 8 for "Noir at the Bar" at Blackstone Brewery. There's going to to be fun and games and – kind of like Halloween – everyone is encouraged to dress for the period.
So here's the deal: You buy a book and I'll buy you a beer. The same deal goes for the other six authors who will be there with their books.
Thanks to Kathleen Cosgrove for organizing the event and inviting me.
Hope our paths cross in the near future, if they haven't already.
Thanks for reading.