Mysteries and more at Bellevue Branch Library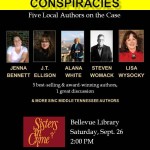 If you love a good mystery (and who doesn't?) Bellevue Branch Library is the place to be on Sept. 26.
I'm a member of the Middle Tennessee chapter of Sisters in Crime (guys are AKA Mister Sisters), which will be showcasing an event at Nashville's year-old public library.
You are cordially invited to attend "Cozies, Cops and Conspiracies – Five Local Authors On The Case" at 2 p.m., on Sept. 26. Five award-winning Nashville authors – Jenna Bennett, J.T. Ellison, Alana White, Stephen Womack and Lisa Wysocky – will be on the panel discussing their books and their craft that day, and there will be a number of other Sisters in Crime members on hand (including me, but don't let that keep you from coming out), some giveaways and other goodies.
You can also learn about other upcoming SinC events, including the one at Killer Nashville over Halloween weekend, and how to join our group, which is open to both writers and readers. We meet the second Tuesday of each month (except October, because we're all recovering from the Southern Festival of Books). Meetings are held at BookManBookWoman in Hillsboro Village.
If you can't make it to the Bellevue event – but I urge you to – come see us at BookManBookWoman in November.
It's been a September to remember: I have already been to two great events this month that have attracted thousands of people, the Decatur Book Festival over Labor Day weekend in Atlanta and  Made in Nashville a week later at Centennial Park.
The first is one of the largest events in the Southeast, the latter still in its infancy. Having just wrapped up its second year, the 2015 Made in Nashville event benefited the Epilepsy Foundation of Middle Tennessee. It's not really a book event, but one that features hundreds of items from vendors that are all (let's say it together) Made in Nashville!
I was joined in the Made in Nashville authors' booth by nine other talented, local authors (see photo) including Sandy Ward Bell, Bill Holley, Iscah, D.G. Driver, Susie Monick, Reba Stanley, John Thompson, Alana White and Ken Vanderpool.
Thanks to all who participated, and we'll do it again next year.
Great new bookstore in Chattanooga: On my way to the Decatur Book Festival, I stopped in Chattanooga to check out a brand-new independent bookstore I'd heard and read about, Star Line Books on Market Street.
I met the owner, Star Lowe, and it turns out we have a lot in common. We both went to Middle Tennessee State University, both majors in Mass Communications and even had the same advisor, Glenn Himebaugh. Small world.
Long story short, I had a great time talking to her and the crew, and she has agreed to carry Vendetta Stone in her store. I feel very fortunate to be there and hope to do a signing at some point.
If you're in the Chattanooga area, check out the store. It's really easy to find, located directly across the street from the Chattanooga Choo Choo hotel and entertainment complex.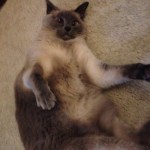 And the Photo Caption Contest winner is … Congratulations to Yvonne Nagy for her submission to my Facebook contest giveaway. Yvonne came up with "Does this carpet make my butt look big?"
Well done, Yvonne, and congratulations. I presented Yvonne with a signed copy of Vendetta Stone at the September meeting of the Donelson-Hermitage Book Club. It's a great group and I hope to attend monthly meetings on a regular basis.
This was a really tough decision with a number of witty, creative and – er, dare I say, catty – quips and quotes from and about Savannah, our 13-year-old Siamese mix.
Gary Frazier had a great Godfather reference with "If I agree not to bite you, one day…and that day may never come…I may ask a favor from you."
Donnie Clark's entry "I just caught a mouse. This big." works great off the picture.
Thanks to everyone for playing, and we'll do it again with some of the anthologies in which my stories appear, including Weird Western Yarns, Classic Westerns and Filtered Through Time.
Looking ahead to October: I mentioned earlier that I'll be attending the Southern Festival of Books Oct. 9-12. You can find me at the Authors Circle tent with about 14 other local authors, many from Williamson County. I will also be in authors' tents at Autumn Street Fair on Oct. 3 in McMinnville and at the Jack Daniel's World Championship Barbecue Invitational on Oct. 24 in Lynchburg. Those are three great events, and I hope our paths cross at one of them.
Thanks for reading.
Tom Wood