Wanna be a screenwriter? Check out Script-Com
Remember the 1980 movie "Caddyshack" starring Chevy Chase, Bill Murray, Rodney Dangerfield and a bunch of really funny folks?
One highlight of the movie — written by Brian Doyle-Murray, Harold Ramis and Douglas Kenney — had Chevy Chase's character, Ty Webb, instructing Danny Noonan (Michael O'Keefe) on how to improve his golf swing by hitting the ball blindfolded.
Ty Webb: Just be the ball, be the ball, be the ball. You're not being the ball Danny. (source: IMDB).
Over the years, the movie's most-quoted line became one of the most misquoted, morphing into a Zen-like sports imagery and vizualization technique of "See the ball, be the ball."
Movie misquotes are nothing new; just Google how many great movie lines become something else during public consumption. Great movie lines from "Casablanca," "Jaws," "The Godfather," … the list goes on and on. About the only movies that don't have misquotes are the silent ones.
The point (yes, there is one): When I learned how "Just be the ball, be the ball, be the ball" had been altered into "See the ball, be the ball," I took that misquoted line and turned it into something I thought might be personally helpful for me:
"See the future, be the future."
At the time, I was a young sportswriter at The Tennessean and thought it would be good to take an occasional introspective self-analysis and set five-year goals for myself. Things like "Where do I want to be living, what do I want to be doing five years from now?"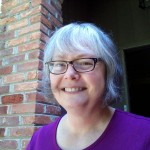 As with most life situations, you can prepare for some, but most hit you of the blue: One example: Finding your love (no idea I'd meet Bennie in October, 1985, and get married just five months later; we'll celebrate our 30th anniversary next Valentine's Day).
For some things, you can plan and set goals. I didn't know exactly when my newspaper career would end, but with all the changes in the industry, probably about the turn of the century, I knew it would only be a matter of time and circumstance, and I began thinking about what I might do next.
In 2008, I got an idea for a thriller novel. I always had an interest in writing a book, but thought it would be non-fiction, probably sports-related. Five years later (and one after my 2012 early retirement from The Tennessean), my novel "Vendetta Stone" was on shelves at local bookstores (and gift shops, and restaurants, and even a grocery store) and available worldwide on Amazon and Kindle.
Some very early favorable comments from reviewers and readers included something along the lines of "This could be a movie."
I had always "movie" in the back of my mind while writing "Vendetta Stone," but it was nice hearing others say the same thing. And so, because I had learned how to write a book, I thought it would be cool to learn how to write a screenplay.
There are a lot of how-to books out there, but none were as helpful as when I joined the Tennessee Screenwriting Association. The critical feedback given to projects at these weekly meetings has helped me and many others make great strides toward our shared goals of writing great screenplays.
What I learned in a nutshell: Writing a screenplay is a different from writing a novel as being a novelist is different from being a journalist. Different mediums, different structures, different goals and on and on.
So I wrote a screenplay based on my novel, then rewrote, then did another draft and yet another before being satisfied.
Earlier this year I submitted "Vendetta Stone" to the Nashville Film Festival's screenwriting competition. There were over 1,300 entries in a bunch of different categories and I was pleased to learn in May that my screenplay made it to the semifinals in its category. I would loved to have reached the finals, of course, but feel honored to have made it this far.
Now the goal is to take it to the next level and get it into the hands of a director, producer or backer who shares the same vision I have for this project. Five years from now, who knows?  Maybe it goes nowhere, but maybe, just maybe …
See the future, be the future, right?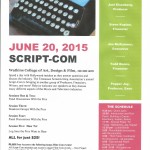 But the long-winded point to this column is that if I can learn to be a screenwriter, so can you. And a good place to start is by attending Script-Com on June 20 at Watkins College of Art, Design & Film in Nashville.
The one-day seminar, hosted by the Tennessee Screenwriting Association, is just $25 and is part of the week-long Film-Com event in Nashville, and gives you access to other Film-Com events between June 15-23. I will be at the Faith in Film conference on Monday, plus several other events throughout the week, leading up to Script-Com on Saturday
Here is a look at the industry figures who will appear on Script-Com panels.
• Joel Eisenberg
Producer / connected to resources & funding
• Steve Kaplan 
Financier, works with Bold Films
• Tara Strauss
Development & financing, works with Elijah Wood.
(Yes, Frodo)
• Todd Remis  
Financier. The money, money, money man!
• Pepper Jay
Connected in the biz, knows everybody
Maybe you're like me, and already have a book written that you think could be a great movie. Maybe you have a partial script or synopsis or logline that you're struggling with and could use some feedback. Perhaps you just have an idea for a movie, or even a germ of an idea, and would like to learn a little more to see what might happen and where it may lead you.
Wherever you are on your journey, I hope to see you at Script-Com on Saturday, June 20. It's where dreams begin.
Upcoming book events: Speaking of never knowing where life will lead you, I met Susan Plantz during a taping of "Nashville" on April 22 for a fundraiser scene at Gaylord Opryland Hotel. She told me about her book club and I gave her a copy of "Vendetta Stone" to see if it might be of interest to her book club. Susan got in touch soon after, and I will join them for a group discussion on Tuesday night. It ought to be a lot of fun. Feel free to contact me if you'd like to schedule a similar book club event.
I will be joining several Franklin-based authors on June 27 at the Blackberry Jam, a day-long music festival that will be highlighted by Quintavious Johnson (who made his national debut last year on America's Got Talent) and Delbert McClinton as the closing act. Music, more vendors, food, fun – and us! Com join us at this good-time event.
Another event I'm looking forward to is Chuck Beard's East Side Storytellin' on July 21 in East Nashville (the main setting for "Vendetta Stone"). The hour-long event also features music and will be on podcast. Some of the high-profile previous guests – all local authors – include Andrew Maraniss, JT Ellison, Alice Randall, Keel Hunt.
Thanks for the invite, Chuck (who has another event that was recently highlighted in the Nashville Scene).
As always, thanks for reading.