April showers with sports, book events
We're already more than a week into April and my monthly column is just getting done. Sorry about that, Chief (as Maxwell Smart would say). I've had some other deadline writing and reporting that had to take priority.
I am working on a story for the Nashville Ledger about the Nashville Sounds and their first season at First Tennessee Bank Park, which is scheduled to open April 17.
I've been to several press conferences about the construction, the parking and the Sounds getting to know their new neighbors in historic Germantown. The story will run later this month.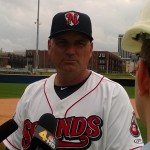 Gotta tell you, I think Nashville is going to blown away by this state-of-the-art facility. Sounds manager Steve Scarsone, in his first meeting with the media on Tuesday, April 7, described it as a "miniature big-league stadium." I would have to agree with that assessment. It seats 10,000 fans, has a picnic area just beyond the outfield, numerous amenities, wide concession walkways, etc.
Some of the Sounds players echoed similar sentiments to Scarsone, notably pitchers Brad Miller and Barry Zito. Miller played in Nashville last season when the Sounds were still at Greer Stadium and the club was a farm team of the Milwaukee Brewers. Nashville is now the Class AAA affiliate of the Oakland Athletics – the organization that Miller wound up with. Zito is a three-time American League All-Star who is trying to revive his playing career. Nashville is a good spot for Zito, especially since he has some aspirations to be a songwriter in his post-baseball career.
Most of the neighborhood business owners and dwellers I've met seem to be taking a cautiously welcoming approach to First Tennessee Park's arrival. Parking is the big issue facing Germantown, which is already packed for residents, who sometimes have to walk blocks after going grocery shopping.
DO NOT PARK NORTH OF JEFFERSON STREET
Unless you're heading to Germantown for a pregame meal or drink, parking spaces are few and far between. Park downtown and ride the free Connector bus or park for $5 at the Courthouse garage. Until the state completes the adjacent parking garage later this fall, parking will be a nightmare.
My advice is to be patient for at least the first month or so as officials work out all the bugs and everyone figures out where to park.
See you at the park sometime this summer.
MORE NEWS: I am at the North Carolina Writers Network spring conference in 10 days and will be doing a book signing for VENDETTA STONE on April 19 at Scuppernong Books in Greensboro, N.C., at 3 p.m. If you live in the Triad, please come say hello. I will also be talking about the sequel – which is set in both Nashville and the Carolinas – and the current launch of our new Western fiction anthology TENNESSEANS WEST.
My first short story for the series — "A Live Wire in Deadwood" — focuses on black cowboy Deadwood Dick, a rootin'-tootin', sharpshootin' son of a gun. His real name was Nat Love, born a slave on a plantation in Davidson County. He left Nashville at age 15 and endured many hardships in his lifetime before spending his latter years as a railroad porter. This story is now available in ebook format at http://amzn.to/1vySZtj and https://www.smashwords.com/books/view/517670, then in print in the "Tennesseans West" anthology.
Joining me in writing this Western Trail Blazer series are four other great Tennessee authors of Western fiction: Troy D. Smith, Vonn McKee, John Neely Davis and Cameron Judd.
John recently released his award-winning second novel, "Bear Shadow" and has just published his first "Tennesseans West" story about a fifth-generation cousin who died at the Alamo with David Crockett and other Tennesseans on March 6,1836. You'll definitely want to read John's story about Stephen Dennison. John's website is http://johnneelydavisauthor.com/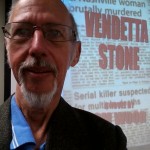 An update on the VENDETTA STONE screenplay: I recently submitted it to the Nashville Film Festival's screenwriting contest and made it to the semifinals in the "Tennessee – Feature" division, and it was a quarterfinalist in the "Action/Adventure" category.
I would like to have been a finalist, of course, but it's an honor to get this far.
The prestigious Nashville Film Festival takes place April 16-25, and I will be attending after I return from Greensboro.
On the Film Festival's final day, I will also be participating in a booth with local authors at the Franklin Main Street Festival. It is a free event that attracts thousands, and is always a lot of fun.
There's plenty of good food and shopping opportunities – and good books as well!
Please come say hello at our booth.
A SPORTS SHOUTOUT to the Nashville Predators as they head to the Stanley Cup playoffs and Nashville golfer Brandt Snedeker, who will be at the Masters this weekend in Augusta, Ga. Brandt already has one win under his belt this season and I like his chances.
Both might be considered underdogs as far as winning it all goes, but both can take the top prize in their respective sports.
*****
The ABC show 'Nashville' is counting down the final episodes of the third season, and I am an extra in at least a couple of them. It has been a delicious, devilish season so far, the best yet as far as I am concerned. I hope a season 4 is in the works. We'll find out in May.
I've been an "extra" since the inception of the show and I worked on season 3's episodes 12 (aired Feb. 11) and 14 (Feb. 25), but those two I wound up on the cutting room floor. We taped episode 18 on March 2 and it airs next week (April 15). Meet fellow 'Nashville' extra Jim Bronaugh; we were on our way to the taping. Doesn't mean we'll get on air, but you never know. Look for us, but my advice is … Don't Blink!
And if I wasn't busy enough, I am also helping shoot a scene for the Christian movie Providence on April 12 in Springfield, TN, and writing my monthly blog for Killer Nashville Magazine.
Whew!
Thanks for reading.