Multi-media March madness
As a (mostly retired) sports writer, I absolutely love March Madness. It is the peak time for high school and college basketball. I closed out February by covering the TSSAA Division II Class A girls state tournament for the Knoxville News Sentinel. If you missed it, Webb School of Knoxville pummeled Franklin Road Academy 64-40 to repeat as champions.
The Ohio Valley Conference Tournament begins Wednesday, March 4, at Municipal Auditorium, followed by the Southeastern Conference tournament at Bridgestone Arena, March 11-15. The Nashville Predators are cruising toward the NHL playoffs, auto racing is off to a roaring start, golfer Brandt Snedeker already has a win under his belt as he continues preparations for April at Augusta, top-ranked Vanderbilt and the college baseball season are already in full swing and MLB isn't far behind. I'm working on a story for the Nashville Ledger about the Nashville Sounds and their first season at First Tennessee Bank Park, which is scheduled to open April 17.
I will keep one eye on that competition, but most of my attention will be focused on some big news for both VENDETTA STONE and the current launch of the new Western fiction anthology "Tennesseans West."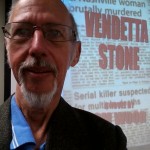 First, VENDETTA STONE. Many of you know I have been working on a screenplay based on the book. Last month, I felt it was finally ready and submitted it to the Nashville Film Festival's screenwriting contest.
Last week, I got some exciting news. It is one of nine semifinalists in the "Tennessee – Feature" division, and was a quarterfinalist in the "Action/Adventure" category.
There are some excellent scripts also in contention, including a pair by friend Elvis Wilson, who like me is a member of the Tennessee Screenwriting Association. The winner is supposed to be announced by mid-March; I'll keep you posted. Regardless of the outcome, it's an honor to get this far.
The prestigious Nashville Film Festival takes place April 16-25.
Meanwhile, our "Tennesseans West" project is off and running with two stories out in the series about historic figures who have strong ties to the Volunteer State, whether they were born or spent a good portion of their lives here. It was the only qualification, with the stipulation that — whether famous or infamous — these Tennesseans left their mark on the Western landscape.
David Crockett and Sam Houston were the first two Tennesseans that came to mind for the project. Texas wouldn't be what it is today if not for the sacrifice and ambition of these and other Tennesseans.
But my first short story for the series — "A Live Wire in Deadwood" — focuses on black cowboy Deadwood Dick, a rootin'-tootin', sharpshootin' son of a gun. His real name was Nat Love, born a slave on a plantation in Davidson County. He left Nashville at age 15 and endured many hardships in his lifetime before spending his latter years as a railroad porter. This story is now available in ebook format at http://amzn.to/1vySZtj and https://www.smashwords.com/books/view/517670, then in print in the "Tennesseans West" anthology
Joining me in writing this Western Trail Blazer series are four other great Tennessee authors of Western fiction: Troy D. Smith, Vonn McKee, John Neely Davis and Cameron Judd.
John recently released his award-winning second novel, "Bear Shadow" and has just published his first "Tennesseans West" story about a fifth-generation cousin who died at the Alamo with Crockett and other Tennesseans on March 6,1836. You'll definitely want to read John's story about Stephen Dennison. John's website is http://johnneelydavisauthor.com/
I will be speaking on Friday, March 20, to the Bellevue History & Genealogy Group, followed by a book signing March 21 at Hastings in Murfreesboro. On Friday, March 6, you will find me at the Franklin Art Scene crawl with several other area authors. We'll be stationed at Merridee's from 6-9 p.m. Please come by and say hi.
*****
I am sad to report that the Tennessee Literacy Coalition is closing its doors and canceled the statewide conference. Combatting illiteracy in Tennessee is an important issue that all too often gets overlooked and I hope some organization steps up to take on the cause.
*****
The ABC show 'Nashville' has returned to the airwaves for the second half of the third season. It has been a delicious, devilish season so far, the best yet as far as I am concerned. I hope a season 4 is in the works.
I've been an "extra" since the inception of the show and I worked on season 3's episodes 12 (aired Feb. 11) and 14 (Feb. 25), but those two I wound up on the cutting room floor. I just got through working on episode 18 (on March 2). Meet fellow 'Nashville' extra Jim Bronaugh; we're on our way to the taping. Doesn't mean we'll get on air, but you never know. Look for us, but my advice is … Don't Blink!
*****
Get well soon, Steven Womack. The prolific Nashville author recently suffered a heart attack and is at home recuperating from the life-saving quintuple bypass surgery. Steven, who teaches screenwriting at Watkins, was one of nine local authors to make an appearance at the grand opening of the new Bellevue Branch Library.
Thanks for reading.