Literature and Literacy go hand in hand
Another Christmas has passed, and it's a good time to focus on two big events in 2015.
There have been some wonderful 2014 highlights with Vendetta Stone, from discussing my debut novel with my former Tennessean editor and publisher John Seigenthaler on "A Word on Words" to appearances at major events that draw thousands of people – events like the Decatur Book Festival in Atlanta, the Southern Festival of Books in Nashville, the Jack Daniels Barbecue World Championship Cookoff and most recently Dickens of a Christmas in Franklin.
But 2015 will kick off with a couple of special events that will hold a special meaning to me.
January 29 is the grand opening of the new state-of-the-art Bellevue Public Library. It is going to be a magnificent facility – a gleaming 25,000 square foot building that will includes meeting space, a large computer space with 50 public use computers, areas for children and teenagers, a reading porch and outdoor classrooms and even a walking path.
Mayor Karl Dean will lead the grand opening ceremonies that will feature both Bellevue and Nashville dignitaries. But those ceremonies wouldn't be complete without the presence of several Nashville authors whose works are featured in the library. I'm pleased to be among that group with my fictional true-crime thriller Vendetta Stone, and here are just a few of the other authors who have committed to appear at the Bellevue Library's grand opening.
Steven Womack, who has published a dozen mostly Nashville-based novels, winning an Edgar Award for Dead Folks' Blues and a Shamus Award for Murder Manual. Steven's latest novel is Resurrection Bay (2014), and it was written in collaboration with New York City-based screenwriter Wayne McDaniel.
Alana White, whose historical mystery The Sign of the Weeping Virgin, was a Silver Falchion Award Finalist at Killer Nashville 2013.
Jaden Terrell is a Shamus Award nominee who writes the Jared McKean series, including the just-released River of Glass.
Andrew Maraniss is the author of the well-received book about Vanderbilt basketball, Strong Inside: Perry Wallace and the Collision of Race and Sports in the South.
Kristin O'Donnell Tubb is a children's author whose fantasy debut, The 13th Sign (2014), was called "the ultimate astrological fantasy" by Kirkus Reviews.
Tracy Barrett is a YA author whose most recent works are Dark of the Moon, a retelling of the myth of the minotaur, and King of Ithaka, based on Homer's Odyssey.
Phyllis Gobbell is co-author of a mystery series that debuts with Pursuit in Provence, Spring 2015. She co-authored An Unfinished Canvas with Michael Glasgow (the Janet March case), and A Season of Darkness with Doug Jones (the Marcia Trimble case).
Chester Campbell is the author of the Greg McKenzie Mysteries and the Sid Chance Mysteries and recently moved to Bellevue.
The format isn't yet set and more authors will be announced in the near future. We hope to see you in Bellevue next month.
*****
And if you live outside Nashville, I will be at the Coffee County Manchester Public Library on January 17 from 10 a.m. until 1 p.m. Other authors include Trevor Cooley, Jackie Duncan, Teresa Hall, Samuel Hawkins, D.L. Holliday, Heard Lowry, Elena Parton, Weldon Payne, Chuck Schumacher, Jason Tate, Thomas Vaughn, Alana White, Wayne R. Wolford, Judith Yates and Alisha Yockey.
*****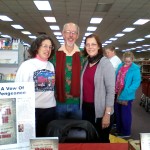 Thanks to all the folks in Crossville who came by to say hello during Saturday's session at The Book Cellar. I made some new friends – and ran into an old one! What a small world. Ruth Lebowitz (right) is in my writing/critique group in Franklin. She was at a writing conference at Fairfield Glade, one organized by her friend Judy Jacobs. They stopped by the Book Cellar to browse just as I was arriving. Small world, indeed!
*****
My other exciting news for 2015 is that I have partnered with the Tennessee Literacy Coalition to combat illiteracy in the state.
Here is their – and now my – Mission Statement: The Tennessee Literacy Coalition supports and promotes adult learning, transforming the lives of adults who seek to enhance their fundamental use of language – to read, write, communicate, and ultimately to succeed.
As an author, I feel compelled to do what I can to help people improve their reading skills. We tell stories and open doors to the imagination that might otherwise be closed.
If you donate $20 (or more) to the non-profit, you will receive a free copy of Vendetta Stone. In March, I will be speaking at their statewide conference. It's an important issue that all too often gets overlooked and needs your support. Call 259-3700 for information.
Thanks for reading.