The writing career is really starting to cook
When I took early retirement from The Tennessean in 2012, I had an exit plan. My goal was a simple one: Finish Vendetta Stone, my debut fictional true-crime thriller, and see what happened from there. The book came out in August 2013, but that was just the tip of the iceberg of opportunities.
Some I saw coming, but most I didn't.
Had no idea I would get to be a part of film and television projects, including Nashville and The Identical. The movie is currently in theaters (look for me in the sneak preview by clicking on the link) and I'm in a crowd scene for the Nashville season 3 opener, but don't know if I'll be seen on camera. Look for the guy in the cream-colored cowboy hat in the scenes at the TJ Martel fundraiser at Franklin Theater.
Other writing projects have evolved since publication of Vendetta Stone, but one I neither expected nor planned was editing a cookbook.
Here's how it came about.
I have been a volunteer worker at the annual Killer Nashville conference for thriller, mystery and suspense writers for the last several years. Last winter, while making my plans for the 2014 conference, we experienced an extremely cold week. While working, my wife Bennie brought me a bowl of the chili she'd made for dinner.
First bite. Zing-zing-zing!
"Wow, that's killer chili," I said just as I clicking on the Killer Nashville website.
Light bulb goes on. Ding-ding-ding!
I immediately fired off an email to Killer Nashville founder Clay Stafford, suggesting we do a Killer Nashville Killer Cookbook. He liked the idea, asked for a proposal, met and talked some more. At the 2014 conference at the Omni Hotel, we announced our plans for a mystery-themed cookbook, complete with a story written with the help of all our writing participants.
Now, we have started the process of seeking submissions from published authors in the genre of thrillers, mysteries and suspense. You will find a link to all the particulars in the right-hand column.
Deadline for recipe submission is Oct. 31, 2014 – exactly a year out from the 2015 Killer Nashville conference. It will be available in mid-2015.
Looking back: Spent the Labor Day weekend in Atlanta … more precisely, Hotlanta … showcasing Vendetta Stone in the Emerging Authors Tent at the Decatur Book Festival.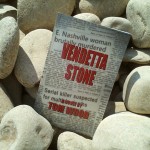 "It only took me 40 years to emerge," I told visitors, drawing a laugh every time.
In one form or another, they all responded, happy for me, "But you did. Better late than never."
And it's true. After spending 36 years at The Tennessean mostly as a sports writer and copy editor, I have spent the last year like a butterfly emerging from a chrysalis. Elton John sang it best in his 1975 hit "Someone Saved My Life Tonight".
Sweet freedom whispered in my ear
You're a butterfly
And butterflies are free to fly
Fly away, high away, bye bye 
It's been quite a journey since Vendetta Stone was published in August, 2013, and hopefully the best is yet to come. As I like to say, I spent 36 years in one job, now I've done 36 jobs in one year. Whew. Maybe I'll double that output in 2014-15.
Highlights from August included attending both the Killer Nashville writers conference at the Omni Hotel and the Decatur Book Festival. Both are great events that every author, or wannabe writer, should attend at least once.
A special moment for me at Killer Nashville was the announcement that Murder She Wrote author Donald Bain would be presented with the John Seigenthaler Legends Award.
John was – is – an inspiration to me and instrumental in publication of my book, offering concise constructive criticism in the early stages and inviting me on his long-running TV show "A Word on Words" after it was published.
We taped at the WNPT-8 studios on February 22 (my sister Cheri's birthday) and it aired on July 20, nine days after John's death at age 86.
When I heard right before the convention that the Legends Award was being given, I suggested to KN founder Clay Stafford that the award be named for Seig, who for 43 years hosted "A Word on Words". He was tremendously supportive of authors, known and unknown, and also provided Clay with advice when he decided to launch Killer Nashville in 2006.It seemed a fitting memorial and Donald Bain was a worthy first honoree.
Clay enthusiastically supported the idea, and I reached out to the family a few days before the convention. John Michael gave permission to name it after his father, for which I am so grateful considering how late I approached him.
Following the announcement, Donald's wife, Renee Paley-Bain, wrote on Facebook, thanking the Killer Nashville folks "for another wonderful conference and the amazing award you honored Donald Bain with. We're still beaming."
Me, too, Renee.
Another August highlight was getting to do a small role in the upcoming movie "My Many Sons" about legendary former Lipscomb basketball coach Don Meyer. Don, who died earlier this year, spent the latter part of his career at Northern State University. That's where my "extra" scene takes place.
It stars Judge Reinhold as Coach Meyer and Tatum O'Neal as his wife Carmen. Judge was right behind me and Tatum just to my left in the scene I shot at Overton High School. The movie, being produced by former Lipscomb outfielder Casey Bond, is being shot entirely in Middle Tennessee. A tentative release date is next April.
September began with another movie, my first theatrical experience as an extra. 'The Identical' starring Ray Liotta, Ashley Judd, Seth Green and newcomer Blake Rayne, premiers nationwide on Friday, Sept. 5. I am in the very first scenes which take place in 1937.
We spent eight hours shooting that tent revival scene in Watertown,Tenn., and singing 'Amazing Grace'. I think it's a great script with strong acting performances and a super soundtrack. Let me know how you like the movie.
My first experience as an extra was for the TV show 'Nashville' which begins its third season on Sept. 24. I'm in that episode and hope to be in more as the season progresses.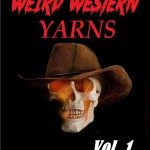 Looking ahead to a busy fall: I just found out that for the Oct. 10-12 Southern Festival of Books, I am hosting a Thrillers session (Friday. 1:30-3) with: Don Winston, The Union Club; Steven Womack,  Resurrection Bay; and Rod Davis, South, America.
It is just one of the highlights of what is going to be a busy fall. Here's my upcoming itinerary to promote Vendetta Stone and Weird Western Yarns Vol. 1.
Sept. 27 – Taste of Bellevue, 3-7, with five other Nashville-area authors
Oct. 5 – Fall Fest at Green Door Gourmet, noon-6
Oct. 10-12 – Southern Festival of Books
Oct. 24 – Tullahoma – Celtic Cup Coffee House and Hastings Book Store
Oct. 25 – Jack Daniel's BBQ Fest, Lynchburg, all day
Oct. 26 – McKay's Used Books, 2-4 to promote Westerns
Nov. 7-9 – Christmas Connection in Kingsport
Nov. 21-23 – North Carolina Writers Network Fall Conference, Charlotte, NC
Another outlet: Vendetta Stone is now available at Logos Bookstore in Green Hills. Check it out!
Before I close:.Shout-outs to my wife, Bennie, who is still traveling in Netherlands, and to my sister, Tracey, whose birthday was Sept. 1. Love you both.
Thanks for reading.