It's been a fast year, and we're not slowing down!
I am writing this on August 3, a pivotal date in my fictional true-crime thriller, VENDETTA STONE. On that evening in 2010, country music star Angela Stone disappeared from her East Nashville home. Her body was found 10 days later. Those events forever altered the life of her husband, revenge-minded Jackson Stone.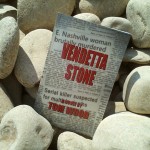 There's another key date in all this. August 5 marks the one-year anniversary of publication of VENDETTA STONE. And it has forever changed the direction of my life as well.
I have taken VENDETTA STONE to numerous conferences, book events, book and gift shops, coffee shops and festivals across the South, and it has been well received everywhere I've been. I've learned how to put together book events, most notably at Miss Daisy's Cafe at Grassland Foodland.
Tomorrow (August 4), I will be speaking at an American Legion meeting, and it is sure to be one of the year's highlights.
But the biggest thrill of the past year has to be the July 20 appearance on A Word on Words With John Seigenthaler. The former editor and publisher of The Tennessean, where I worked for 36 years, died nine days before show aired. We had taped it in February. I will always treasure that time I spent talking with John, and am thankful for that opportunity.
All these events of the last year have spurred me to try and top those achievements in the coming 12 months. I am working on the sequel to VENDETTA STONE, and I have completed a first draft of a screenplay based on my novel. I have had a Western short story published in the past year, and have begun working on a new Western series with some of my writing buddies. I hope it in bookstores early next year. There are a couple of other writing projects I have in mind. And I hope to continue appearing as an extra on 'Nashville' and other local projects such as 'The Identical' which premiers nationwide on Sept. 5
August is the launching pad for this series, it seems, and this will be a busy month. Two events already, upcoming trips to Murfreesboro, Manchester and Tullahoma on August 9, then the Killer Nashville Conference for Thriller, Mystery and Suspense Writers and Literature Lovers (Aug. 21-24 at the Omni Hotel), followed by the Decatur Book Festival on Labor Day weekend in Atlanta.
UPDATE: The Killer Nashville schedule just arrived and I will be speaking on a panel led by Edgar Award winner Bruce DeSilva. The session is called "Personal Experience as the Grist for Fiction" and we will be joined Frankie Bailey, John DeDakis and Connie Dial.
Whew. I don't even want to think about what's in store for the rest of the year. But if August is any indication, it's going to be a busy time.
Reckon I will conclude this month's blog with Seig's 'A Word on Words' sign-off:
Keep reading.