Buddies, books and baseball
"… At times both hilarious and poignant, this coming of age tale remains a classic today."
That's part of the description I found at Lucasfilm.com about legendary filmmaker George Lucas's 1973 seminal masterpiece American Graffiti – a phenomenal box-office success.
It's also a perfect description of our story, set 10 years after the fictional 1962 exploits of four teen-agers – Steve, Curt, John and Terry – in northern California. Their adventures focused on one night (and early morning) before Steve and Curt were to leave for college.
We were four teen-agers in Atlanta – Steve, Warren, John and Tom – and our series of adventures took place over about a two-year period in the early 1970s.
On Monday, June 30, we were all together again in Atlanta for the first time in 40 years. We spent nearly four wonderful hours at Ted's Montana Grill in Buckhead, catching up on our lives and telling stories about our past exploits that didn't need embellishment. Suffice to say, most of those stories will not be repeated here. But they were hilarious. Steve's son, Stevie, joined us and was laughing as hard at these timeless stories as any of us. So was our waiter.
And coolest of all, it was like we'd seen each other just the day before. Sure, there was a lot of gray hair (and a lot less in my case), and a few wrinkles, but for that four-hour span, we were teen-agers again.
"It was just two years, but those two years of high school were the best of our lives," John English said, and we all agreed.
We went to Briarwood High School in East Point, Ga., on the southwest side of Atlanta (go figure). John's two years older than the rest of us, so he was the first to depart the group for college. Steve Brodsky, Warren Diffenderfer and I graduated in 1973. Soon, we all went our separate ways.
Following our senior class trip to Daytona Beach, Fla. (the watermelon / swimming pool story got tons of laughs), our family moved to Tennessee. I went to college at MTSU, latched on at The Tennessean and stayed there until 2012. John has spent his life in Atlanta while Steve and Warren have been the road warriors.
We stayed in contact as the decades rolled by, a couple of us seeing each other sporadically, but it took four decades for all four of us to come together as family again. Brothers.
Together, we experienced life – learning, growing, chasing girls, sharing problems, fun times, ups and downs. Loud music, louder concerts, Friday night football, going to Shoney's after the games, road trips, Underground Atlanta trips, pro sports, hanging out at every mall across the city, three of us working at Six Flags Over Georgia. Old cars, new cars. Playing basketball. Surviving an ice storm.
We went to some great sports events at the Omni and Atlanta-Fulton Co. Stadium – and some great concerts like Deep Purple, Uriah Heep, Santana, and Chicago.
But the one concert our conversations kept coming back to, the most fun we had at – was the Wet Willie / Sha Na Na concert. We were front-row center and the only guys – besides headline act Sha Na Na – who were dripping grease.
Golden oldies were hip again in the early 1970s (remember Happy Days featuring American Graffiti star Ron Howard?), and Sha Na Na had taken the rock 'n' roll revival to new heights, appearing at Woodstock. We did our part in keeping that revival spirit alive – so much so that other concert-goers were asking us for autographs.
We talked to band members for about an hour after the show; I told the guys I still have a pair of socks that drummer Jocko Marcellino gave me (yes, they've been washed, but no, I haven't found them yet).
We've promised each other to get together again soon as possible. It won't take another 40 years.
And since I'm a published author who is also working on a screenplay, Steve, Warren and John all want me to write a movie about our teen-age escapades.
Maybe so. Maybe so.
Those were our Happy Days, at times both hilarious and poignant, a coming of age tale that remains a classic today.
UPDATE: My appearance on 'A Word on Words With John Seigenthaler' is set for July 20 at 10:30 am on WNPT-Channel 8 in Nashville. It will repeat on digital channel, Npt 2, (found at Comcast 241 / digital channel 8.2) on Friday, July 25 at 7pm.
After broadcast, the show will be added to the archive of podcasts found at www.wnpt.org/wow where shows are posted in sequential order according to first broadcast date and book title. It will also be available as a free audio download at I Tunes-Word on Words-Tom Wood.
More on Atlanta: Seeing old friends wasn't the only order of business while I was in Atlanta. I visited a half-dozen independent book stores and a library; two of them are now carrying my debut novel Vendetta Stone and Weird Western Yarns, Vol. I, the anthology in which I have a short story. I expect at least two of the other indie stores will carry them in the near future.
If you have friends in the Atlanta area, let them know they can get a copy at Atlanta Vintage Books on Clairmont Road in Chamblee (I really enjoyed talking with husband-wife owners Bob Roarty and Jan Bolgla) and at A Cappella Books in the Inman Park area (say hi to owner Frank Reiss). I will soon be adding other outlets in Atlanta, possibly a couple outside the traditional book store setting.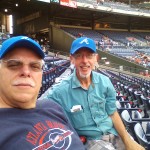 After spending Tuesday, July 1, driving to book stores all around Atlanta, I went to an Atlanta Braves game with my friends Steve and Stevie Brodsky that night. It was my first trip to Turner Field since covering track and field events at the 1996 Atlanta Olympics for The Tennessean.The Braves collected their sixth consecutive victory, a 5-4 win over the Mets. Former Vanderbilt pitcher started and struggled, allowing two homers and leaving without the win. But he had an RBI single and also scored a run. Anchor Down, Mike!
Before returning to Nashville on Wednesday, July 2, I took time to visit the Margaret Mitchell House in downtown Atlanta.
Seeing the tiny apartment where the author wrote Gone With The Wind, hearing the stories about how her literary legend mirrored her personal life, seeing the typewriter that produced such great writing was a truly inspirational moment. Did you know the last chapter of Gone With The Wind was the first one Margaret wrote? This year marks the 75th anniversary of the movie's release, three years after the 1936 publication of her first and only book. If you are in Atlanta this summer, be sure and visit.
What's happening in July: Right now, my only scheduled event for this month is the July 11 Full Moon Pickin' Party at the Percy Warner Equestrian Center on Old Hickory Blvd. Gates open at 6:30 p.m., and the fundraising event sponsored by Friends of Warner Park runs from 7-11 p.m. I am excited to try a new venue and hopefully make a lot of new friends. I covered the Iroquois Memorial Steeplechase for several years in the mid-1980s, so this will be like another old-home visit for me.
You may see me handing out bookmarks at the Hot Chicken Festival or the downtown Fireworks Show on the 4th of July, and possibly making a pop-up appearance at Miss Daisy's Kitchen at Grassland Foodland or Shimai Pottery and Gifts at the Loveless Cafe.
There are two events set for July 12 that I would like to be at: a day-long open house at Linda Reed's Square Books in Manchester, Tenn., and the Southern Festival of Books reveal party at the Brentwood Library. This year's Southern Festival of Books is set for Oct. 10-12, and it will be my second appearance.
And there could be a few others. I will update this page if they happen.
The other big gig for July is resumed production of the ABC-TV show Nashville. I was an extra in seasons 1 and 2 and hopefully will be back on the set again this season.
Looking ahead to August: This is going to be an extremely busy month, with three signings (the Franklin Art Crawl on  Aug. 1, the Celtic Cup Coffee House in Tullahoma on Aug. 2 and Hastings in Murfreesboro on Aug. 9), followed by the Aug. 21-24 Killer Nashville writers conference, which this year has moved to the lush new Omni Hotel.
Well, that's all the news for this month. Talk to you again soon. Thanks for reading.