Nashville is an amazing town, and its star never shines brighter than in the month of June. There are all sorts of festivals and events covering all spans of the arts and entertainment industries. Here are a few of the highlights.
The CMT Music Awards kicked off the month in high style at Bridgestone Arena on June 4 and Carrie Underwood reigned. The CMA Music Festival launched a four-day run all over downtown, bringing thousands of visitors from across the world to soak up the music and the ever-changing downtown vibe.
If you've never been to CMA Music Festival, make plans to attend a future event. Several friends I've made through 'Nashville' or known through the years will be appearing on one of the various stages or one of the clubs around town.
If you're into film events, June is an equally big month for Nashville.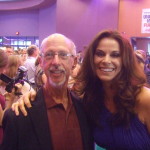 For starters,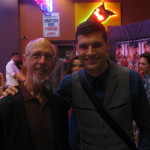 Billy Ray Cyrus led a star-studded premiere of the inspirational Christian movie 'Like a Country Song' on June 5. I got an invite and had a chance to talk with several of the stars, including Jennifer Taylor and Joel Smallbone, and also writer/director Johnny Remo. It's a good movie with good music a powerful message and is currently playing at Green Hills Regal Cinema in Nashville.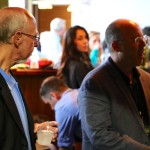 Here are a couple of film industry events worth mentioning. Film-Com (June 13-22) is a major expo and network for industry insiders and wannabees like me. Script-Com (June 21) is sponsored by the Tennessee Screenwriting Association in conjunction with Film-Com and Watkins College. It was a day-long seminar in three acts: The Execs speak from 10 am-noon, followed by The Filmmakers session from 1:30-3:30. The final act was The Read from 6:30-8:30, a live reading of this year's TSA contest-winning script, Empathy, by Elvis Wilson.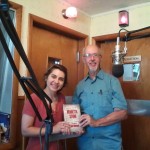 UPDATE I: It has been an extremely busy month, between Film-Com, book signings, etc. But I found time to make a trip to Manchester, Tenn., where I did a radio interview with Samantha Watters of Thunder Radio. It aired June 25 (9-10 am) and June 29 (10-11 pm). I also added a couple of new outlets in Middle Tennessee, Square Books in Manchester and Antiques at The Factory in Franklin. Contact me if you know other book stores, gift shops, coffee houses and the like that would be interested in carrying my books or doing a signing.
UPDATE II: I am excited to announce a new book event. I will be at the Blackberry Jam in Franklin on June 28 with several of my Authors Circle buddies. The all-day music festival begins at noon and runs until 9 p.m. I don't yet have a lineup of local authors, but it is sure to include several who appeared at our June 11 Miss Daisy Presents: Authors Circle Book Fair at the Grassland Foodland Market in northern Williamson County.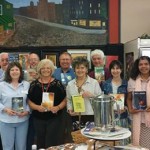 At our inaugural event on May 3, we had nine local authors, including store owner Daisy King – chef, restaurateur, businesswoman – whom I've known for many years, from back when I was a sports writer and copy editor at The Tennessean. We had a great turnout – and the good news is that the Authors Circle has found another outpost for future events and distributing our books to the public.Daisy enjoyed the event so much, she invited our authors to keep books at her store on a regular basis. Good food and good books go hand in hand, and I think we're heading in a great direction. There really are no book outlets in this part of the county, so Daisy is providing a new line of "Pick Tennessee" products for her customers.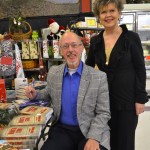 The genesis of this new venture began last November, shortly after Vendetta Stone came out. I stopped by her store to pick up one of her signature dishes at Miss Daisy's Kitchen – spinach bacon quiche, poppy seed chicken casserole, or something – and saw all of her cookbooks on display in a new section she called Miss Daisy's Cafe.
Tables and chairs were set out where visitors could take time out from a grocery shopping trip to enjoy coffee and a snack. Seeing her cookbooks, including the million-selling Recipes from Miss Daisy's, inspired me to asked Daisy if she would take a look at mine and consider carrying it in her store. She read the book and quickly agreed – and I have to say it Vendetta Stone has sold very well at her store.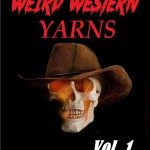 I will have Vendetta Stone, of course, and also a few copies of Weird Western Yarns, Vol. 1, in which one of my short stories is published. "Death Takes a Holliday," my take on gunfighter Doc Holliday's final winner-take-all poker game, is also available as an eBook on Amazon's Kindle, the Barnes & Noble Nook, iTunes, Smashwords, Weird Westerns. If you would like a copy, I am selling them for $10. Contact me here or through Facebook.
I am currently working on another Western venture that I will discuss in the near future.
Here are some of the authors who may be on hand for The Blackberry Jam on June 28.
 Kathy Rhodes – Author of Remember the Dragonflies: A Memoir of Grief and Healing, the story of her five-year journey after the loss of her husband. The book is resource in grief support groups for those who've lost spouses. Kathy, author of an essay collection, Pink Butterbeans, is senior writer/editor at TurnStyle Writers.
Bill Peach – The former owner of Pigg & Peach menswear on Main Street, Bill wrote about his hometown, the community of Boston, Tennessee, in The South Side of Boston. Other works include Random Thoughts: Left & Right; Politics, Preaching and Philosophy andThe Eye of Reason.
Reba Stanley – An author of Christian Romance books, Reba has produced three novels in The Garland Series: Storms, The Rancher and Where My Heart Lies. The Middle Tennessee resident is also a professional artist who has worked in various mediums of paint and color.
Michael J. Tucker – Has written two books in the Tom Delaney series, Aquarius Falling and Capricorn's Collapse.
Ginger T. Manley – A sex therapist and author, Ginger has four books out, including Assisted Loving: The Journey Through Sexuality and Aging.
S.R. Lee – Edited and contributed to the 2012 Civil War anthology Filtered Through Time.
Kelly Lynne – Her epic fantasy Silverfare series is geared toward teens and up.
Kaye Iscah – Her fantasy novel is Seventh Night and she also has a novella out.
Louise Colln – The novelist and poet has five books out, including San Antonio Seduction.
Kristen Kindoll – A contributing columnist for The Tennessean, her books are Queen's Autumn Gambit and Deep Fried and Southern Sides.
As you can tell from the titles, we will have a lot of variety at our June 11 event, and you are cordially invited to join us if you're in the Nashville area. Well, that's it. Talk to you again soon. Thanks for reading.