Gotta start this one by wishing my wife Bennie a Happy Birthday! We're going to PF Chang's in a little while to celebrate her May 14 birthday.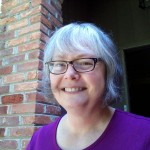 I am so blessed that Bennie came into my life 28-1/2 years ago. Wow, time flies when you're having fun. Cliche, I know, but it is true for us.
We have so much in common, the same viewpoints, laid-back attitudes, outlook on life, interests … and the number 14.
I've told the story before, but on her Special Day, it bears repeating. My birthday is January 14, Bennie's is May 14 and we met on October 14 of 1985.
Since 14 seemed to be such a good number for us, I suggested we get married on the 14th of a month. We were so in love, we weren't thinking of which month, we just knew it needed to be on a Friday, Saturday or Sunday since we would have relatives coming from out of state.
So we got out the calendar and started looking at the next few months.
December?  Not a weekend, darn it. January? Nope. February 14- Ding, ding, ding!
It was a Friday and – wait a minute, double bonus! Yep, we got married on Valentine's Day, 1986.
So, again, Happy Birthday, hon. And here's to many, many more.
Looking back – and forward: Coming off an amazing April, the momentum in May is continuing to gather steam.
I had a great time at he Authors Circle book event I helped put together on Saturday, May 3 at Grassland Foodland Market in northern Williamson County.
UPDATE: We have just scheduled a second one for Wednesday, June 11, noon-2 p.m. Hope to see you there.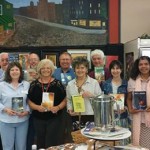 We had nine local authors, including store owner Daisy King – chef, restaurateur, businesswoman – whom I've known for many years, from back when I was a sports writer and copy editor at The Tennessean.
We had a great turnout of shoppers – especially since we were competing against a number of other events as well as springtime gardening and yardwork – and the good news is that the Authors Circle has found another outpost for future events and distributing our books to the public.
Daisy enjoyed the event so much, she invited our authors to keep books at her store on a regular basis. Good food and good books go hand in hand, and I think we're heading in a great direction. There really are no book outlets in this part of the county, so Daisy is providing a new line of "Pick Tennessee" products for her customers.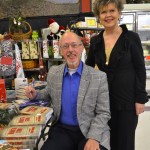 The genesis of this new venture began last November, shortly after Vendetta Stone came out. I stopped by her store to pick up one of her signature dishes at Miss Daisy's Kitchen – spinach bacon quiche, poppy seed chicken casserole, or something – and saw all of her cookbooks on display in a new section she called Miss Daisy's Cafe. Tables and chairs were set out where visitors could take time out from a grocery shopping trip to enjoy coffee and a snack.
Seeing her cookbooks inspired me to asked Daisy if she would take a look at mine and consider carrying it in her store. She read the book and quickly agreed – and I have to say it Vendetta Stone has sold very well at her store.
I have to thank Daisy for giving me that opportunity and now we've taken it a step further. A member of a Williamson County-based group of writers known as the Authors Circle, Daisy recently approached me with the idea of doing the book event at her store.
On Saturday, May 3, the dream became reality as Miss Daisy's Cafe played host to the inaugural Authors Circle Book Fair at Grassland Foodland. We had nine authors, including myself and Miss Daisy, and had something for everyone. Daisy is the author of 14 cookbooks, including the million-selling Recipes from Miss Daisy's.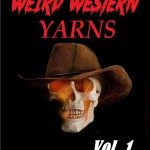 I brought Vendetta Stone, of course, and had available copies of Weird Western Yarns, Vol. 1, in which one of my short stories is published. "Death Takes a Holliday," my take on gunfighter Doc Holliday's final winner-take-all poker game, is also available as an eBook on Amazon's Kindle, the Barnes & Noble Nook, iTunes, Smashwords, Weird Westerns.
If you would like a copy, I am selling them for $10. Contact me here or through Facebook. I am currently working on another Western venture that I will discuss in the near future.
Here's a look at who else was at the May 3 event. (We'll have a different lineup for the June 11 event.):
Kathy Rhodes – Author of Remember the Dragonflies: A Memoir of Grief and Healing, the story of her five-year journey after the loss of her husband. The book is resource in grief support groups for those who've lost spouses. Kathy, author of an essay collection, Pink Butterbeans, is senior writer/editor at TurnStyle Writers.
Bill Peach – The former owner of Pigg & Peach menswear on Main Street, Bill wrote about his hometown, the community of Boston, Tennessee, in The South Side of Boston. Other works include Random Thoughts: Left & Right; Politics, Preaching and Philosophy andThe Eye of Reason.
Nanette L. Avery – The recipient of three literary grants and two Teachers as Heroes awards, Nanette invites readers of all walks of life and ages into her literary world of fiction, non-fiction, and poetry with such books as My Mother's Tattoo and Sixty Jars in Pioneer Town and First Aid for Readers.
Reba Stanley – An author of Christian Romance books, Reba has produced three novels in The Garland Series: Storms, The Rancher and Where My Heart Lies. The Middle Tennessee resident is also a professional artist who has worked in various mediums of paint and color.
Veeraja R – Dr. Veera S. Rajartnam's latest poetry book, Joy of Being, came about by the mere JOY of being, and in awe of God's gifts – Life and Nature around us!
Par Donahue, M.D. – The wisdom of 40 years of pediatric medicine comes through in Tools for Effective Parenting, his fourth book.
Steve Kubicek – Steve is the author of UP and IN: Seven Keys to Unlocking Your Potential and of the award-winning historic-fiction Visibly Struck, A novel based on the true experiences of George Washington and his faith in the invisible hand of God.
The June 11 event ought to be fun, and you are cordially invited to join us if you're in the Nashville area.
* * * * *
Two great guys: The Nashville Ledger recently assigned me to profile two great young men, both recent Vanderbilt graduates who I predict will soon become stars in their chosen professions.
One, Fitz Lassing, will soon be moving to Chicago to begin work for Bank of America.
UPDATE: The other, Jordan Matthews, was a second-round pick by the Philadelphia Eagles in the recent NFL Draft in New York City. Matthews, a star wide receiver for the Commodores who became the Southeastern Conference's all-time receptions leader, was one of 30 elite athletes who was invited to attend the May 8-10 NFL Draft.
I think Matthews will eventually have a major impact on the game – perhaps someday as great as his cousin, NFL legend Jerry Rice.
Besides the Nashville Ledger work, I'm also doing a lot of other newspaper work this month. I am covering Florida Gulf Coast softball and baseball teams for the Fort Myers News Press and Naples News when they're in Nashville, and I will be helping the Knoxville News Sentinel with its coverage of the TSSAA Spring Fling.
* * * * * 
As far as other happenings with Vendetta Stone, I have been invited to speak to a book club in Hopkinsville, Ky. on May 20 and I am scheduling other promotional appearances and outlets for the book as we speak. Will let you know more.
* * * * * 
Tonight, May 14, is the Season 2 finale for 'Nashville'. I am somewhere in the concert scene crowd, and I will be watching it the viewing party at Rippy's in downtown Nashville. It is open to the public and I hope you can make it. (Yes, Bennie has given me permission to go on her birthday.)
It's great news that 'Nashville' has been renewed for a third season, and I expect an announcement any day that production will also remain in Nashville. Austin, Texas, and Atlanta have been mentioned as alternate locations as state funding has lessened. I hope they're back. It's a lot of fun being an extra and I have made lots of new friends through the show.
Some of those connections recently clued me in on the ESPN College Gameday shoot hosted by Big & Rich at Fontanel Mansion. I was in the crowd wearing my Vandy and Tennessee shirts to make my preseason prediction for the 2015 clash in Nashville: Vandy over Tennessee.
I started doing this several years ago. I have a Vandy t-shirt and a longsleeve UT shirt. If I think Vandy will win, I wear the t-shirt over the longsleeve. If I think the Vols are going to win, the big orange shirt is the outer wear.
* * * * *
As I stated earlier, April was an amazing month. I had signings at Hastings Bookstore in Murfreesboro, the Donelson Library Book Club, Shimai Pottery and Gifts at the Loveless Cafe, the Southern Kentucky Book Festival and the Main Street Festival.
I also got to see Chasing Ghosts and The Identical at the Nashville Film Festival. It stars Ashley Judd and Ray Liotta and features newcomer Blake Rayne, and has a Sept. 12 release date. It was filmed entirely in the greater Nashville area (including Dickson, Lebanon, Watertown), and I was an extra in both movies.
Finally, the month concluded with a major tribute to John Seigenthaler, my former boss at 
The Tennessean. John, still chairman emeritus at the newspaper, has had the Shelby Street pedestrian bridge renamed in his honor.
Thanks to Mayor Karl Dean for taking this step to recognize a great man with a fitting honor for his lifetime of achievements. He helped his city bridge many social and racial inequities over his many years at the paper – and while covering a man's suicide attempt off a bridge in 1954, John grabbed the man before he could leap to his death. It made national headlines.
Surrounded by family and friends, media, city and state political leaders and others whose lives he touched, John humbly accepted the honor at the April 29 ceremony. He has been an inspiration to thousands – and is a personal hero to me.
In February, John invited me to talk about Vendetta Stone on his public television show, A Word on Words With John Seigenthaler. Not exactly sure when it will air, but producers said sometime in early July. I'll keep you posted on airdate.
Well, that's it. Talk to you again in June.
Thanks for reading.