Happy Thanksgiving Blessings to You and Your Family; State Views a New Titans Stadium as 'Investment'
By TOM WOOD / NOVEMBER 24, 2022
Over the past month, I've been writing for the Nashville Ledger about various aspects of the proposed drama-filled game of political football that has kicked off in Nashville.
For the Nov. 11 edition, I spoke with House Speaker Cameron Sexton (R-Crossville) about the state legislature's $500 million contribution for the proposed $2.1 billion enclosed stadium that – if it wins final approval from the Metro Council sometime next spring – would become the biggest public/private building project in Nashville history.
Across Tennessee, according to the Sycamore Institute, since 2021 state and local goverments have contributed more than $2 billion to subsidize new stadium projects and renovations of existing ones.
"We have a state that's really performing well, and our economy is excellent in Tennessee," Sexton told the Ledger. "We have an opportunity to do things that we've never seen before in our state. … I don't see that as a subsidy; I see that as an investment. And a development that will pay itself back in time."
House Speaker sees stadium as 'good investment.'
Ledger cover by Mike Hopey
Here's a brief look at previous the Ledger's stadium reports:
In the Oct. 28 edition, we lay out the process the proposed $2.1 billion enclosed stadium that has been the focus of growing debate over the last few months from both sidelines. Stadium funding would come from the state, the Titans/NFL ($840 million that would also cover construction overruns) and the city ($760 million that would come from bonds issued by the Metropolitan Sports Authority, a 1% hotel/motel tax, and sales and use taxes collected at the stadium and its surrounding 130-campus).
In announcing the agreement, Nashville Mayor John Cooper said Nashville general funds will be protected by voiding the current lease with the Titans that puts the city on the hook for up to $1.95 billion in stadium upkeep over the next 17 years.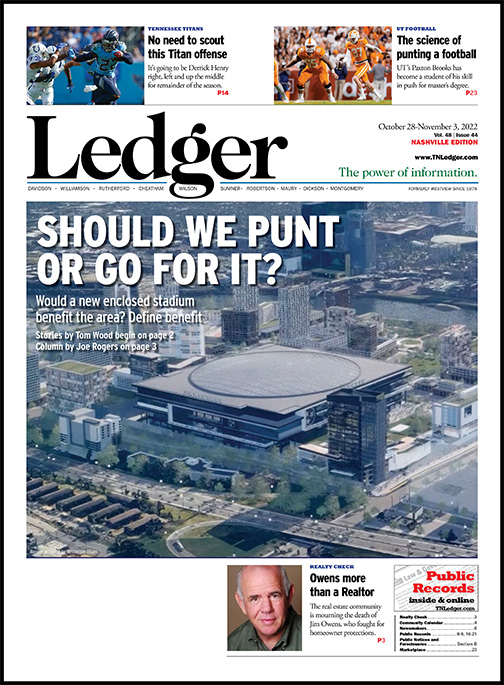 Now playing: Nashville's version of Punt, Pass or Kick.
Ledger cover by Mike Hopey
In the November 4 edition, one aspect of the story addresses "rumors" that the state might pull its $500 million portion of the funding because some Republican legislators are upset that Metro Council didn't approved bringing a Republican National Convention to Nashville in 2024 or 2028.
House Speaker Cameron Sexton flatly responds that, "The state of Tennessee is not going to pull the commitment we made to the Titans. That's a commitment we made to the Titans, that's not a commitment we made to Metro."
If you want to have your say on whether a new stadium is good for Nashville, here are upcoming East Bank Stadium Committee public comment meetings:
• Nov. 21: East Nashville Magnet School, 6 p.m.
• Nov. 29: Southeast Regional Community Center, 6:30 p.m.
• Dec. 1: William D. Bodenhamer Building, 6 p.m.
• Dec. 7: Bellevue Regional Community Center, 6 p.m.
• Hermitage Police Precinct, 6 p.m.
Be Your Own Car Mechanic
In the Oct. 21 edition, we examine a growing trend of people learning how to do their own maintenance and light car repairs by watching YouTube videos in light of the increasingly difficult task of finding a mechanic to work on your car.
In one recent report, it was found that not only can it take consumers up to two weeks just to schedule a service appointment at a dealership or independent service center, but that the average start-to-completion time for said repair job increased 2.1 days between 2019-21.
Motor trend: Do-It-Yourself car repairs are popular.
Here are some other things I've written about in 2022:
Money Connects College Football Issues
Doug Mathews has spent most of his adult life either playing, coaching, or talking about college football. So when writing about the issues facing college football for the Sept. 23-29 issue of the Ledger, the former Vanderbilt athlete and Tennessee assistant coach, and current sports talk radio host was one of the first people I contacted.
Mathews has his finger on the pulse of those many issues – everything from name, image, likeness (NIL) to the transfer portal (scholarship athletes leaving schools to play elsewhere), from conference expansion to expanded college football playoffs, from conferences changing their TV packages and states changing their NIL laws. It seems to me all those issues were connected by one thing: money. And Doug, with a few exceptions, agreed.
College football's top issues are all connected by money.
— Cover design by Mike Hopey
The Ledger package also looks at whether Nashville could someday host a College Football Playoff game now that its expanding from four- to a 12-team format beginning in 2026. Nashville is currently considering whether or not to build an enclosed stadium to replace aging Nissan Stadium.
Ledger Wins Award for General Excellence
By TOM WOOD / AUGUST 27, 2022
Congratulations to us! On Friday, August 26, the Nashville Ledger was named winner of the Tennessee Press Association's top annual award for Division III General Excellence.
The Ledger also took first place in four other categories, led by columnist Joe Rogers, who won two first place awards for Best Personal Column (Nothing is black and white when discussing race) and Editorials (Remember when government intrusion was a bad thing, Militant Moonies might not be the ideal new neighbor and TN Health officials have some nerve doing their jobs).
Nashville Ledger wins top award for division.
Michelle Morrow won for Best News Photo (Nashville history not easily recreated), and the newspaper won a first for Best Coronavirus News Coverage by Catherine Mayhew (Who's paying for COVID? All of us), Kathy Carlson (Getting more shots in arms, Will vaccine hesitancy extend to little arms? and No vaccine, no job? Not yet) and Tom Wood (Another COVID toll: $2 billion for funeral costs).
Congratulations to Lyle Graves, the Ledger's general manager and executive editor, and the rest of the staff and writers. And here's to more great work in the coming year.
As always, thanks for reading.
Tom Wood