Roar of Big Machine Music City Grand Prix boosts a super-charged Nashville economy
By TOM WOOD / AUGUST 4, 2022
That buzz you hear about Nashville's booming economy will turn into a roar this weekend as the Big Machine Music City Grand Prix returns for its second running over downtown street course that includes crossing the Korean War Veterans Memorial Bridge.
It's a fun, food and concert festival atmosphere that is capped by Sunday afternoon's NTT IndyCar Series race that is expected to contribute some $24 million to the Nashville economy this weekend. I preview Sunday's race (2:30 p.m., NBC/WSMV-4) in the Aug. 4-10 Nashville Ledger.
"We always said that our projections were $20-plus million in the first year, based on some of the examples that we had looked at that had been provided to us by similar-sized, similar-attended events in Nashville. And that held true," said Christian Parker, event president for the ownership group that includes high-profile names like Justin Timberlake and Dale Earnhardt Jr., among others.
"I believe that when it was all said and done, we were close to $24 million in total economic impact. That really hit those marks in year one, and that's great because it's true direct economic impact."
Music City Grand Prix lifts economy.
— Photo | LAT
Like the 2021 debut, this year's event is expected to draw 100,000 people from across the country to the three-day event. If and when international travel improves, the Grand Prix could draw even bigger crowds. Sunday's race will be televised in 50 countries.
Marcus Ericsson is the defending champion and crowds are sure to be cheering for local favorite Josef Newgarden, a Nashville resident who grew up in Hendersonville. Newgarden currently is third in the Series points championship behind Team Penske teammate Will Power and Ericsson.
Newgarden suffered a couple of hard crashes in the last month but was fully cleared to compete in last week's road course race in Indianapolis. Look for Josef to run with the leaders again and perhaps even win on his hometown street course.
Here are some of the other things I've written about and done in 2022.
Preds celebrate Christmas in July
Nashville Predators star forward Filip Forsberg has a new contract worth $68 million, a move sure to please the Stanley Cup-starved Smashville fan base, which gets to keep Forsberg in Nashville with the eight-year deal.
The high-profile transaction – which includes no-move and no-trade clauses – means the team avoided losing the 27-year-old Swede in free agency, which began July 13. Forsberg will remain in a Nashville uniform through 2030 and perhaps for the rest of his professional career.
The Forsberg deal is just one of several topics I cover in the July 15-21 edition of the Ledger. Other key moves examined are the addition of former Gov. Bill Haslam to the ownership group, the trade for Ryan McDonagh and the NHL Draft.
After signing the deal, Forsberg made clear his intentions of helping the Predators win their first Stanley Cup championship this decade. "At the end of the day, I want to sit back on the couch and look at a Stanley Cup ring. That's my ultimate motivation," he said.
Race avoids repeat of off-track issues
Fans can expect to see lots of changes for the better if, not when, they return to Nashville Superspeedway this weekend for the NASCAR Cup Series Ally 400. As of this writing, hundreds of tickets — perhaps a couple thousand — seats remain unsold for an event that was announced as a sellout three weeks in advance of the first Cup Series race in the Nashville area since 1984 and the first event hosted by the track since 2011.
That's the subject of my June 24 Nashville Ledger stories about all the changes that have been addressed in this second time around for the track.
Track officials listen to fans, make changes.
After my deadline, the track issued several press releases specifically addressing changes. Here's the one about parking and another on how to stay cool at the track this weekend.
VandyBoys Hit Road for NCAA Regional
Good luck this weekend to the Vanderbilt and Tennessee baseball teams this weekend as the 64-team NCAA tournament begins this weekend at 16 regional sites. Top-seeded Tennessee is hosting a regional in Knoxville while Vanderbilt is in Corvallis, Oregon, for the regional hosted by Oregon State. The VandyBoys begin their quest back to the College World Series against San Diego on Friday, June 3 at 3 p.m. CT. I wrote about the VandyBoys for the June 3-9 Nashville Ledger and Rhiannon Potkey did the UT story.
Vandy coach Tim Corbin says his team loves playing in June.
I also wrote a story about the Commodores for Main Street Nashville. Coach Tim Corbin and two of his players embrace the challenge of playing on the road. Vanderbilt is one of nine SEC teams in the 64-team field and the Commodores are the defending national runner-up, falling to Mississippi State in the 2021 CWS.
Nashville Could Host Super Bowl … If
Barring unforeseen circumstances, Nashville will host a Super Bowl before the end of the decade. I explore that possible scenario for the Ledger in its May 13-19 edition.
That may sound like a bold prediction, but based on ongoing discussions between the Tennessee Titans, the state and Nashville Mayor John Cooper, it appears the Titans will be playing in an enclosed stadium by the time the 2026 season kicks off … as well as having more than 45,000 hotel rooms available for Music City visitors.
If both of those conditions are met, it could mean the NFL will award the Super Bowl to Nashville as early as the 2028 or 2029 seasons.
A Nashville Super Bowl could be held as early as 2028.
Ledger cover by Mike Hopey
"I think we are a renovated or new stadium away from being able to host a (Super Bowl)," says Butch Spyridon, CEO of the Nashville Convention & Visitors Corp. "We have certainly reached out to the NFL. We have expressed our strong level of interest. "Their pattern of behavior is – as teams and cities have renovated or built new stadiums – they have tended to reward those markets with the second-largest sporting event in the world."
Auto industry shifts gears to electric
On June 16, 1983, the first vehicle was produced at the sparkling new Nissan plant in Smyrna and on October 21 of that same year, an official dedication ceremony was held at the plant. Now, almost 40 years later, company officials won't say what or how they'll commemorate four decades in Tennessee, but it was a moment in history that the whole state should celebrate.
I take an in-depth look at the subject in the May 6-13 edition of the Ledger, focusing on the past, present and electric future of the industry.
Tennessee's automotive ecosystem ranks No. 3 in the state's gross domestic product behind agriculture and tourism. More than 920 auto-related companies operate in 88 of the state's 95 counties. There are four major manufacturers with Nissan, General Motors and Volkswagen plus Ford's megasite near Memphis that will begin operations in 2025. Three companies have their North American headquarters in the Nashville are – Nissan, Mitsubishi and Bridgestone.
Tennessee's automotive industry ranks No. 1 in the region.
Ledger cover by Mike Hopey
Tennessee isn't the only southeastern state making its mark in the automotive industry, but it is by far the biggest. "I think that the industry is expanding all over the place right now. The South is definitely getting a big share of it," says Alisa Priddle of MotorTrend magazine.
Lorrie Morgan sings praises of hot chicken
Everybody, it seems, knows all about Nashville hot chicken these days. I was in Los Angeles in late March (see below) and went to a seafood restaurant that had Nashville hot chicken on its menu. The waiter said it was one of their most popular item.
Country music star Lorrie Morgan and friends are now singing the praises of the Nashville delicacy, as I wrote about for Main Street Nashville on May 4. Lorrie is joined by more than a half-dozen of her fellow artists on – appropriately – "The Nashville Hot Chicken Song," which was written by her brother Marty Morgan and Corey Lee Barker.
Lorrie Morgan is a hot chicken aficionado.
"We had some of our good friends that dearly love hot chicken, so they all agreed to give us a little piece of their time and come in and sing a few lines," said Lorrie, who has been eating hot chicken for more than five decades. She said her father, the late Country Music Hall of Famer George Morgan, used to bring hot chicken home after Grand Ole Opry performances.
Joining Lorrie on the cut are Darryl Worley, Larry Gatlin, Vince Gill, Tracy Lawrence, Pam Tillis, Jeannie Seely, Rhonda Vincent, Adam Warner and Morgan's son, Jesse Keith Whitley.
Congrats on the Oscar Nom, Brian
In April, I was in Los Angeles to support stepson Brian Chumney, who was nominated for his first Academy Award. Brian was the supervising sound editor for "West Side Story." The Oscar went to "Dune," but it was a great honor for him and a great trip to be able to be there for him.
Brian was profiled in the March 18 edition of the Ledger by Catherine Mayhew.
Brian and I enjoyed a breakfast in Santa Monica.
I got to do a lot of sightseeing with Brian, enjoyed some great meals and fellowship and couldn't be more proud of him. He's already had a wonderful career and the best is yet to come.
Killer Nashville Mag: Co-Writing a Book
The February edition of Killer Nashville Magazine, a free resource for writers, has a featured interview with legendary author Dean Koontz, who explains how he comes up with villains we love to hate.
Another of the mag's other articles is one I co-wrote with local author Michael J. Tucker on Co-Writing a Book. It's about our experience of writing A Night on the Town e-book and subsequent feature-length screenplay we wrote.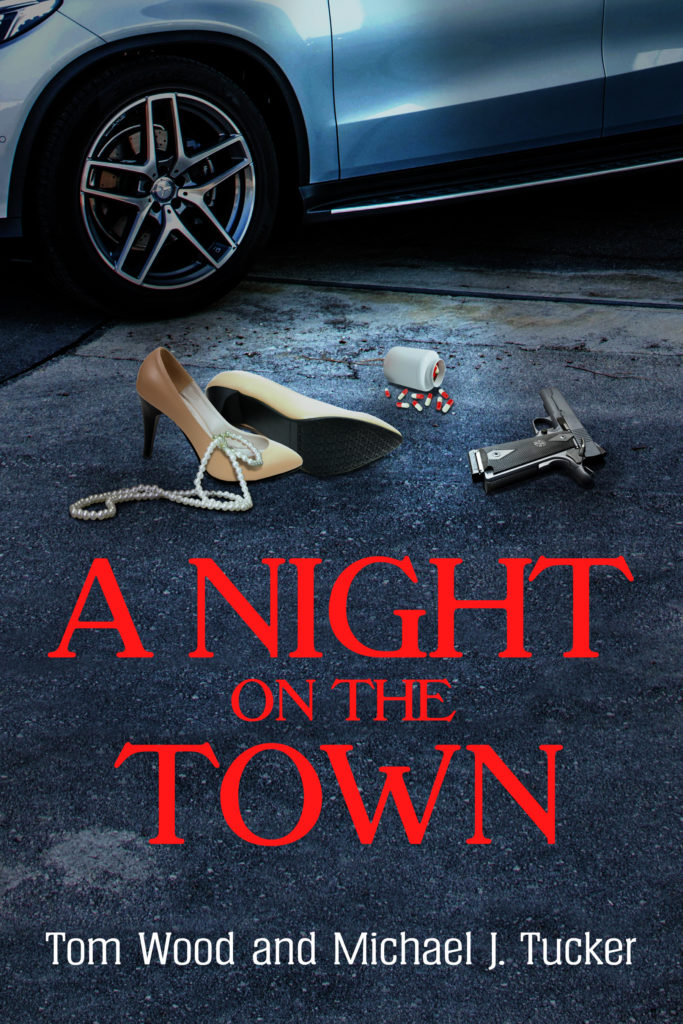 A Night on the Town, available on Amazon, is about a fatal rideshare encounter.
-Submitted photo
Give it a read and then check out the e-book. Killer Nashville is an international writers conference held the third weekend of August. So just around the corner. This year's event will feature Hank Phillipi Ryan as the featured author.
As always, thanks for reading.
Tom Wood