Before looking ahead to everything that's happening in April, I want to recognize and reflect on the loss of a former colleague at The Tennessean who was not only a personal inspiration, but had great impact on the city of Nashville.
On March 28, I joined about 700 other fellow Nashvillians at Downtown Presbyterian Church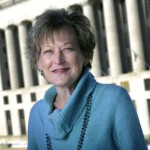 to say farewell to Gail Kerr, the talented columnist for The Tennessean who died of a blood clot on March 25. It was a moving tribute, a wonderful eulogy delivered by pastor Ken Locke and a sad, sad day. She left us much too soon.
I started part-time at The Tennessean in 1976 and Gail arrived two years later. All the younger staff members bonded, learned the profession first-hand from our mentors and later became mentors ourselves for a new era of journalists. We all experienced some highs and lows, some ups and downs, along the way, but we also made life-long friendships and I wouldn't change a thing.
Gail experienced numerous health problems the past few years, which have been documented elsewhere and don't need to be discussed in this forum. But it would be an understatement to say she is one of the finest journalists – and people – I ever knew.
I didn't stay in touch with Gail as closely as some of my other former colleagues, but we shared moments and memories each time our paths crossed. She always expressed delight in updates on my book and I had given a copy to her and husband Les Kerr, for whom my heart aches at losing the love of his life. Deep condolences, Les. Your Tennessean family will always be here for you.
One Facebook friend told me that Gail was a former neighbor. I thought about it a second and replied that in Nashville, Gail was everybody's neighbor. She took on politicians, championed causes and helped make Nashville a better city. Quite a legacy.
Many of those politicians, including current Mayor Karl Dean and former Gov. Phil Bredesen, attended her funeral along with television anchors Bob Mueller and Demetria Kalodimos and a Who's-who of current and former staff members at The Tennessean and the old Nashville Banner, including John Seigenthaler, Frank Sutherland, George Walker IV (who took the above photo of Gail) Sandra Roberts, Mike Morrow, Cindy Smith, Kirk Loggins, Michael Cass, Joe Biddle, Heather Fritz Aronin, Pat Embry, Brad Schmitt, Misty Emery, Jennifer Justus, Dwight Lewis, Ivan Aronin, Kevin Procter and way too many more to mention.
On Tuesday, April 1, The Tennessean announced a fundraising project in Gail's name to aid the homeless. It is a worthwhile  goal, one I hope all Nashville gets behind. I intend to help and hope you will also.
We'll all miss you, Gail, but you will live on in our hearts.
At the movies: As much as I am looking forward to the new Captain America movie, I am even more excited about attending the Nashville Film Festival (April 17-26) at Green Hills Regal Cinema because of two movies in which I appeared as an extra.
I've already seen a screening for The Identical, which will air on opening night at 7 p.m. and again on April 23 at 5:45 p.m. It stars Ashley Judd and Ray Liotta and features newcomer Blake Rayne. Shot entirely in the greater Nashville area (including Dickson, Lebanon, Watertown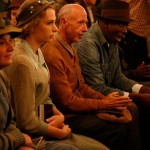 and a number of Nashville sites), the story spans from the 1930s-70s, and I got to appear in several scenes as an extra. The Identical will be released to the general public in August. It has an excelllent script, superb acting by the principles and an outstanding soundtrack. All in all, I think it has the potential to be a sleeper hit of 2014. The other movie in which I appear as an extra is Chasing Ghosts, which will be shown on April 17 at 6:30 p.m., and April 18 at 4:30. Both shoots were great experiences. I've made a lot of great, new friends as a result, and I hope to do more in the future.
April showers: This will be my busiest month since Vendetta Stone was published last August. I have at least a half-dozen speaking and book signing engagements scheduled the Nashville area, a high school reunion in Atlanta; I'm going to be at the NCAA Women's Final Four at Bridgestone Arena – and maybe coolest of all, two films in which I was an extra will be make their debut at the Nashville Film Festival.
Things start off with one of my semi-regular pop-ins at Missy Daisy's Kitchen at the Grassland Food Market on Wednesday, April 3. Daisy King has been a strong supporter of Vendetta Stone, inviting me to stop by and talk to shoppers as often as my schedule permits. I try to get there at least twice a month. FYI: We are planning a major event for early May; I'll share with you in an update here as soon as things are firmed up.
The following night, I will be in Smyrna for the monthly "Authors in the Round: An Evening of Literary Conversation and Camaraderie" event at Carpe Cafe. I will be there with editor Beth McLendon and fellow author Nanci Rathbun (Truth Kills, an Angelina  Bonaparte Mystery). The first-Thursday-of-the-monh program begins at 6:30 p.m., and I'm looking forward to meeting Beth and Nanci. This will be a good place for beginning and aspiring authors to network, gain insight into publishing and tips on how to get started, so please join us.
On Friday, April 4, you can find me in Franklin with other members of the Authors Circle group. We will be hanging out at Merridee's from 6-9 p.m., in conjunction with the monthly Franklin Art Crawl. Heard last month's event was a big one, and that this month's will be even better. Good weather brings crowds out for this popular event.
I'm really looking forward to being at the NCAA Women's Final Four, April 6-8 at Bridgestone Arena. 
As of this writing, Connecticut and Notre Dame have secured berths, and the other two slots will be filled tonight (April 1).
Unfortunately, Tennessee's Lady Vols will not be among the teams playing in Nashville. I wrote a sports/business preview for the March 21 edition of the Nashville Ledger. A link can also be found in the right-hand column, as well as a day-by-day schedule. Gary Alexander, executive director of the Nashville Local Organizing Committee, said the event will attract as many as 30,000 visitors to Music City, and that direct spending could reach $30 million. Tennessee's Lady Vols, led by Nashville native and Hillsboro High School standout Isabelle Harrison, were in pursuit of their ninth national championship. Harrison said she would love to win it all in her hometown. But, alas, the Lady Vols were eliminated by Maryland 73-62 on March 30 in the Sweet 16 regional in Louisville, Ky. Even without the Lady Vols in the field, it is expected to bring $20 million in direct spending.
On Saturday, April 12, I will make my second visit to Hastings Bookstore in Murfreesboro. I'll be there from 4-8 p.m. Hopefully, by then, I will also have available some copies of a new book featuring one of my Western short stories, "Death Takes a Holliday." My take on gunfighter Doc Holliday's final winner-take-all poker game is currently available as an eBook on Amazon's Kindle, the Barnes & Noble Nook, iTunes, Smashwords, Weird Westerns, but is due out any day as part of an anthology titled "Weird Western Yarns." I'm really looking forward to writing more of these, thanks to the efforts of publisher Troy Smith.
Thursday, April 17,  takes me to the Donelson Library Book Club. This will be a fun event, my first (but not last) at one of our city's library branches. Vendetta Stone is in both the Nashville and Williamson County library systems, and soon will be in other counties'. Refreshments will be served at 5:30, the program starts at 6 if you're attending.
On Saturday, April 19, I will be making an appearance at Shimai Pottery & Gifts, one of the shops at the Loveless Cafe. I will be there from 11 a.m.-2 p.m., getting the word out to tourists who stop by for lunch or breakfast. If you're hungry for food or a good story, come on by!
Following hot on the heels of the Nashville Film Festival, I will be at two major events the final weekend of the month, the Southern Kentucky Book Fest at the Knicely Center in Bowling Green, Ky., on April 25-26 (I'm speaking on a panel Saturday at 10 a.m., about thrillers) and at the Main Street Festival in Franklin on Sunday, April 27. I will be located in the Authors Circle booth.
Whew! So if you're in the Nashville area and want to pick up a book for yourself or a friend, there are plenty of opportunities in April. Hope to see you at one of them.
Happy birthday shoutouts: Today (April 1) is my niece Heather's birthday. We saw each other at a recent family event in Greensboro, NC. She has a great family in husband Tommy and son Zander. Also, my niece Hailey turned 7 last week. Much love to you both
Talk to you again in May.
Thanks for reading.