I first met Nashville author Steven Womack about a decade ago when I attended my first Killer Nashville writer's conference. He'd been a journalist, like me, and I listened and learned to what he had to say about the writing process and publishing industry. I still am.
Author Womack with his new book and 1994 Edgar Award
-Courtesy of Steven Womack
Our paths crossed occasionally at various events and then like everybody else, kind of lost touch with many during the pandemic years. But when I heard about his new book and return to his Harry James Denton series after more than two decades, I wanted to hear how and why he returned to the Nashville private investigator.
"I never stopped thinking about that series, about that character. I was always kind of wondering what happened to Harry and wanted to bring him back. It didn't take long to get back in kind of a (writing) groove. That was a muscle that I never let completely go lax," Womack told me in a recent interview for Main Street Nashville.
Unlike those days in the 1990s-2000, Womack is no longer walking the path of traditional publishing. He has regained the rights to his earlier books and operates as an independent publisher with his own Spearhead Press imprint.
His new book Fade Up From Black is available on Amazon as an e-book or trade paperback and will soon be out in hardcover.
Here's a look at some of my recent stories and things I've been doing:
More Than $3.4B Wagered in Tennessee
Super Bowl Sunday is like a national holiday for fans. But for the nine sportsbooks that operate in Tennessee, Super Bowl Sunday is big business. How big? That's my subject for the February 11-17 edition of the Ledger, and it's pretty eye-opening.
Online wagering became legal on Nov. 1 in Tennessee and over the next 14 months, through December 2021, more than $3 billion has been wagered inside the state's borders, according to the U.S. Betting Revenue Tracker of LegalSportsReport.com. You don't have to live in Tennessee to gamble here, but all bets must be placed inside the state, which borders seven other states.
I have updated those numbers in the Feb. 18 issue of Main Street Nashville in my story on the Sports Wagering Advisory Council, which assumed regulatory duties on Jan. 1, 2020. Mary Beth Thomas, executive director of SWAC, reported that for the month of January more than $386 million was wagered in Tennessee, raising the 15-month total sports handle to more than $3.4 billion. She also reported that more than $23 million was wagered for Super Bowl LVI which the Rams won 23-20 over the Bengals.
"Clearly, Tennesseans are enjoying online sports wagering," Thomas stated.
The gross payout for Super Bowl LVI was more than $19 million, up some $7 million from the 2021 Super Bowl.
"Last year during the Super Bowl, we only had four sportsbooks live. For the Super Bowl alone. There were 15.5 million wagers placed. Apparently, most of those people wagered correctly and placed their faith with the Buccaneers, so they ended up pocketing $12.6 million in winnings," says Alec Cunningham, managing editor of PlayTenn.com, one of several publications that cover the state's new industry.
"For all of February 2021, wagers amounted to 176.3 million, which you know this past December, they're already at 340 million. So judging by that and the forward momentum we're seeing, it wouldn't be unexpected to see double the wagers at this year's Super Bowl."
Super Bowl betting in TN to provide super boost.
Ledger cover by Mike Hopey
The state's ninth sportsbook — Wagr — opened for business on Jan. 20 and is part gambling, part social media, according to observer Jeff Edelstein, who writes for TNBets.com. Both Wagr and the sportsbook have Nashville offices.
"And I guess … what Wagr is hoping for – is to create more of a social atmosphere around betting," Edelstein says. "I'm sure they're hoping that groups will form on Facebook or something like that and basically be paying for the privilege to use the service and to match up with friends you can bet with from your office, things like that. I guess that to me would be like the main goal of the company."
I also sport with longtime Knoxville's Chuck Cavalaris, who serves as one of the media experts on WATE's 90-minute "Sports Source" TV show each Sunday. He hosts a segment called "Chucky C-Note Casino" on the show and cautions folks to not bet more than they can afford to lose and just enjoy the game.
That's good advice!
Here's a look at some of my recent stories and things I've been doing.
Killer Nashville Mag: Co-Writing a Book
The February edition of Killer Nashville Magazine, a free resource for writers, has a featured interview with legendary author Dean Koontz, who explains how he comes up with villains we love to hate.
Another of the mag's other articles is one I co-wrote with local author Michael J. Tucker on Co-Writing a Book. It's about our experience of writing A Night on the Town e-book and subsequent feature-length screenplay we wrote.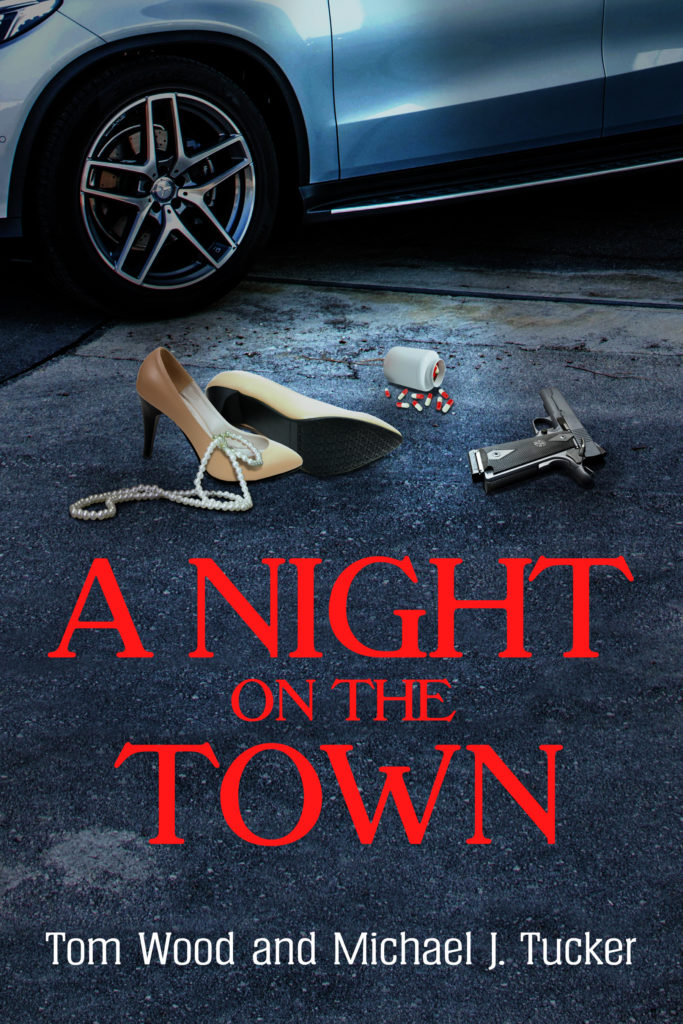 A Night on the Town, available on Amazon, is about a fatal rideshare encounter.
-Submitted photo
Give it a read and then check out the e-book. Killer Nashville is an international writers conference held the third weekend of August. This year's event will feature Hank Phillipi Ryan as the featured author.
In other writing news, the Authors Circle will host the Franklin Book Festival on June 4-5 at Williamson County Library on Columbia Avenue. More later on that event.
College athletes cash in with NIL deals
By TOM WOOD / February 4, 2022
I love this cover by Mike Hopey for the February 4-10 edition of the Ledger, which perfectly illustrates the name, image, likeness issue that is transforming college athletics. In researching the article, I learned that NIL bank-shot deals have been hit by Vanderbilt basketball star Scotty Pippen Jr., Tennessee's Uros Plavsic and MTSU's Donovan Sims — but with varying degrees of success.
According to published reports, Pippen is one of the top potential NIL earners while deals that could be worth at least $30,000 a month. The Serbian native Plavsic cannot directly profit from NIL deals but can make them if they boost charities. And Sims has a single deal with a company in his hometown.
Some basketball players hit bank shots with NIL opportunities.
Ledger cover by Mike Hopey
This is the first year that athletes are allowed to profit off their name, image and likenesses, rights that all of us have. In previous years, it might have put their NCAA eligibility at risk.
Vanderbilt communications professor John Koch, a senior lecturer and director of debate whose areas of interest are public memory and the intersection of political culture, rhetoric and sports, puts the issue in perspective:
"The college landscape, especially in football, has just changed so very quickly with the NIL – but also the transfer portal, where athletes don't have to wait a year (to) transfer – and it's given these college athletes a level of autonomy that two years ago would have been unthinkable," Koch says. "So there's a lot happening in college sports that we're going to have to really wait to see how it plays out."
MTSU upgrades athletic facilities
Middle Tennessee is in the process of investing $100 million in its athletics facilities, a process that could boost everything from attendance to future conference affiliation during a time of fast-moving changes in collegiate athletics. I explore the subject for the Ledger in the January 21-27 edition, and it has energized both school officials and fans alike.
The changing face of college sports seems to be the catalyst for MTSU's massive facility upgrade. In the world of realignment, MTSU has to make itself attractive to possible suitors. MTSU, currently a member of Conference USA, recently declined an invitation to join the Mid-American Conference.
AD Chris Massaro says the upgrades will make MTSU "more attractive to fans and potential conference suitors, as well," Massaro says.
MTSU upgrades its facilities in order to stay competitive.
Submitted photo, MTSU Athletics Communications; Ledger cover by Mike Hopey
"When you look at it, probably the most important thing with all this recent movement from one conference to different conferences is they wanted schools that showed a commitment to their athletic programs from a facility standpoint," MTSU football coach Rick Stockstill says.
"When conference realignment, the (next) waves of that come along, that's a major part of what those conferences are looking for," adds Chip Walters, the Voice of the Blue Raiders. "And if you look at what the (American Athletic Conference) did, and the schools they brought in, a lot of those have new football facilities, things like that."
Crowdfunding lifts 'Wingfeather Saga'
Before being assigned the Ledger's Dec. 17-23 cover story, I didn't know much about crowdfunding. But Andrew Peterson, a Nashville singer/songwriter turned author, knew all about it. So his Shining Isle Productions partner J. Chris Wall.
Peterson has written a successful four-book fantasy series and always thought it would make for a great animated movie or television series. Now, thanks to a $5 million crowdfunding effort through Angel Studios, production has begun on the six-episode first season. It will air via streaming in late 2022 or early 2023.
"We felt this huge love from the readers who demonstrated that they really wanted to see this story (animated)." Peterson says of the crowdfunding campaign. "The four books tell a big story and the thought of trying to compress that into 90 minutes or whatever just didn't make sense to me."
Peterson's book series has been relaunched by Penguin Random House.
Submitted photo by Kristi Jones; Ledger cover by Mike Hopey
Peterson, an executive producer on the animated project, says the animated series — which is expected to run seven seasons if it's as successful as everyone hopes — will stay mostly faithful to the books.
""There are definite changes but the good thing about the fact that I the get to be the author who is in the room is that I get to to have a voice in the room about how far those changes go because it's a different medium altogether," Peterson says.
"The nice thing about it is that the changes so far have all made total sense to me and I've agreed with a lot of them. There are things that we've done in the series that I'm like, 'man, I wish I thought of that when I was writing the books.' That's actually cooler or that's better and so it's kind of like watching an adaptation of the 'Lord of the Rings' or something."
Wall notes the crowdfunding campaign was completed in just 20 days because of the loyal "Wingfeather" fans whose cries for an animated version were heard loud and clear — and were eager to support the project.
"For us, we had this opportunity where we had a large audience following from the books. We thought we could tap into those folks and appeal to their commercial sensibilities with, 'Hey this thing could be a really big success,' and it's making a show that they've all wanted to see — because they love the books, they want to see it," Wall says.
Submitted
Here's a look at some of my recent stories and things I've been doing.
FEMA's COVID-19 funeral assistance program
Before being assigned the Ledger's Nov. 19-25 cover story, I had no idea that the Federal Emergency Management Agency had a funeral assistance program. And unless you lost a loved one to COVID-19 over the last two years, you probably weren't aware of its existence, either.
But as of its Nov. 1 monthly report, FEMA has reimbursed more than 200,000 U.S. families more than $1.3 billion to help offset unexpected funeral costs. Claims can be made dating back to Jan. 20, 2020.
It's a different type of disaster than we usually see FEMA stepping into offer aid … tornadoes, floods, hurricanes and fires … but the pandemic has been far, far, FAR, deadlier than all those others combined with more than 762,000 U.S. deaths to date.
If you have already lost a loved one to COVID-19, my condolences. Make sure they know of this program. More than 16,500 fellow Tennesseans have died already and some $34 million has already been disbursed to more than 4,400 program applicants. Click here for FEMA's state-by-state breakdown:
Or if you have a friend or neighbor who lost a family member, tell them about it. They will thank you in their time of grief.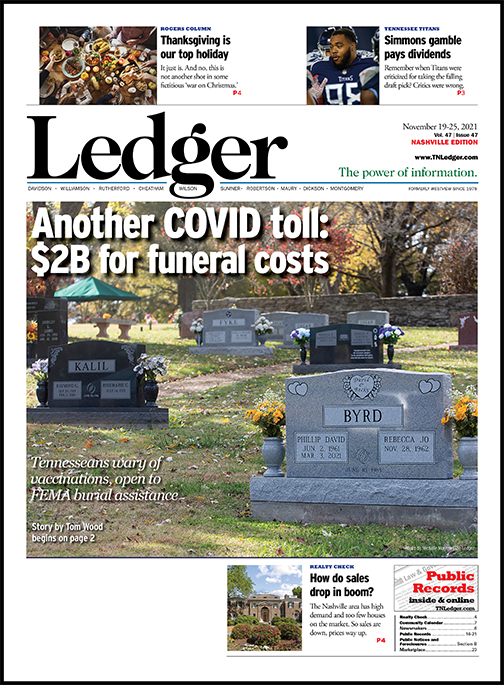 FEMA has paid $1.3B to COVID-19 victims' families in funeral assistance.
Ledger photo by Michelle Morrow; cover by Mike Hopey
As always, thanks for reading.
Tom Wood