Staying Fit During the Pandemic Isn't Easy, Choosing Between a Trip to the Gym or Home
By TOM WOOD / SEPTEMBER 24, 2021
Stay home or go to the gym for a workout? That's a question people face daily as they try to stay in shape during the pandemic era.
Some have no qualms about heading to a fitness facility and working up a good sweat next to equally sweaty people while others choose to work out in the relative safety of their home gym.
I recently talked to owners and athletes at three Donelson-Hermitage fitness centers — Competitive Edge, CrossFit Donelson and the YMCA branch for the Sept. 24 edition of the Nashville Ledger and learned that the overused phrase "personal choice" really is the best answer.
The facilities are doing all they can as far as sanitizing equipment and making the environment a safe haven for gym rats. And if you still don't think it's safe enough for your standards, build a home gym or, better yet, try one of the online classes being offered by the new YMCA360 program.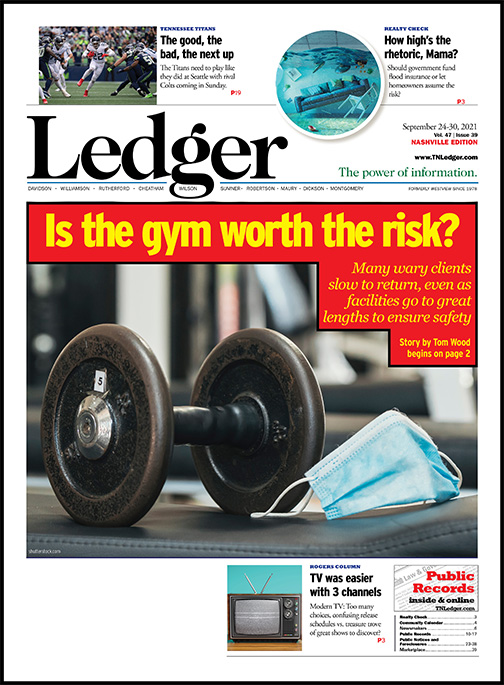 "It just seems too risky to us right now, all that's going on," Nick Sullivan says of returning to the YMCA
-Ledger cover by Mike Hopey
TSU's hire of Eddie George is the most intriguing and perhaps most difficult. Not only did the school need a big-name coach to breathe life into the program, it needed someone who could boost fundraising goals, draw national attention and create a media buzz unlike any since the John Merritt days. Eddie George is all that. George, a College Hall of Famer at Ohio State where he won the Heisman Trophy before being drafted by the Tennessee Titans, is a coaching mystery. This will be his first coaching job at any level … and he's the guy in charge! But Eddie has not only had NFL success, rushing for more than 10,000 yards, but he also experienced success as a businessman, has multiple educational degrees, has excelled as an actor and as a television commentator. There are many reasons to think he will be successful in this challenge, too. The Tigers' 16-10 loss to HBCU rival Grambling State in the Black College Hall of Fame Classic was winnable but any hopes of giving George a career-opening coaching victory were dashed by 18 penalties for 150 yards. That sloppiness is on the coaches. If those mistakes can be corrected, the Tigers will have a chance to beat Jackson State and Coach Deion Sanders in the Southern Heritage Classic in Memphis on Saturda.
Here's a look back at recent articles:
Keeping Up With The Coaches: One Win Each
Tennessee's Josh Heupel will be forever linked with Vanderbilt's Clark Lea and Tennessee's State's Eddie George as the answer to this college football trivia question: Name three football coaches hired by universities in the state in 2021.
Heupel is the leader in the clubhouse with a 2-1 record while George and Lea are each 1-2 going into conference action. The UT coach got his first win in week one against Bowling Green, then lost to Pitt in the Johnny Majors Classic before blowing out Tennessee Tech. After a disastrous home opener loss to ETSU, Lea's first victory came in the second game on the road at Colorado State, the program's first win since 2019.
Sept. 25 games: UT at Florida; Georgia at Vandy; and TSU at SEMO
-Ledger cover by Mike Hopey
TSU suffered losses against HBCU rivals Grambling and Jackson State chalked up his first coaching victory — ever, at any level. A Heisman Trophy winner at Ohio State, an All-Pro running back with the Titans, George opened his own businesses, took to the stage and achieved many other rewarding challenges before accepting the TSU job.
So now it's on to conference play and the challenges will increase exponentially for the rest of the season. Of the three coaches, George has the best chance of racking up the first conference victory. TSU is at winless Southeast Missouri State while the Vols visit Florida in the Swamp and No. 2 Georgia travels to Vanderbilt.
Dollar General expands and expands
The past decade has taken a toll on some of America's most recognizable company brands, a situation only made worse since the 2020 COVID-19 pandemic.
Paul Dittman, the Haslam College of Business assistant department head for Supply Chain Management, says the "retail apocalypse" of store closings experienced during both the 2008 recession and the current pandemic doesn't seem to have affected Dollar General.
The Goodlettsville, Tenn.-company boasts more retail locations — nearly 18,000 — than any other company in the United States and has long-range plans to have about 30,000 stores. I explore the past, present and future of Dollar General's growth in the Nashville Ledger this week. Click here to read more.
Below, you'll find information about my Harpeth RIver Writers friends. We are collective of local authors and there's a lot going on these days.
Many stores have closed, but Dollar General has more U.S. locations than any company.
-Ledger cover by Leigh Melton Singleton
Happy Mirthday to Killer Nashville
Congrats to all of this year's winners at the Killer Nashville 15th annual Writers' Conference, Aug. 19-22 at the Franklin Embassy Suites. This year's Guests of Honor were Lisa Black, Nashville's own J.T. Ellison and Walter Mosley. Walter is the recipient of the John Seigenthaler Legends Award.
Speaking of awards, congratulations to Harpeth River Writers author Catherine Moore, was a finalist for a Killer Nashville Silver Falchion Award. The book, Borrowings of the Shan Van Vocht, is in the c for Best Supernatural.
'Borrowings of the Shan Van Vocht's is a Killer Nashville Silver Falchion Award finalist.
While Killer Nashville is a conference primarily for mystery, thriller and suspense writers, publishers and agents, the public is invited to visit the KN Book Store to meet and get books signed by their favorite authors. Find out more here.
And now, let me introduce you to these new works by HRW authors John Neely Davis and Diane Harsha:
Rule of the High Plains
Frank Rule, a short, bald, and bespectacled cowboy in the 1860s, has suffered grievous hardships and losses while building a reputation for solving mysteries and avenging wrongs. In this novel, Frank is trying to regain control of his life … but life won't let him. John has a book signing scheduled for Saturday, Aug. 28 To learn more about John's book, click here:
'Rule of the High Plains' is "superb storytelling," says author Vonn McKee, a WWA Spur Award finalist.
'Sticks and Stones: How to Hike the Appalachian Trail in Thirteen Years'
This is Diane's first book, a memoir that recounts her journey of hiking the Appalachian Trail over a span of 13 years. She is a Tennessee wife, mother, and FBI agent "who walks 2200 miles from Georgia to Maine when she can spare the time away from the demands of her career and the responsibilities to her family." It's hard for me to call Diane "Sticks" but I'll get used to it, I reckon. To learn more about her book, click here:
In 'Sticks and Stones,' "you'll find much to laugh over," says author Gerald D. Swick.
As always, thanks for reading.
Tom Wood