IndyCar Solicits Your Opinions and Feedback On How the Music City Grand Prix Fared
By TOM WOOD / AUGUST 9, 2021
So, whadja think? Year One of the Music City Grand Prix is in the rearview mirror and IndyCar.com wants your opinion. Click here to give your feedback.
The drivers gave the city, the fans and the atmosphere high marks. The race course? After nine cautions and a bumpy ride over the Korean War Veterans Memorial Bridge, the course probably needs tweaking. But that's to be expected for a first-year event.
I give the organizers high marks for pulling off a mostly flawless weekend. Great food, music and racing. TV coverage showed great shots of the city and drew praise on all fronts. The city got a much-needed economic boost. Even the weather cooperated. The first weekend of Augustt is usually hotter. But congratulations all around.
—————
By TOM WOOD / AUGUST 8, 2021
At times, the inaugural Music City Grand Prix seemed more like a Demolition Derby than a showcase event for both Nashville and the NTT IndyCar Series.
After going airborne and suffering a broken front wing four circuits into the 80-lap race, Marcus Ericsson held off Chip Ganassi Racing teammate Scott Dixon for what seemed a most unlikely comeback victory. James Hinchcliffe finished third.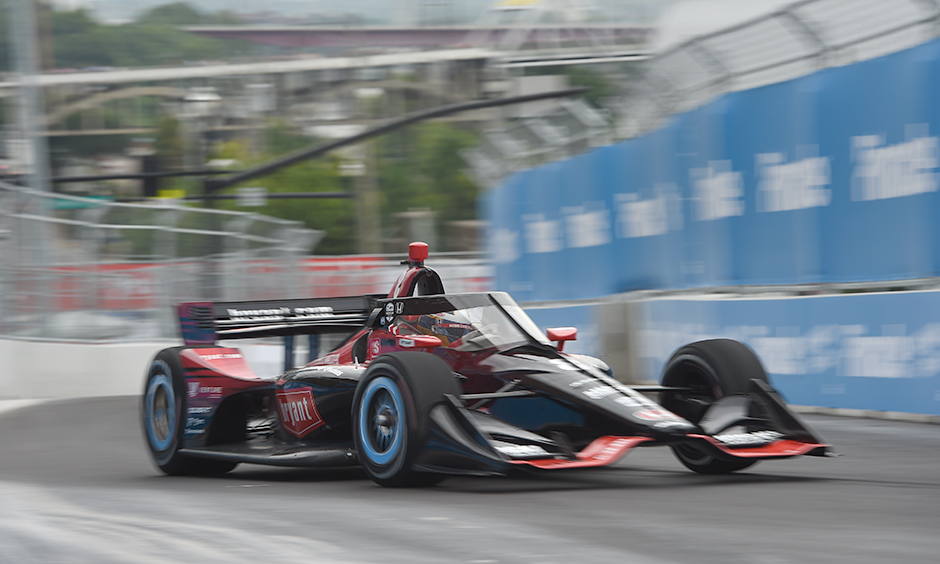 Ericsson overcame an early crash.
Image provided by IndyCar.com
Colton Herta, who dominated most of the race, was running second when he crashed with five laps left, ending his hopes.
Nashville's Josef Newgarden finished 10th in the crash-filled race that was red-flagged twice.
The inaugural Grand Prix drew a race-down crowd estimated at 55,000 and the three-day music, food, and racing festival drew more than 110,000 in an event that drew plaudits for the city and the organizers and will provide a much-needed economic boost for local businesses.
Read more here and check back for updates.
————–
By TOM WOOD / AUGUST 8, 2021
In 1973, our family moved from Atlanta to Nashville and the pro sports scene was a barren landscape. I missed the heck out of going to Braves, Falcons, Hawks and Flames games. Back then, the only major sport to call Music City home was auto racing. For two dates a year, when NASCAR visited the Fairgrounds. There was a weekly "pro" wrestling card hosted by Nick Gulas. But that was about it.
Things sure have changed, haven't they? We have the Titans, the Predators, Nashville SC plus a myriad of other annual events.. And NASCAR returned in June for its first Cup race here since 1984, staging the Ally 400 at Nashville Superspeedway. And Tony Stewart brought a major race back to the Fairgrounds last month, holding the SRX championship.
Then there's today. And pro sports in Nashville shifts gears again with the inaugural Big Machine Music City Grand Prix. A truly international three-day festival of music, food and racing, capped by today's 80-lap NTT IndyCar race over a 2.17-mile course that begins at Nissan Stadium, crosses the Cumberland River via the Korean War Veterans Memorial Bridge into downtown, then back over the river.
It's going to be a heck of a race and the whole world will be watching with a live crowd of about 60,000.
Action begins at 4:30 CT. Check it out. Nashville has never seen anything like this.
————-
By TOM WOOD / AUGUST 7, 2021
UPDATE: The fine whine of those engines sounded like a sad country song for many of his NTT IndyCar Series competitors, but qualifying was sweet music for Colton Herta.
While a number of drivers including Nashville's Josef Newgarden had close encounters with the walls, the Andretti Autosport/Curb-Agajanian driver Herta won the pole position for Sunday's inaugural Big Machine Music City Grand Prix street race through downtown Nashville.
Herta earned his second pole of the season with a fast lap of 1 minute, 13.6835 seconds. Six-time and defending series champion Scott Dixon qualified second to join Herta on the front row. Check here for complete details and updates.
————-
By TOM WOOD / AUGUST 7, 2021
Two-time Nashville IndyCar Series champion Josef Newgarden pegged it when I spoke to him in March about why this weekend's Big Machine Music City Grand Prix could take Nashville's international fame to another level.
"Well, I see Nashville becoming the entertainment capital of the United States, certainly, and possibly worldwide. It's a city that is primed for events," said Newgarden, a homegrown favorite contender to win the Sunday, Aug. 8 street race through downtown Nashville.
Prophetic words. The three-day festival of food, music and racing is expected to draw some 140,000, including an estimated 60,000 for Sunday's 4:30 p.m. CT race on NBC SN. It has drawn race fans from around the globe, has proven to be the economic boost that Music City needed after more than a year of COVID-19 shutdowns.
Like Newgarden, other NTT IndyCar Series drivers were singing the praises of Nashville, some going so far as to suggest it was already the sports' second-best event behind the Indianapolis 500.
"This could be the prom of IndyCar," James Hinchcliffe told NBC Sports. "This could be the party weekend of the year. The city itself is a ton of fun, and they know how to throw big events and throw a party atmosphere."
"I love this place. What a cool track," added 2021 Championship contender Pato O'Ward.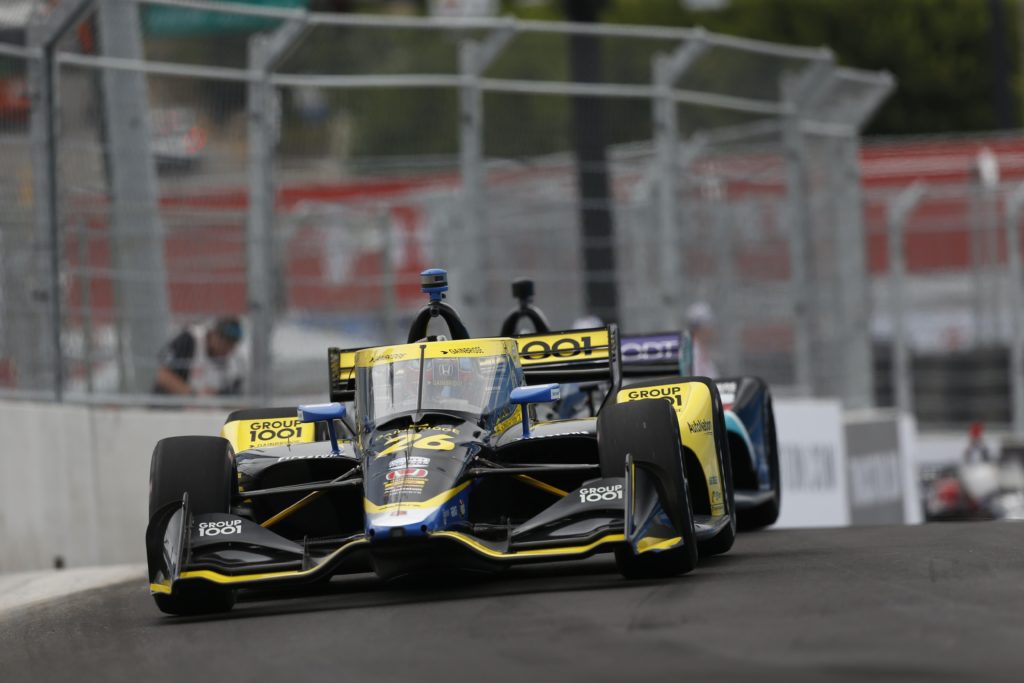 Colton Herta will be on the pole for Sunday's 80-lap race.
Image provided by IndyCar.com
Colton Herta, who led Friday's first day of practice, compared the course to Detroit.
"Obviously, with the bumps going over the bridge, I'd say it's even bumpier than Detroit, which we always say is the most difficult street course that we go to," Herta said. "This one might take it. I thought the bridge was going to be bumpy, but I didn't expect coming off the bridge to be quite that bumpy. It could make it a little tricky if you're braking for (Turn) Nine. Especially (Turn) Four it makes it tricky. I didn't expect it to be quite like that.
"But it's not a negative thing. I think it adds character to the track. It's actually pretty interesting to follow people through there and see if people are staying out wide or cutting in, trying to avoid the bumps, just finding different lines."
And speaking of Detroit — and its Motor City moniker — has Nashville perhaps overtaken that distinction. The Music City Grand Prix is the third major motorsports event to take place in Nashville in the last two months. Nashville Superspeedway hosted the first NASCAR Cup race in 37 years over the Father's Day weekend, and last month Tony Stewart brought the SRX championship to Fairgrounds Speedway.
Both events sparkled like the Cumberland River — which the IndyCar drivers are crossing this weekend via the Korean Wae Veterans Memorial Bridge. So is Music City the new Motor City? The case can indeed be made.
—————
By TOM WOOD / AUGUST 6, 2021
After weeks of simulator testing, NTT Indycar Series drivers spent their first day of practice Friday, Aug, 6, on the downtown track layout for the Sunday, Aug. 8 inaugural Big Machine Music City Grand Prix. It was a bumpy ride at times, but the drivers expected nothing less on an untested street course.
""We're just getting to grips with the track. Obviously, we came here with a really good package. We were fast right away, and I felt very comfortable getting up to speed," said Colton Herta, who turned in the day's fastest time of 01:16.5875. See Practice I results here.
"It's a little nerve-wracking, the first time you have to go flat over the bridge with the bumps because the last thing you want to do is for the car to bottom and you send it into the wall on a straight; you kind of look stupid with that. The simulations we did beforehand were on point for what we expected, and it made my job a lot easier," added the Andretti Autosport with Curb-Aganjanian.
Will Power, who turned in the eighth-fastest practice lap at 01:17.2436, also said he enjoyed his first tour of the 2.17-mile layout from Nissan Stadium across the Korean War Veterans Memorial Bridge into Sobro and back across the bridge.
"There's a couple of big bumps. The worst one is probably going into Turn 4. If they could just grind that down a little bit, it would be really nice. But the track's cool, man," said Power, who drives for Team Penske. "It was fun, apart from coming off the bridge heading into the city. That was a little sketchy, the bumps. There was one real big bump."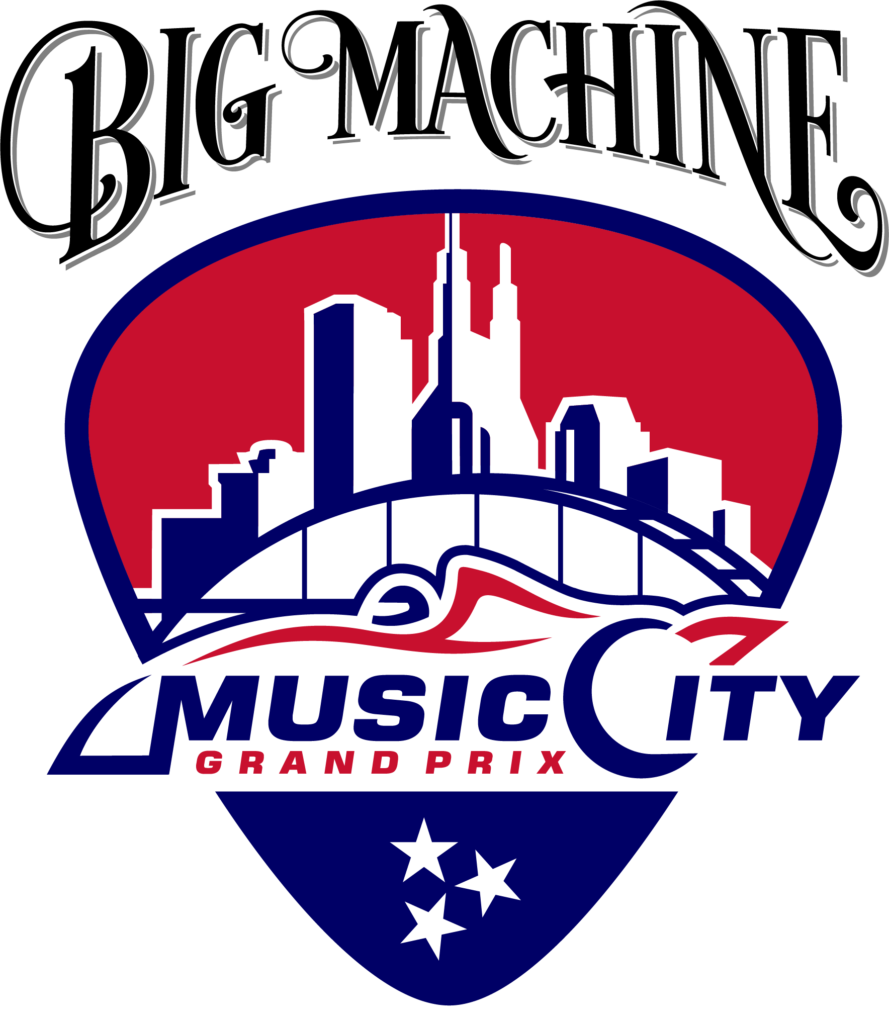 Sunday's 80-lap race begins at 4:30 p.m. on NBC SN.
Image provided by Music City Grand Prix
Nashville's Josef Newgarden, was 12th in the practice session. The Team Penske driver had a lap of 1:17.6603 (97.347). Josef has been a goodwill ambassador for the race officials, touting the city to anyone who would listen. His fellow drivers got the message.
"I loved the amount of fans here for a Friday. You see a lot of people in the stands already and a lot of action in the paddock. A lot of stuff to do, so it's really cool. I think the promoters have done a great job," Power said.
Saturday's schedule will be highlighted by the second NTT INDYCAR SERIES practice at Noon CT followed by qualifying/Firestone Fast Six at 3:30 p.m. Other action includes Trans Am qualifying (11 a.m.) and race (1:20 p.m.); GT America qualifying (2:50 p.m.) and race (7:25 p.m.); and a Crosley Stadium SUPER Trucks race (7:25 p.m.). The musical entertainment will feature Jon Pardi on the main stage at 8:30 p.m.
Sunday's race begins at 4:30 p.m. on NBCSN.
—————
By TOM WOOD / AUGUST 5, 2021
Three NTT IndyCar Series champion drivers, heroes in the eyes of motorsports aficionados, will take the backseat to a genuine American hero in Friday (Aug. 6) morning's ceremonial first lap of the Big Machine Music City Grand Prix.
The 10:15 a..m. event that will officially christen the 2.17-mile course layout is part of a salute to Korean War Veterans,
Nashville's Josef Newgarden, a two-time Series champion for Team Penske, will be joined by six-time series champ Scott Dixon of Chip Ganassi Racing and the race's Grand Marshal, and Dario Franchitti, a four-time series champion. The IndyCar trio will be Korean War veteran Jim Markham.
Markham, who lives in Mr. Juliet, joined the Air Force in 1951 and was stationed at Tachikawa Air Base in Japan from August 1951 to January 1953 before returning to Tyndall Air Force Base in Florida.
According to his bio, Markham was a Personnelist supporting troop movement using C-54 aircraft in and out of Korea. Jim was fortunate to miss the disaster that struck Tachikawa in June 1953 when a U.S. Air Force C-124 Globemaster II transport experienced an engine failure on takeoff, crashing shortly after. The accident claimed the lives of 129 people and was the deadliest air disaster in history at the time.
He left active duty and joined the Air Force Reserves for five years. Jim has been a member of the American Legion for 66 years and has served in multiple positions, including Department Commander (1992-1993) and Tennessee's National Executive Committee (2000-2002).
Meanwhile, Newgarden opens the festivities on Thursday (Aug. 5) with his annual charity ping-pong tournament at Pins Mechanical Company. Proceeds will go to the SeriousFun Children's Network. The event includes more than a dozen NTT INDYCAR SERIES drivers including the four-time and reigning Indy 500 winner Helio Castroneves; NASCAR Cup Series stars Joey Logano, Ryan Blaney and Daniel Suarez along with team owner Justin Marks; Tennessee Titans players; and other athletes, country music artists and celebrities.
The public can attend for a $50 admission fee to benefit SeriousFun. Tickets are available on EventBrite – https://bit.ly/3iXVwZi.
—————–
By TOM WOOD / AUGUST 4, 2021
Football Takes a Backseat to Grand Prix
The operative words for August? Fast. snd Sizzling.
As in the Big Machine Music City Grand Prix, an IndyCar street race and festival, which debuts this weekend (Aug. 6-8). More than 100,000 people are expected to attend the three-day event in downtown Nashville, a unique combination of food, fun, music and a race that crosses the Cumberland River via the Korean Veterans Memorial Bridge.
But it's also the month that football returns with training camps across the state at the high school, collegiate and professional levels. The Titans' first preseason game is Aug. 13 at Atlanta, which is intriguing because of players and coaches who switched addresses. Former Titans offensive coordinator Arthur Smith took over as the Falcons coach and then hired former Titans defensive coordinator Dean Pees. Meanwhile, the Titans landed gifted wide receiver Julio Jones after he spent 10 sparkling years in Atlanta.
As much as I love football, most of my interest right now is on the launch of the inaugural Music CIty Grand Prix
One of the favorites for Sunday's race (4:30 p.m., NBCSN) is Nashville's Josef Newgarden, a two-time NTT IndyCar Series champion. He went to high school in Hendersonville, moved to Indianapolis and later Charlotte, N.C., to further his racing career, then got married and moved back to Nashville a couple of years ago.
The Newgardens live about 10 minutes from the 2.17-mile course layout, which begins at Nissan Stadium, crosses the bridge into downtown and back. When I last spoke with Newgarden for the Nashville Ledger, I asked if he might have a hometown, competitive advantage. He answered with a qualified "yes."
"Yeah, maybe a little bit," Josef told me. "Because I live here, I get to check in on the course a little better than most other drivers. These drivers are the best of the best, and it doesn't them take very long to learn a new circuit. Once we start going during the race weekend, you're going to see people catch on pretty quickly to what's going on." Read more in the March 19 edition in the Nashville Ledger.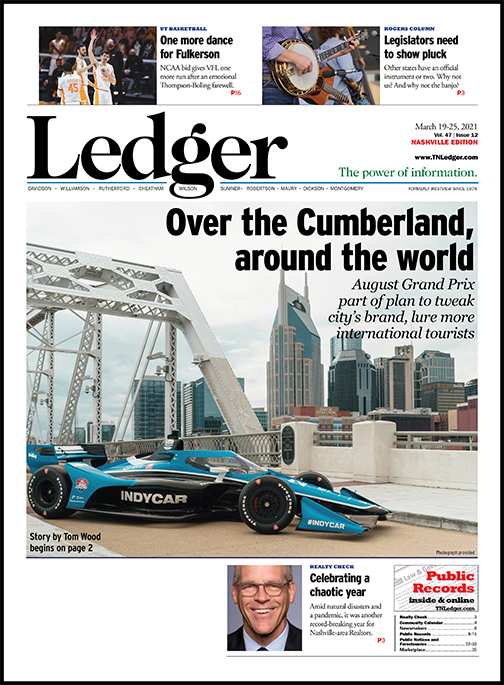 "Nashville is a city primed for events," driver Josef Newgarden says.
–Ledger cover designed by Mike Hopey
On Wednesday (Aug. 4), I posed that same question to Ryan Hunter-Reay during a Zoom press conference. He had a little different take, suggesting that Newgarden may feel pressure to win in front of the home fans but that doesn't automatically given him an advantage, The drivers' use of simulated courses to prepare for upcoming races is an equalizer — especially for a brand-new race.
"Josef's already right at the front, so that's the advantage he has, I think — that he's competitive every weekend that he goes to a racetrack.," Hunter-Reay said.
"That team is done a great job and has as well. But like (Newgarden) said, everybody's doing their homework. These are a bunch of highly qualified professionals and the drivers, or the talent level, is really high. We've been doing simulator stuff. Simulators … they're only as good as the model that you base it on. And that's only relative to what you actually get in real life. Then you go back, and you compare the simulation model to what you actually experience in a race car.
"The catch is nobody's actually been in a race car around this racetrack so the simulation models are all just an educated guess, I guess you could say," Hunter-Reay added. "So we're looking at the layout, we look at the bumps. We race on the track like that, some similar to that with bumpy surfaces and things like that.
"The great thing about this series is you have no idea who's going to win the race. It could be anyone of us. Somebody finds their stride with this track layout and the setup that they have on the car, yeah, and you'll see them up front all weekend. It's anybody's getting who that might be."
After answering my questions, Zoom moderator Dave Furst, IndyCar's vice-president of Communications, quipped, that "Josef's only advantage might be that he already knows where the barbecue joints are for Nashville."
"That's a good point," Hunter-Reay responded.
"I know I'm hitting hime up about some places," Furst said.
Meanwhile, here's a look-back at another Ledger story I wrote about how the Music City Grand Prix is truly a statewide event. Among those who helped turn a dream into reality are a high-powered group of owner investors stretching from Knoxville businessmen Teddy Phillips, Darby Campbell and Kevin Clayton to two-time Grammy Award winner Justin Timberlake of Memphis. Read more in the April 9 edition of the Ledger here.
"We love living here in East Tennessee but love visiting Nashville," says Kevin Clayton.
–Ledger covers designed by Mike Hopey
Phillips says it is exciting "to be able to have an event like this and be a part of this," and also credits Nashville city leaders as well as their event partners, the Tennessee Titans. The 2.17-mile race will begin at Nissan Stadium, roar across the Cumberland River via a 600-yard straightaway over the Korean War Veterans Memorial Bridge into downtown Nashville and back. "Thanks to the city of Nashville and thanks to the Tennessee Titans, we've been able to put this thing together," Phillips adds.
Campbell also is looking forward to the race for many years to come. "It will be a very big event. It will attract people from all over the world. It will bring eyes to Nashville — but it will also, you know, Nashville enhances it," he says.