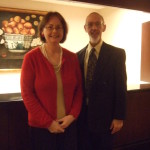 UPDATED: On February 17, I spent a wonderful half-hour this morning on the set of 'A Word on Words With John Seigenthaler,' discussing Vendetta Stone with my former editor and publisher at The Tennessean. Air date is not set, but probably early July.
On Saturday, February 22, I will be speaking and signing books at East Side Story from 2-4 p.m., appearing with touring author Robert Bailey (The Professor). Please join us.
PREVIOUSLY: Since February is the Month of Love, I am dedicating this column to my wife, Bennie.
Literally, I could not have written Vendetta Stone without her. So here's wishing her an extra-special Happy 28th Anniversary.
We were married on Valentine's Day, but not for the sappy, sentimental reason you'd expect – at least, not at first! It's a pretty good story how it came about.
Last month I mentioned how the No. 14 has seemingly always played a role in key events of my life.
I was born on Jan. 14; My wife's birthday is May 14th. We met on Oct. 14 and, after she accepted my proposal, I thought it would be a great idea if we got married on the 14th of an upcoming month. But because I would have a lot of family coming over from North Carolina for the wedding, it needed to be a 14th that took place on a weekend, at least a Friday.
She liked the idea and we agreed to wed on the first 14th that fit our qualifications. I started looking at 14s on the calendar.
November? Nope. December? Uh-uh. January? Onward. Feb–a Friday–good …
The light bulb went off!
"What a great idea! Let's get married on Valentine's Day!"
And so, we did. Like I said, perfect timing for another 14 in my life.
Now, flash-forward from 1986 to sometime in late 2007 or early 2008, when she inspired – that's not the right word, but you'll understand when I explain – the idea for my debut novel.
I was still working for The Tennessean and enjoying a day off with her. It was late afternoon and we were watching a local newscast. The reporter was interviewing a father whose child had been murdered during a restaurant hold-up where he worked. The father was so, so angry, and it came through very clearly.
As the report ended, I turned to Bennie and said, "Wow, that guy doesn't want justice. He wants revenge." Then I added, "And so would I, if something like that ever happened to you."
My next thought was 'that's a pretty good line,' and I couldn't let it go, trying to figure out how I would go about tracking down a murderer if the unthinkable happened. An hour later, I was writing.
And the result was last August's publication of Vendetta Stone, a fictional true-crime thriller.
So that's the story behind the story. And while my little fictional story is getting lots of attention and entertaining readers, the sad truth in our society is that far too many people have to experience the horror of losing a loved one to violent crime. One is too many.
Last December, I attended the state's Season to Remember ceremony at First Baptist Church. Listening to the grief shared by family members during the Christmas season was overwhelming.
None of them should have to be there; all of them needed to be there to try and somehow heal, or at least find a way to cope with the loss. I said prayers for them that night, and continue to do so.
I've lost loved ones, but never to a violent crime. I pray I never do. I don't know if I could handle it with the bravery those people do.
It was an eye-opening hour and so, while I dedicated this column to my wife, I also dedicate these words to them. Victims' rights groups need our moral, physical – and financial – support. I will write more about this at a later date.
A busy month: On February 1, you are invited to a Vendetta Stone reading and signing  at Hastings Bookstore in Murfreesboro, Tennessee. If you happen to be on your way to the Middle Tennessee State University men's basketball game against Old Dominion (5 p.m.), come by before or after the game. I will be at Hastings from 4-8 p.m.
This is the month of Love, and I would love to see you at Hastings.
But if you can't make it, I will be taking part in the Franklin Art Crawl on Feb. 7. Local authors set up shop at Merridee's, and we will be there from 6-9 p.m. I participated in the first one of the new year on Jan. 3. The winter weather kept a lot of people away, but I enjoyed talking to a few people and discussing craft of writing with fellow authors. Maybe I will see you there.
Another scheduled appearance is planned for Feb. 22 at East Side Story from 2-4 p.m. Touring author Robert Bailey will be making a stop, and I was invited by store owner Chuck Beard  to join Robert at the event. Thanks for reading,