Nashville will get a boost from August debut of Music City Grand Prix on downtown streets
By TOM WOOD / March 19, 2021
As Nashville continues to rebound from the COVID-19 global pandemic, expect at least a $20 million shot in the arm from the inaugural IndyCar NTT Music City Grand Prix on Aug. 8. Read more in the March 19 edition in the Nashville Ledger.
Organizers expect more than 100,000 fans from not only across the nation but from around the world, which will mean filled hotels, restaurants and downtown bars. And the action should be spectacular as the downtown course travels from Nissan Stadium over the Korean Veterans Memorial Bridge through city streets.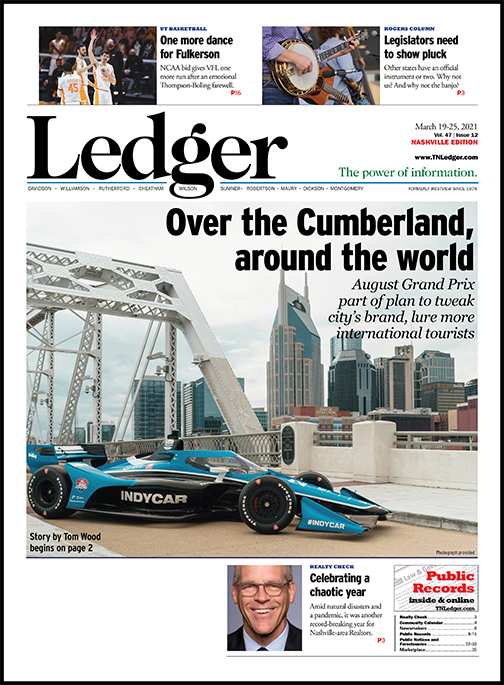 "Nashville is a city primed for events," driver Josef Newgarden says.
–Ledger covers designed by Mike Hopey
Newgarden, a two-time IndyCar champion (2017, 2019) who has 18 career victories, will be a homegrown favorite to win in Nashville. He grew up in Hendersonville before moving to Indianapolis to pursue his racing dreams. After living in Charlotte for awhile, he and his wife moved back to Nashville a couple of years ago.
Also included is a look at NASCAR bringing a Cup Series race back to the Midstate for the first time in 37 years when Nashville Superspeedway hosts the Ally 400 June 20 in Gladeville, about 18 miles south of Lebanon.
Here's a look back at some of my other recent stories in the Ledger.
SEC tourney brings back the buzz
March Madness returned to Nashville on March 10-14 as Bridgestone Arena played host to a socially distanced but nonetheless exciting relaunch of the Southeastern Conference men's basketball tournament. I wrote about it and the other spring sports for the Ledger in February. You can read that article here.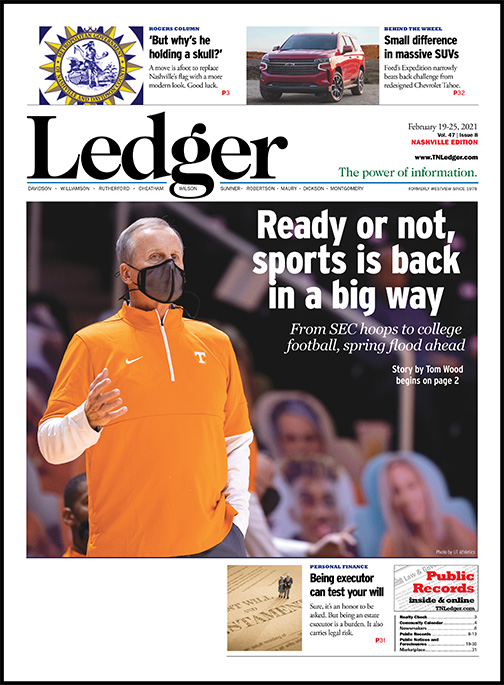 "We're not gonna put players or fans in harm's way," UT coach Barnes says.
Some of the highlights saw Vanderbilt win its first SEC tournament game under coach Jerry Stackhouse before being eliminated; Tennessee registering a superb win over Florida that should serve them well in the NCAA Tournament that begins March 19 in Indiana; a great SEC championship game between Alabama and LSU, with the Crimson Tide prevailing in a nail-biter.
Lea, Vanderbilt open spring practice
From all the people I have talked with, from listening to him talk,and from all that I have read about him, everything that new Vanderbilt football coach does is intentional.
So it comes as no surprise that the Commodores opened their first spring practice under Lea on Wednesday, March 17. You know, St. Patrick's Day … luck of the Irish, and all that.
Prior to taking the job at his alma mater, Lea served for three seasons as the defensive coordinator at Notre Dame. You know, the Fighting Irish. Perhaps Lea is hoping that a little bit of the luck of the Irish will follow him to Vandy.
In the January 8 edition of the Ledger, I wrote about Vanderbilt hiring Clark Lea as its new head football coach and his plans to revive the program.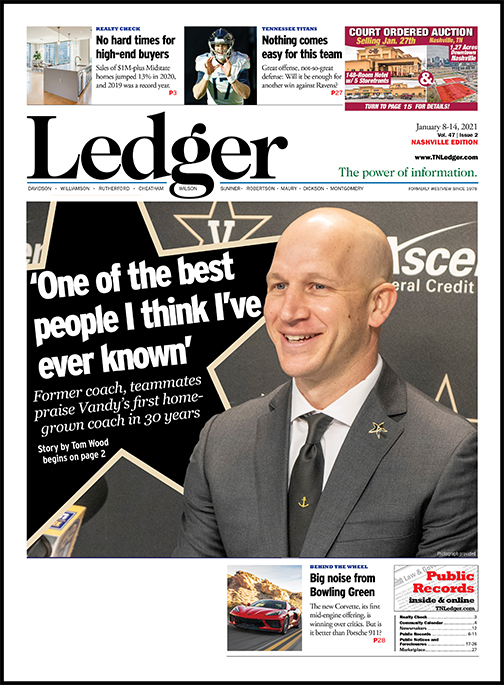 "There's no limit on what we can accomplish here," Clark Lea says.
–Ledger covers designed by Mike Hopey
In one of his early interviews with the media, Lea spoke about the influence Notre Dame coach Brian Kelly had on his growth as a coach, and what it will mean to Lea as he tackles his first head coaching job.
"Watching Coach Kelly, he's got an incredibly hard job. Watching him every single day handling that masterfully, his staying power, the sustained success, the toughness required to do that really was an experience for me that I think put the finishing touches on my preparation," Lea said.
"There's gonna be a lot to learn in this role, and that's where I'm gonna continue to lean on those people that have propped me up, along with Chancellor Diermeier and (athletics director) Candice (Lee) just as we get this thing rolling. The advice that I've always gotten from all these people that have a belief in me is to be myself, to trust my instincts. So that's what we're gonna do. I think that's what it means to have a supportive network. They believe in you for a reason. To grip the bat and to take my swing the best I can and to be proud of it, that's gonna be the mission here."
For my two cents, I think Vandy made an outstanding hire. How successful will Lea be? Vandy's program is pretty low and up is the only way to go. Hi high? Only time will answer that one.
The Commodores will wrap up spring practice with the spring game on April 17.
As always, thanks for reading.
Tom Wood