Nashville needs a boost from return of SEC men's basketball tournament, spring sports
By TOM WOOD / February 19, 2021
As I write this, the sun is shining and starting to melt some of the six inches of snow and ice that blankets our Nashville neighborhood. But spring is just around the corner … and so are spring sports.
Finally, here are my stories on minor league baseball in Knoxville and Chattanooga for the Tennessee Ledger and the Hamilton County Herald.
Due to the pandemic, it has been more than 500 days since either of the Class AA Southern League teams hosted a baseball game and the 2021 season will open May 2.
The Chattanooga club also weathered Major League Baseball contraction issues which will transform Appalachian League teams in Johnson City, Kingsport and Greeneville as well as Kingsport from a pro rookie league to high-level collegiate development league.
MLB's restructuring of the minor-league system reorganized and reformulated as the Player Development League with 120 teams. The Nashville Sounds, who signed a 10-year affiliation with the Milwaukee Brewers, will open their season April 6.
The Nashville Ledger asked me to take a look at the upcoming spring sports slate, which begins with the March 10-14 Southeastern Conference men's basketball tournament at Bridgestone Arena. You can read that article here.
As of this date, the Metro Board of Health still had not approved the SEC plans for staging the tournament but optimism runs high that its pending return will be a shot in the arm for Nashville's psyche and economy after the Covid-19 pandemic forced cancellation of the 2020 tourney and had a $4.5 billion economic impact on Music City.
There are many questions, assuming the tourney gets the OK to forge ahead. Will fans be allowed inside? What protocols and safety measures will be in effect? I spoke with coaches Rick Barnes of Tennessee and Vanderbilt's Jerry Stackhouse as will as city leaders, business people and others involved in spring sports about what this spring will look like.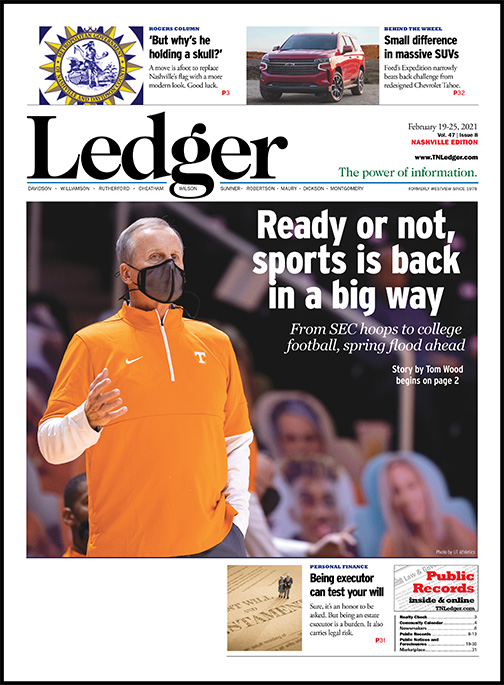 "We're not gonna put players or fans in harm's way," UT coach Barnes says.
–Ledger covers designed by Mike Hopey
Besides the SEC tournament, I also took a look at baseball, college football, soccer, the Predators and many other sports in action this spring. Hope you will give it a read.
Here's a look back at some of my other recent stories in the Ledger.
Lea, Vanderbilt open spring practice
From all the people I have talked with, from listening to him talk,and from all that I have read about him, everything that new Vanderbilt football coach does is intentional.
So it comes as no surprise that the Commodores opened their first spring practice under Lea on Wednesday, March 17. You know, St. Patrick's Day … luck of the Irish, and all that.
Prior to taking the job at his alma mater, Lea served for three seasons as the defensive coordinator at Notre Dame. You know, the Fighting Irish. Perhaps Lea is hoping that a little bit of the luck of the Irish will follow him to Vandy.
In the January 8 edition of the Ledger, I wrote about Vanderbilt hiring Clark Lea as its new head football coach and his plans to revive the program.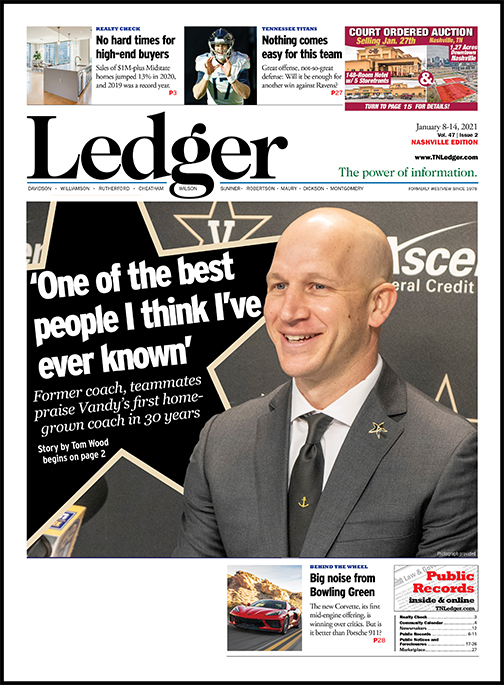 "There's no limit on what we can accomplish here," Clark Lea says.
–Ledger covers designed by Mike Hopey
In one of his early interviews with the media, Lea spoke about the influence Notre Dame coach Brian Kelly had on his growth as a coach, and what it will mean to Lea as he tackles his first head coaching job.
"Watching Coach Kelly, he's got an incredibly hard job. Watching him every single day handling that masterfully, his staying power, the sustained success, the toughness required to do that really was an experience for me that I think put the finishing touches on my preparation," Lea said.
"There's gonna be a lot to learn in this role, and that's where I'm gonna continue to lean on those people that have propped me up, along with Chancellor Diermeier and (athletics director) Candice (Lee) just as we get this thing rolling. The advice that I've always gotten from all these people that have a belief in me is to be myself, to trust my instincts. So that's what we're gonna do. I think that's what it means to have a supportive network. They believe in you for a reason. To grip the bat and to take my swing the best I can and to be proud of it, that's gonna be the mission here."
For my two cents, I think Vandy made an outstanding hire. How successful will Lea be? Vandy's program is pretty low and up is the only way to go. Hi high? Only time will answer that one.
The Commodores will wrap up spring practice with the spring game on April 17.
Another sportsbook operator OK'd
The Tennessee Education Lottery, which licenses and regulates online sports betting for the state, approved another operator at its Jan, 6 meeting of the Sports Wagering Committee.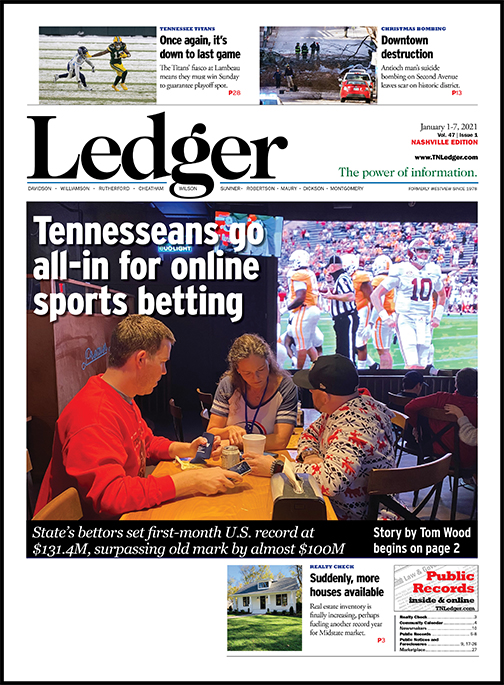 Current operators BetMGM, DraftKings, FanDuel and Tennessee Action 24/7 will soon be joined by BetAmerica, which will rebrand later this year as TwinSpires and is owned by Churchill Downs.
TEL president Rebecca Paul Hargrove was excited about the $131 million wagered in November and says December numbers will be announced toward the end of January. She also cautioned that "there will be a great deal of variance from month to month" in the numbers.
As always, thanks for reading.
Tom Wood