Vanderbilt hires Lea as new football coach; online sports betting is legal in Tennessee
By TOM WOOD / January 20, 2021
To begin my first column of 2021, let me congratulate new President Joe Biden and Vice-President Kamala Harris as they take office following their historic 2020 election. Pray for the United States of America, that the violence and bloodshed will come to an end and we once more will be a shining beacon in a dark world.
But I am not here to write about of discuss politics. Instead, I'll get you caught up on my recent articles for the Nashville Ledger newspapers.
>>> In the current issue of the Ledger (Jan. 8-15) is my story on Vanderbilt University hiring one of its own, former Commodores fullback Clark Lea, to resurrect the program after a winless season.
>>> For the Jan. 1-7 edition of the Ledger, I took an indepth look at legal online sports gambling in Tennessee, which officially launched in Tennessee with four operators on Nov. 1. In that first month of operation (Nov. 1-30), the state set a U.S. record for best first-month with more than $131.million wagered, topping by nearly $100 million the previous high set by Indiana in 2019.
Let me update you on a couple of angles that didn't make the Ledger's print edition.
Martin talks about ex-teammate
CPA coach Martin talks about his former teammate
First, on the Vandy story. In addition to listening to Lea and University officials speak at his introductory press conference, I interviewed Ensworth AD/basketball coach Ricky Bowers and Barton Simmons, the director of scouting for 247Sports.com. I also tried to interview Christ Presbyterian Academy football coach Ingle Martin, but we never connected. Lea, Martin and Simmons won state championships together for Bowers during the glory years at Montgomery Bell Academy.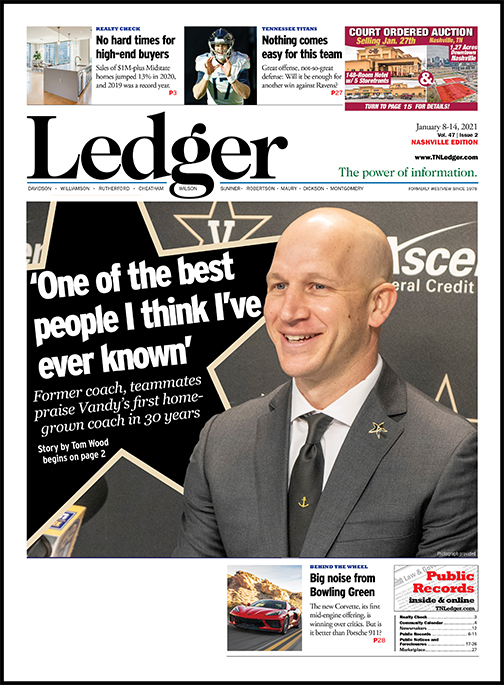 "There's no limit on what we can accomplish here," Clark Lea says.
–Ledger covers designed by Mike Hopey
As my story was going to press, word got out that Simmons was leaving to 247Sports.com to rejoin his old buddy at Vanderbilt. Then on Thursday, Jan. 8, I was able to speak with Martin. Here's some of what he said; you can find the rest of Ingle's comments in the Ledger.
"Clark's a really smart guy," Martin told me when asked about his relationship with Lea and Simmons joining forces for Vandy. "He's going to do it his way. He's going to get people around him that share common values and beliefs … people that I think will work extremely hard.
"So for Barton to join—with his notoriety and his reputation inside of the business—that's just unbelievable. And the match is really great for the kids at Vanderbilt and all the supporters of the Vanderbilt football team."
For my two cents, I think Vandy made an outstanding hire. How successful will Lea be? Vandy's program is pretty low and up is the only way to go. Hi high? On time will answer that one.
* * *
Last month, I took a look at what a fall without Tennessee football might have on Knoxville in the July 31-August 6 edition of the Ledger. While those Knoxville businesses have felt the impact of a September without Vol football, here's hoping the rest of the year will be brighter in Knoxville both on and off the field!
Another sportsbook operator OK'd
The Tennessee Education Lottery, which licenses and regulates online sports betting for the state, approved another operator at its Jan, 6 meeting of the Sports Wagering Committee.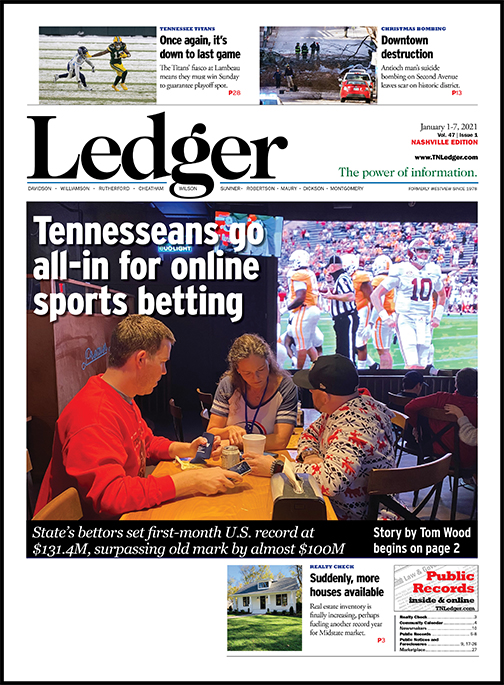 Current operators BetMGM, DraftKings, FanDuel and Tennessee Action 24/7 will soon be joined by BetAmerica, which will rebrand later this year as TwinSpires and is owned by Churchill Downs.
TEL president Rebecca Paul Hargrove was excited about the $131 million wagered in November and says December numbers will be announced toward the end of January. She also cautioned that "there will be a great deal of variance from month to month" in the numbers.
Looking forward to baseball
Finally, here are my stories on minor league baseball in Knoxville and Chattanooga for the Tennessee Ledger and the Hamilton County Herald.
Due to the pandemic, it has been more than 500 days since either of the Class AA Southern League teams hosted a baseball game and it could be another 100 days or so before the 2021 season opens sometime in mid-May.
The Chattanooga club also weathered Major League Baseball contraction issues which will transform Appalachian League teams in Johnson City, Kingsport and Greeneville as well as Kingsport from a pro rookie league to high-level collegiate development league.
As always, thanks for reading.
Tom Wood