In aftermath of Middle Tennessee tornadoes, media shows the horror and the humanity
By TOM WOOD / March 4, 2020
This isn't the blog I intended to write, but in a roundabout way, it does tie to the story I've written for the March 6-12 edition of the Nashville Ledger.
But before I get to that, I want to talk about the tireless media coverage of the devastating killer tornadoes that hit Middle Tennessee early Tuesday morning, plowing a path of destruction from Nashville to Cookeville. There have been at least two dozen deaths, most in Cookeville, hundreds of injuries and millions of dollars in property damage both personal and business, and affecting the lives of thousands.
Kudos to The Tennessean, the television crews at WKRN-2, WSMV-4, WTVF-5, and WZTV-17, all the radio stations and many others for their tremendous, immediate and non-stop breaking news coverage of every aspect of the unfolding disaster.
They warned the public of the approaching storm, were on the scene almost as soon as the danger was passed, and kept viewers, readers and listeners updated and informed of all developments, including how to help our neighbors and those in distress. The media told the stories of the heroes and the homeless, the helpers and the heartache, the tragedy and the triumph.
Sad to say, but incidents like these bring out the best in the media. We're all quick to criticize, sometimes make fun of mistakes and unintentional gaffes made in print or spoken live on the air. That's fair and that's fine, but give the media credit, too, when it is due. Like this unfolding tragedy.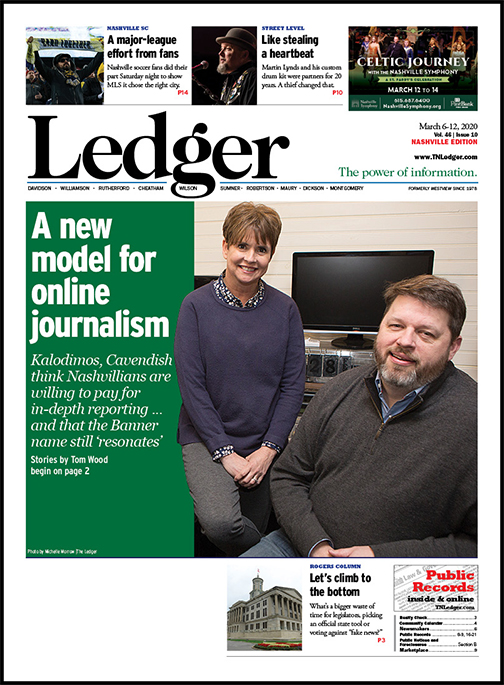 The new Nashville Banner won't be a print product
And that leads me to this week's stories in the Ledger. If you haven't heard, longtime Nashville journalists Steve Cavendish and Demetria Kalodimos will soon be launching a new online-only news-gathering organization with an old brand, the immediately recognizable Nashville Banner. —Ledger cover photo by Michelle Morrow
Start writing or type / to choose a block
I recently sat down with them to discuss their plans. And as I note in one article, this isn't your grandparents' Nashville Banner.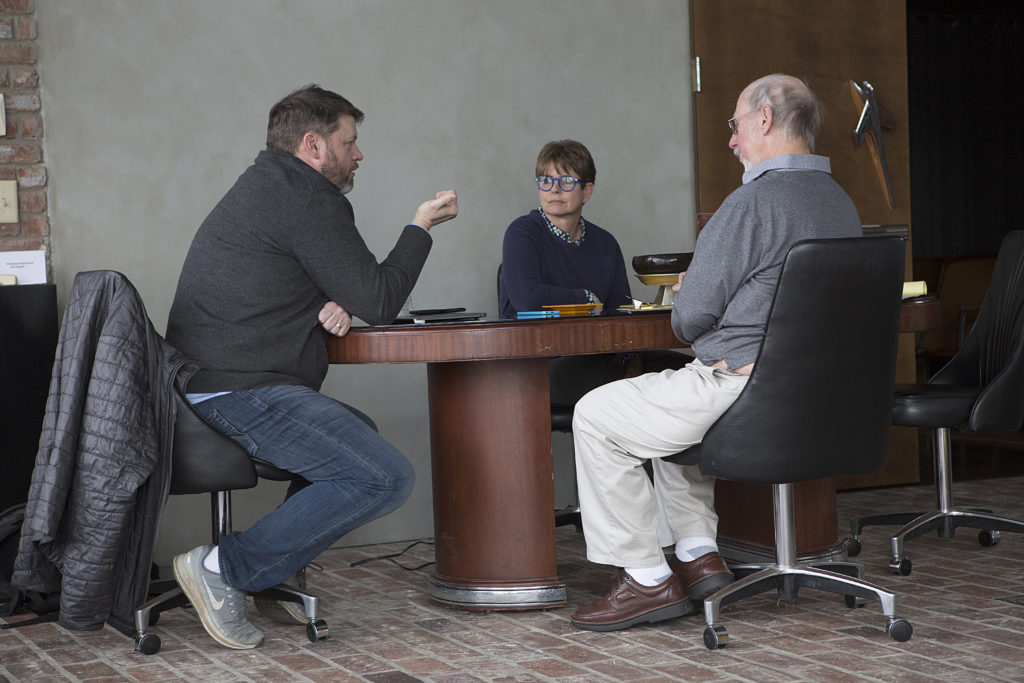 Steve Cavendish and Demetria Kalodimos talk about their plans to start a nonprofit online newspaper that will be called the Nashville Banner. –Ledger photo by Michelle Morrow
For starters, it's a nonprofit. And it's incorrect to call it an e-newspaper because it will have video stories as well as written ones. And it has a single-minded focus of civic journalism. No sports, no entertainment news. No op-ed, no obituaries. No comics, no … you get the idea.
What you will get is citizen-oriented, public service investigative journalism that is focused on state and local government, on issues important to Nashvillians. What you will get, Cavendish says, is a product that will fill a void caused by the cuts of corporate owners of local journalism.
"The economic model for local news is broken. And it's not broken a little bit. It is broken in ways that will never — ever — change," says Cavendish, who was editor of the Nashville Scene and City Paper. "Local news is by and large owned, and I think that number is like 55 to 60 percent of local news, is owned by some form of hedge fund or private equity or big institutional investor. And they do not care about the need for local news in these markets. The only way to change that is to do something different."
Kalodimos, the award-winning reporter and anchor at Channel 4 before her ugly and very public departure (and lawsuit which was recently settled), says she's excited to be part of the new venture. She will lead the video department, saying many aspects are yet to be determined but that
"it won't be a traditional newscast."
Kalodimos says feedback about their efforts have been nothing short of amazing since they announced their intentions.
"Just that I'm greatly encouraged by at least the initial response here. … People are contacting us, they're excited, enthusiastic. They're thirsty and a lot of them are like 'hurry up, get it to us.' So that's our challenge right now."
Cavendish says they're currently in the midst of fund-raising, and the Nashville Banner will launch later this year, likely late summer or early fall.
Don't be surprised if, whenever that roll-out takes place, they're writing about aspects of the ongoing tornado recovery crisis. How it impacts the public, the government, and the community. That's the mission of a civic-minded, public service news organization like the Nashville Banner.
ON BOOKS AND BEACHES: Dipping into the fountain of my youthful memories, I relish sun-splashed days with family and friends at Myrtle Beach or many other coastal vacation spots along the North Carolina and South Carolina coastlines. I savor recollections of the three teen-aged years we lived along Florida's Gulf Coast. Our home was less than five miles from the white-sand beaches, and all I have to do is close my eyes to fondly recall the sun and surf, the rolling waves that were so unlike those crashing along the Atlantic coast, or the gentle breezes carrying the hovering seagulls.
And then there was the nightlife—the thrill rides, the music, the buzz, and all the excitement along the boardwalk. Bare feet sinking into the sand on a stroll along the moonlit beach with the girl you just met. Of walking to the end of the pier and marveling at the stark contrasts between the bright lights dotting the coastline, the endless black ocean in front of you and the twinkling, star-filled sky above.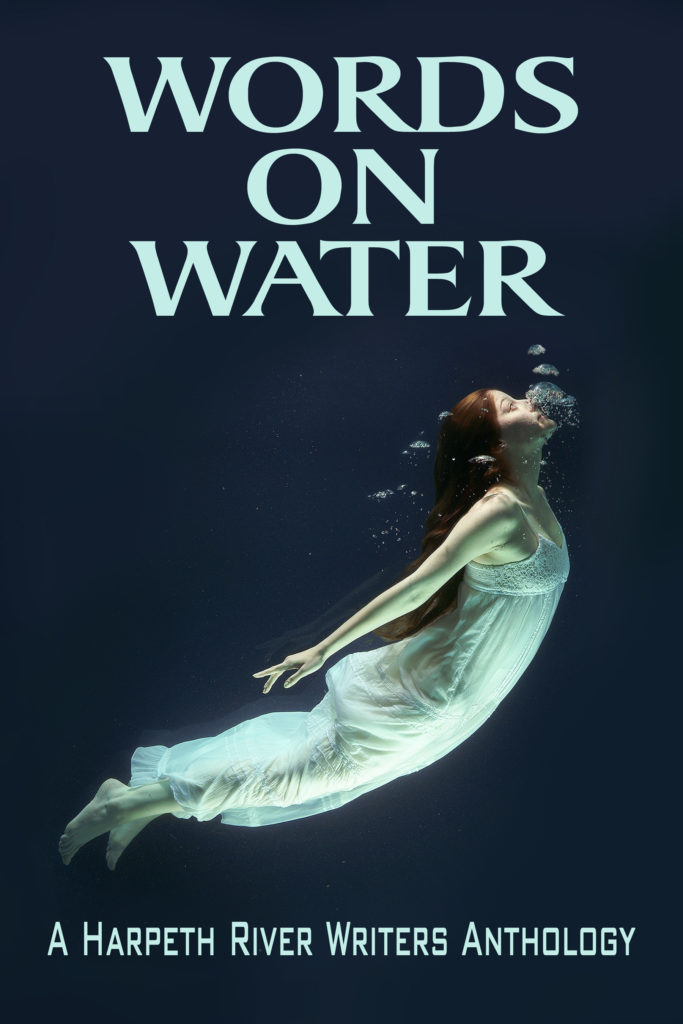 I take you on such a trip in my short fiction story "A Night at the Beach" in the new water-themed anthology WORDS ON WATER from our Harpeth River Writers group. It is a collection of more than two dozen works of short fiction and poetry from nine award-winning authors who live in Middle Tennessee.
It is unlike any journey you've ever taken to the beach, based on recollections from more than 40 years ago and soaring in new directions.
When our writing group, the Harpeth River Writers, decided to publish this anthology, we solicited blurbs from various authors we knew to review the book. A couple of those authors, good guys I met a few years ago at the Killer Nashville writers conference, also took time to critique my story "A Night at the Beach," for which I will be ever appreciative: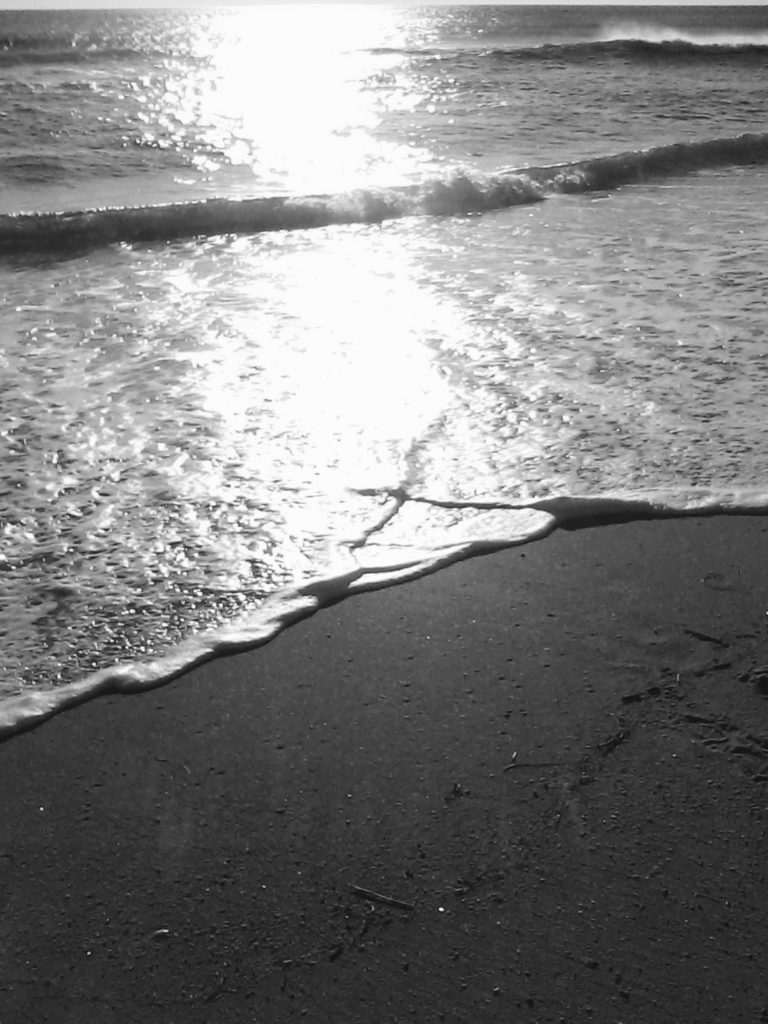 "A Night at the Beach by Tom Wood is nothing short of captivating. His confident and comfortable style affirms an uncommon ear for dialogue, and evocative descriptions that underscore a genuine affection for the southern landscape. It is an expertly crafted story with a twist you are certain to remember for a long, long time. This is what makes reading anthologies like this one such a joy!"
Baron R. Birtcher
—LA Times Bestselling author of the literary thriller Rain Dogs Paragraph
"Tom Wood captures the feel, the smell, the power of the ocean in A Night at the Beach that leads you forward through the years with a lingering sense that something momentous happened that night on the beach all those years ago. And then, in those final paragraphs, you realize that your intuitive sense about that beer-drinking night on the beach was right on target. That awareness is as powerful as the heat-lightning flashes of the past."
Joseph L.S. Terrell
—Author of the Harrison Weaver Mysteries and Mary Anne Little series
Thanks, again, guys. You will also discover many other wet, wild, and wondrous adventures in WORDS ON WATER, with story settings at lakes, swamps and rivers, on cruise ships, or at the laundromat, or by the kiddie pool. And even the desert!
This wellspring of words on water comes from the pool of talent which makes up the Harpeth River Writers. The other folks whose works are featured in this anthology include Sandy Ward Bell, Suzanne Webb Brunson, Catherine Riddle Caffey, John Neely Davis, Micki Furhman, Catherine Moore, Michael J. Tucker, and Bill Woods. Kathy Rhodes, the newest member of our collective, served as project editor.
And I would be remiss not to mention the capstone mystery story "The Many Names of Jillyn" which was written by all nine of us. No spoilers here, except to say the story turned out better than any of us expected when we began writing.
I will have WORDS ON WATER as well as my fictional true-crime thriller VENDETTA STONE with me at our Authors Circle booth on April 25-26 at the Franklin Main Street Festival. Hope to see you there. And I would love to hear your recollections about a day—or a night—at the beach!
It is also available at Parnassus Books in Nashville and other outlets as well as online. And if your favorite bookstore doesn't carry WORDS ON WATER, please ask them to stock it or order for you!
As always, thanks for reading.
Tom WoodToggle panel: Sharing
Sharing