By TOM WOOD / February 14, 2020
Ten days ago, everything changed in the direction that Vanderbilt University's athletics department was headed.
On February 4, the school stunningly announced that Candice Storey Lee had been named interim vice chancellor for athletics and university affairs and athletics director following the shocking resignation of Malcolm Turner after only one year on the job.
It was a historic moment in time for not only Vanderbilt but the Southeastern Conference. Lee — who played women's basketball for the Commodores, hold three degrees from the university and has been a key player in the sports administration department for nearly two decades — is Vanderbilt's first female athletics director and she is the first African American woman to serve in that capacity at an SEC school.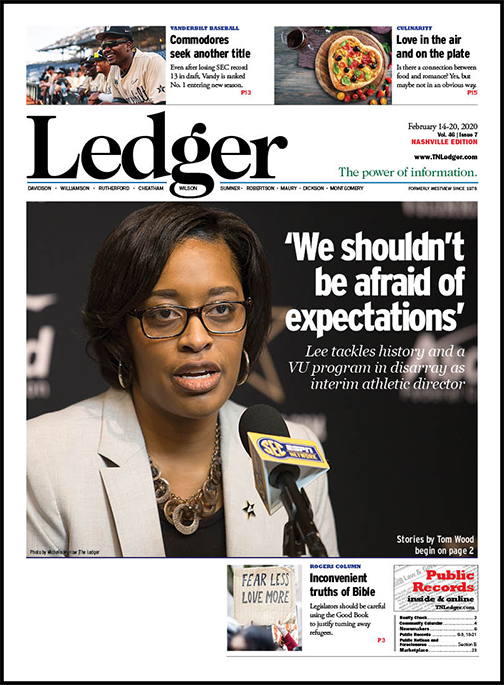 I introduce you to Lee in this week's edition of the Nashville Ledger. I attended Lee's introductory press conference, talked to players, current and former coaches and fans, to learn more about her love of all things Vanderbilt.
"I've always been – and even as a child – attracted to the unique proposition of Vanderbilt … this space where great academics and athletics can intersect," Lee said. "We can be successful in both areas. I loved it then and I love it now."
Along with that story, I talked to Lee and others about her injury-riddled playing career. She spent six seasons with the team, including a redshirt year her freshman season and then becoming one of the first athletes to be granted an extra medical redshirt season due to a terrible knee injury.
"Candice had some things that were very, very difficult for her to overcome as a player," says Jim Foster, who coached at Vandy from 1992-2002 before leaving for the Ohio State job. "But she persisted and turned herself into a very good college basketball player."
It will be interesting to watch how Vanderbilt, which is dealing with a variety of issues, will fare on Lee's watch and whether the school eventually removes the interim tag from her current title.
ON BOOKS AND BEACHES: Dipping into the fountain of my youthful memories, I relish sun-splashed days with family and friends at Myrtle Beach or many other coastal vacation spots along the North Carolina and South Carolina coastlines. I savor recollections of the three teen-aged years we lived along Florida's Gulf Coast. Our home was less than five miles from the white-sand beaches, and all I have to do is close my eyes to fondly recall the sun and surf, the rolling waves that were so unlike those crashing along the Atlantic coast, or the gentle breezes carrying the hovering seagulls.
And then there was the nightlife—the thrill rides, the music, the buzz, and all the excitement along the boardwalk. Bare feet sinking into the sand on a stroll along the moonlit beach with the girl you just met. Of walking to the end of the pier and marveling at the stark contrasts between the bright lights dotting the coastline, the endless black ocean in front of you and the twinkling, star-filled sky above.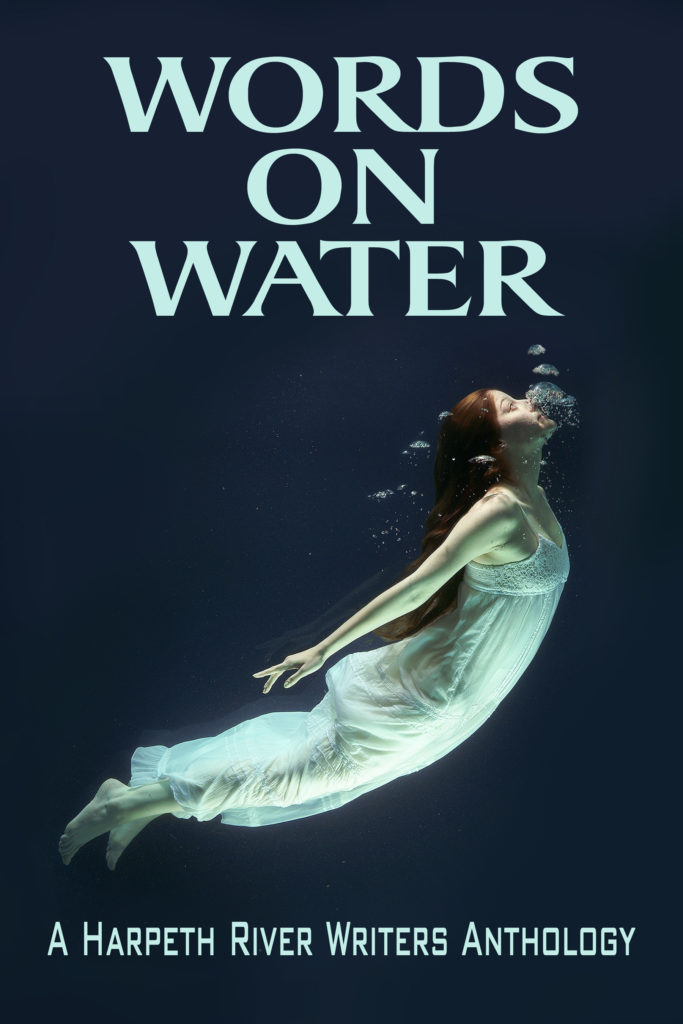 I take you on such a trip in my short fiction story "A Night at the Beach" in the new water-themed anthology WORDS ON WATER from our Harpeth River Writers group. It is a collection of more than two dozen works of short fiction and poetry from nine award-winning authors who live in Middle Tennessee.
It is unlike any journey you've ever taken to the beach, based on recollections from more than 40 years ago and soaring in new directions.
When our writing group, the Harpeth River Writers, decided to publish this anthology, we solicited blurbs from various authors we knew to review the book. A couple of those authors, good guys I met a few years ago at the Killer Nashville writers conference, also took time to critique my story "A Night at the Beach," for which I will be ever appreciative: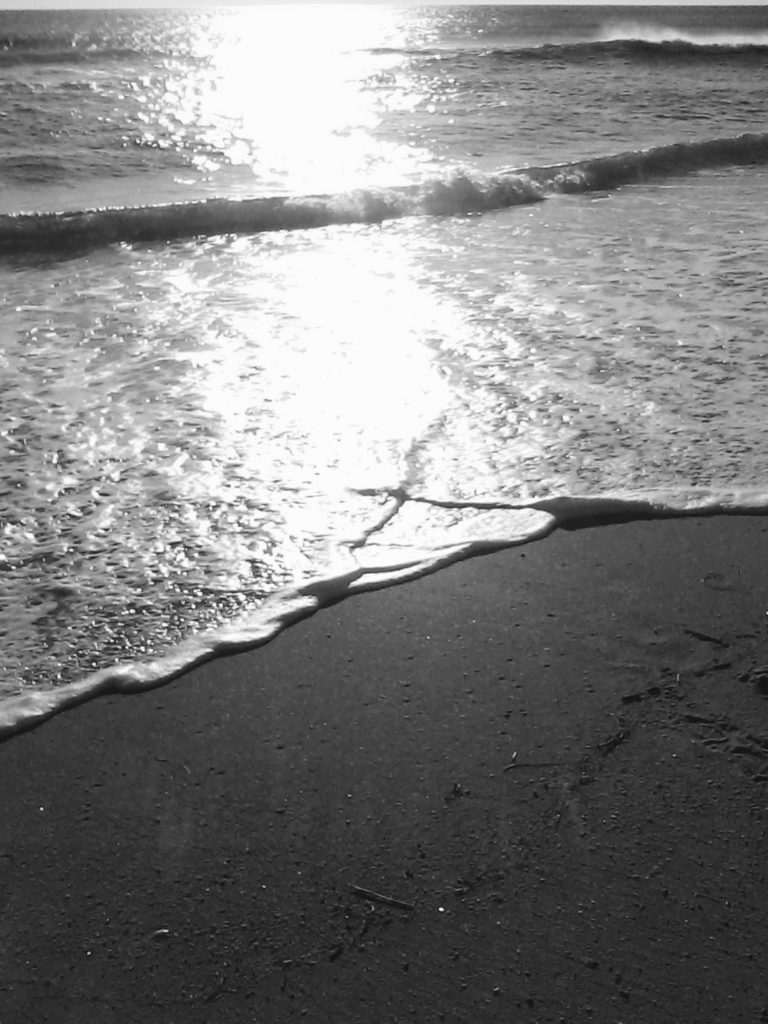 "A Night at the Beach by Tom Wood is nothing short of captivating. His confident and comfortable style affirms an uncommon ear for dialogue, and evocative descriptions that underscore a genuine affection for the southern landscape. It is an expertly crafted story with a twist you are certain to remember for a long, long time. This is what makes reading anthologies like this one such a joy!"
Baron R. Birtcher
—LA Times Bestselling author of the literary thriller Rain Dogs
"Tom Wood captures the feel, the smell, the power of the ocean in A Night at the Beach that leads you forward through the years with a lingering sense that something momentous happened that night on the beach all those years ago. And then, in those final paragraphs, you realize that your intuitive sense about that beer-drinking night on the beach was right on target. That awareness is as powerful as the heat-lightning flashes of the past."
Joseph L.S. Terrell
—Author of the Harrison Weaver Mysteries and Mary Anne Little series
Thanks, again, guys. You will also discover many other wet, wild, and wondrous adventures in WORDS ON WATER, with story settings at lakes, swamps and rivers, on cruise ships, or at the laundromat, or by the kiddie pool. And even the desert!
This wellspring of words on water comes from the pool of talent which makes up the Harpeth River Writers. The other folks whose works are featured in this anthology include Sandy Ward Bell, Suzanne Webb Brunson, Catherine Riddle Caffey, John Neely Davis, Micki Furhman, Catherine Moore, Michael J. Tucker, and Bill Woods. Kathy Rhodes, the newest member of our collective, served as project editor.
And I would be remiss not to mention the capstone mystery story "The Many Names of Jillyn" which was written by all nine of us. No spoilers here, except to say the story turned out better than any of us expected when we began writing.
I will have WORDS ON WATER as well as my fictional true-crime thriller VENDETTA STONE with me at our Authors Circle booth on April 25-26 at the Franklin Main Street Festival. Hope to see you there. And I would love to hear your recollections about a day—or a night—at the beach!
It is also available at Parnassus Books in Nashville and other outlets as well as online. And if your favorite bookstore doesn't carry WORDS ON WATER, please ask them to stock it or order for you!
As always, thanks for reading.
Tom Wood