By TOM WOOD / December 23, 2019
It sure has been a busy December between getting ready for Christmas, spending a weekend with fellow authors at Dickens of a Christmas and working on my next articles for the Nashville Ledger weekly newspapers, which will be posted online on the day after Christmas and in print in the Tennessee Ledger and Hamilton County Herald editions in East Tennessee and the Chattanooga area. A condensed version will appear in the Nashville ediion)
The subject is an in-depth look at how Major's League Baseball's contraction plans to reduce its minor league affiliations from 162 to 120 affects our state. If no agreement is reached by the end of the 2020 season, the Class AA Southern League's Chattanooga Lookouts (AT&T Field photo, below, submitted) Lookouts and Jackson Generals could face MLB contraction. The same holds true for the rookie advanced Appalachian League teams in Johnson City, Greeneville, Elizabethton and Kingsport.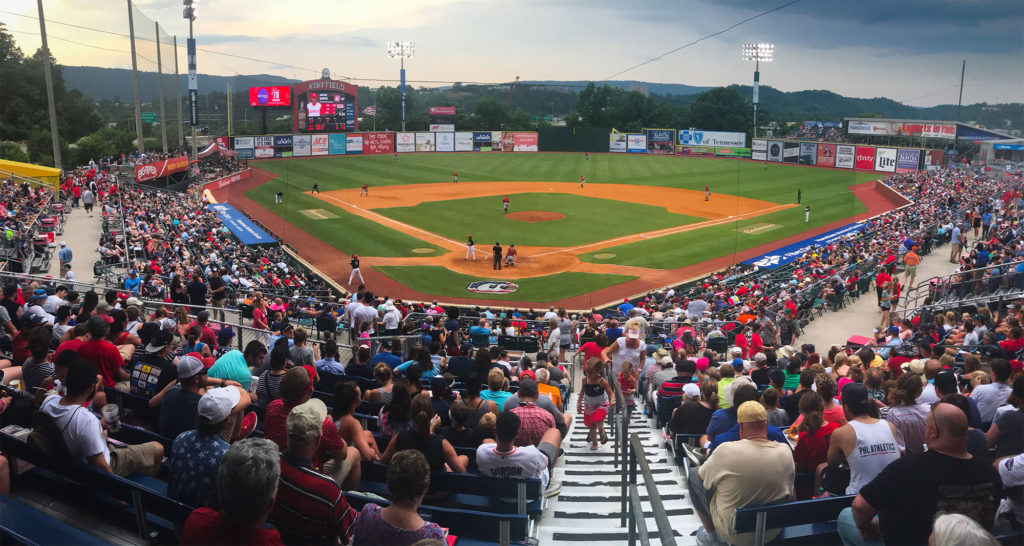 "This is a huge blow for the state of Tennessee. You're talking about almost from one side of the state to the other where this is going to affect. It's not just one little spot here, so it's a crushing blow for the state of Tennessee," said Lookouts president Rich Mozingo.
"Small-town USA deserves baseball just like everyone else," added Chris Allen, president of Boyd Sports LLC, which owns and operates the teams in Johnson City, Greeneville and Elizabethton as well as the Tennessee Smokies near Sevierville. A number of political and media figures have weighed in on MLB's contraction proposal, from Gov. Bill Lee to retired Cincinnati Reds broadcaster Marty Brennaman. The Lookouts and Greeneville teams are both Reds affiliates. And I also talked with fans who are upset at the prospects of losing their favorite teams.
Both MLB and minor league officials seem intent on playing hardball right now, and it will bear watching to see how it all
DICKENS OF A CHRISTMAS: What a fun time I had this year at Dickens of a Christmas in Franklin, Tennessee. I was in the Authors Circle Booth with 14 of my fellow authors over the weekend of Dec. 14-15. It is an annual festival that celebrates Charles Dickens and the spirit of Christmas that Dickens wrote about in "A Christmas Carol." Franklin – and this festival – were named in Oprah Winfrey's magazine as one of the top Christmas villages the readers should visit.
I was there not only with my fictional true-crime thriller VENDETTA STONE, but also the new anthology by the Harpeth River Writers, WORDS ON WATER, which has been available since October. I've got three pieces in the collection of short fiction and poetry. It sold very well, including one purchased by Newsboys bassist Phil Joel. Afterward, he consented to photograph! So that was a cool moment.
WORDS ON WATER NEWS: We've had some great feedback — and several Five-Star reviews about the anthology produced by our Harpeth River Writers group. Thought I'd share this review from Nick Sullivan, another former sports writer and outdoors editor at The Tennessean.
"Words on Water" is an anthology of short stories and poetry by nine very talented award-winning writers of The Harpeth River Writers. The 28 pieces of writing presents a wide-ranging collection of literature held together by the magic of water. Sometimes water is front-and-center; sometimes it plays a supporting role. The stories range from bottled spring water and a back-yard swimming pool to the Atlantic Ocean and the Caribbean Sea. The writers bring their own diverse life experiences, world views, and unique styles to make every read different. The reader keeps wondering after each piece what delightful surprises await next. Definitely is a page-turner.
We sure appreciate reviews like Nick's and hope you'll get your copy soon, then post your own review. It's available at Parnassus Books in Nashville, at Landmark Books in Franklin, Mill Creek Mercantile in Donelson and online, of course. More appearances and outlets are planned for 2020.
As always, thanks for reading.
Tom Wood