After 'Words on Water' launch in Franklin, we hope you'll dive into our anthology
By TOM WOOD / October 26, 2019
What a bunch of fun! The Harpeth River Writers want to thank everyone who attended the October 23 launch party for our water-themed anthology WORDS ON WATER at Kimbro's Pickin' Parlor in Franklin. If you weren't able to make it, here is the WilliamsonHomePage.com story on our event. Words and photos by John McBryde, whose coverage is greatly appreciated. Images included in this report are from John, Cindy Davis Massey, Kathy Rhodes (the newest HRW member) and several other HRW members listed below.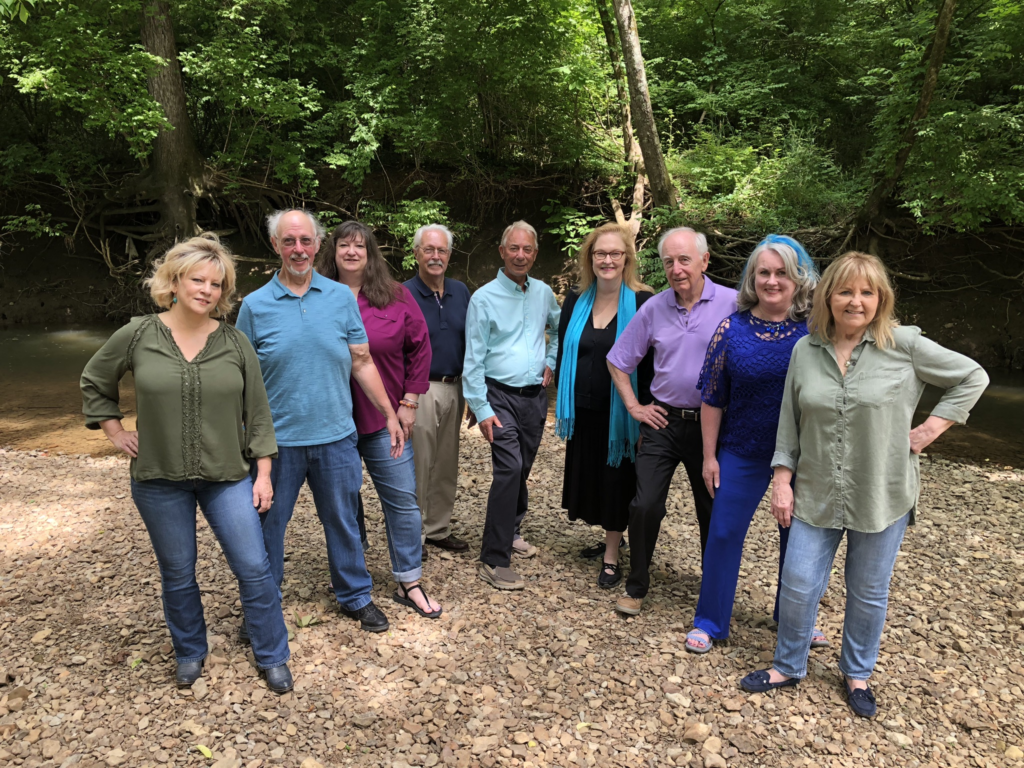 We are primarily a critique group that regularly meets in Brentwood to give instant feedback to our current writing projects, explaining why something works or doesn't. And every few years, we join forces to produce another anthology. Catherine Riddle Caffey was the only contributing author who couldn't make it to the festive event, but let me introduce the rest of the gang and their stories in the anthology: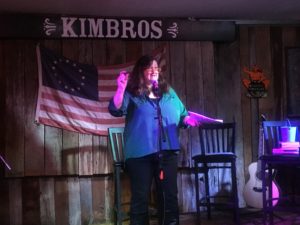 A ghost, a dead aunt, a missing young women, and a creepy pond. "Her Story" by Sandy Ward Bell is a mysterious read for a cool October day.
Sandy is one of our indespensable team leaders who keeps us all on our writing track and handled many of the details in the publication of this anthology,

"Smith Island" by
Michael J. Tucker
Life of an ex-con has its challenges for a young man. He knows his best chance of staying out of prison is to avoid other ex-cons. When a former cellmate catches up with him and offers an easy burglary, he takes the bait. Mike also wrote "Captain Midnight Meets Princess Silver Lake" . . . A lakeside psychedelic party is interrupted when two people when two people with mutual desires spot each other. What ensues is the incubation of a lifetime memory.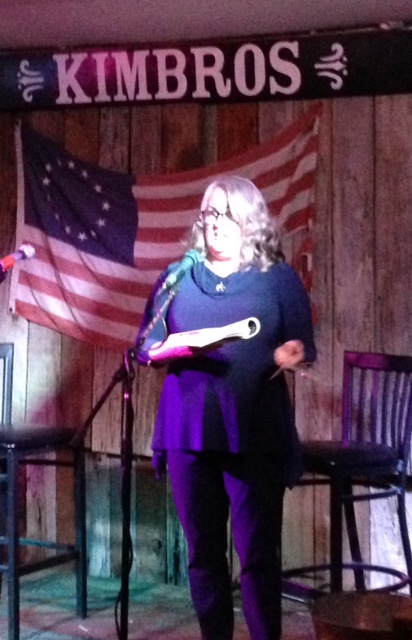 "Sinkhole Closed, Nothin to Do" by Catherine Moore . . . By the first of September, the algae count in Burnt Springs, Alabama was at levels that state officials from Montgomery posted cease-and-desist signage along the water's edge: NO ENTRY. NO SWIMMING. NO FISHING. (MEANS NO DRINKING Y'ALL). For most of the Continental U.S., this particular month meant the advent of fall weather, but deep in the South, September's a purgatory between seasons. A holding space for all the summer projects one had failed to complete and would not be finished in the continuing heat. And a time for seeking distraction from fevered ennui.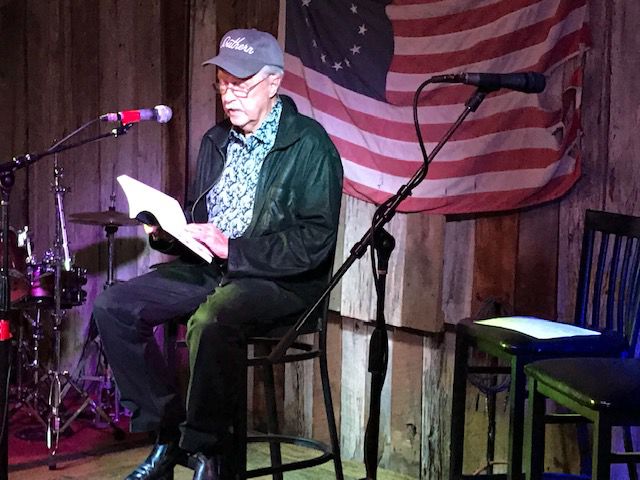 "The Boolaburg Incident" by John Neely Davis, . . . A fictitious town on Tennessee's Cumberland Plateau has fallen under the siege of a mysterious malady. While Federal and State officials desperately try to discover the source and the antidote of the illness, a carnival and a tent revival are thrown into the mix. The long-term effect on the residents of Boolaburg will leave you in a quandary or with a smile.
Micki Furhman and guitarist Rusty Russell provided the evening's musical entertainment, plus she contributed the stories "Aquaphobia" and "Laundry Day" to our water-themed anthology.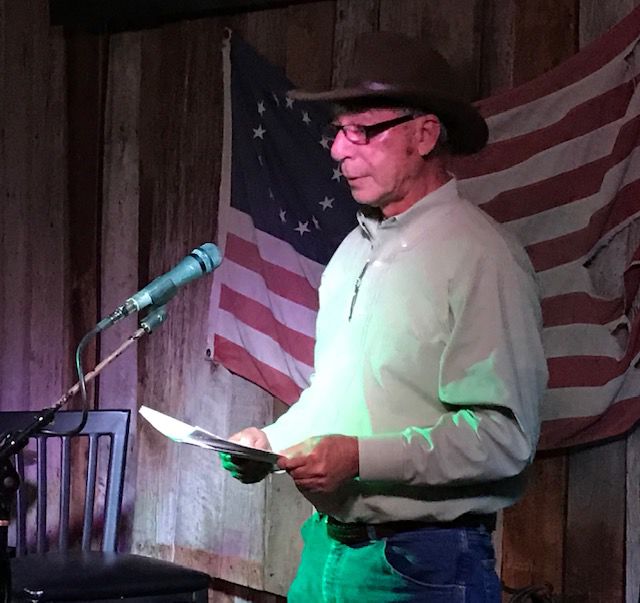 "Man Adrift" by Bill Woods … Sailing alone in the Caribbean, a young adventurer discovers a dead man floating off the coast of Belize. Bill also wrote "Jonah and the Whale" . . . An American tourist risks arrest for overstaying his VISA in order to care for an island friend who is dying.
"Fake Water" by Suzanne Webb Brunson . . . Shopping rituals are changing and one thing leads to another. An evolving taste for purity to quench the thirst for knowledge leads one from boutique material possessions to more basic requirements. Finding new ways to quench daily needs becomes a lark as shopping evolves into a new adventure. One can always step outside boundaries. One might find the elixir of life, right?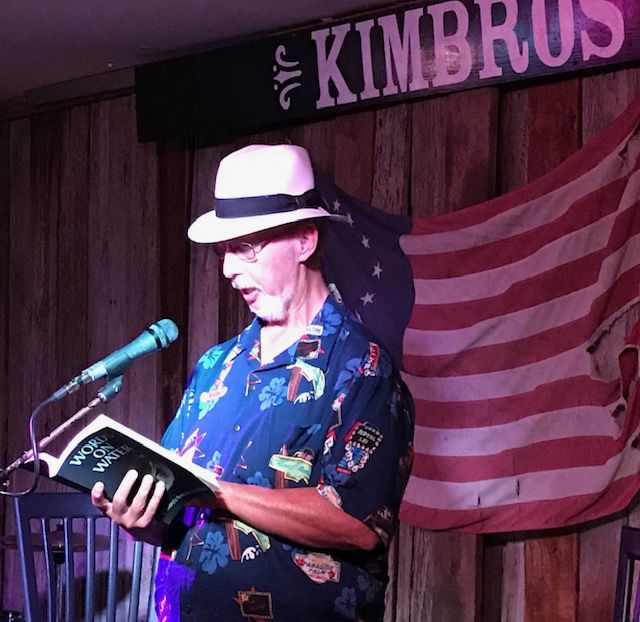 Finally, about my stories: "Drink in the Desert" …
The adventure of a lifetime on a trip out West with his best friend Wally finds Ralph alone in the desert searching for water. Then, it's on to the South Carolina coast for "A Night at the Beach." It is a tale of camaraderie, cold brews, crashing waves and how a cosmic light show highlights one special night at the beach for a young man and his uncle. And what goes unobserved.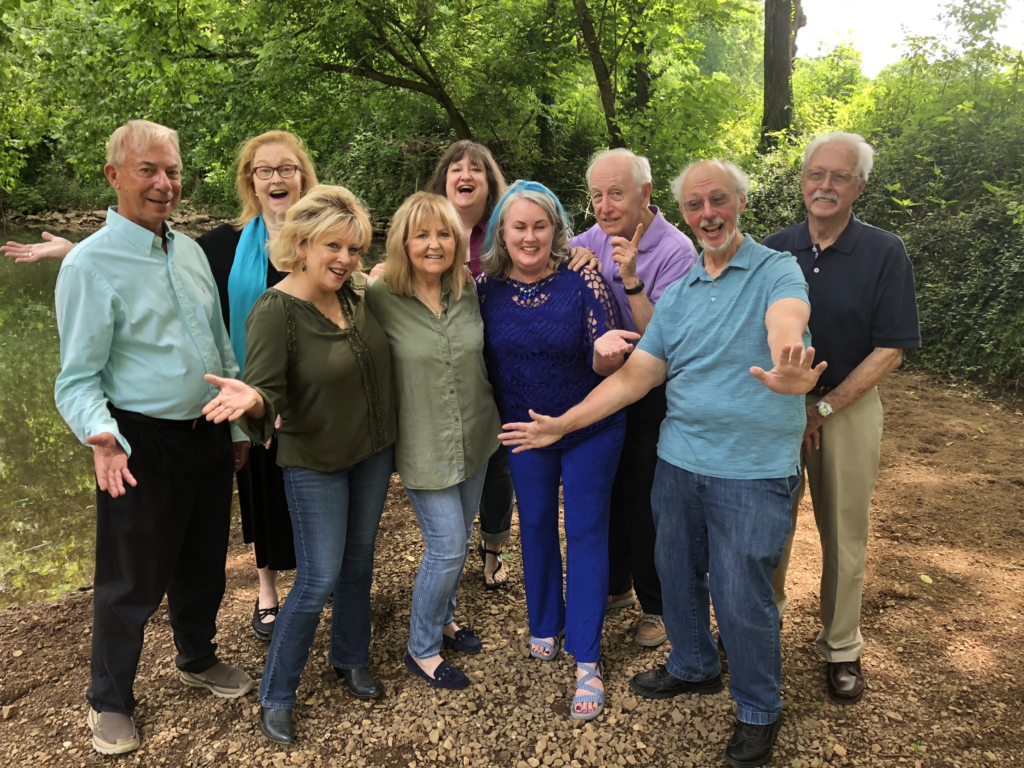 Finally, I would like to brag on one very special story — "The Many Names of Jillyn" at the end of the anthology. As you can see from this photo, we had a lot of fun writing it. It is a collaboration of nine voices telling one story, and we chose a setting, and an event where a murder takes place.

We had no idea where the story would go or how it would end. Like a winding river, with calm waters, swirling eddys or churning rapids, the story flowed from one author to the next. Cool concept, huh?
Hope I've whetted your appetite for this wet and wild story that caps our WORDS ON WATER anthology. Let us hear your thoughts after you give it a read!
As always, thanks for reading.
Tom Wood