After lifetime of growing tobacco, Springfield's Bill Corbin leads the green rush to Tennessee's fastest-growing crop
By TOM WOOD
Hemp is everywhere. According to the Tennessee Department of Agriculture, the cannabis plant's one-year growth of hemp, which has sparked the CBD oil craze, has been phenomenal.
In 2018, there were 226 licensed hemp growers in Tennessee who worked 1,034 acres in 221 fields scattered across 65 counties. This year, more than 2,900 Tennessee licensed farmers are growing hemp in more than 40,000 acres on 6,400 fields in every county.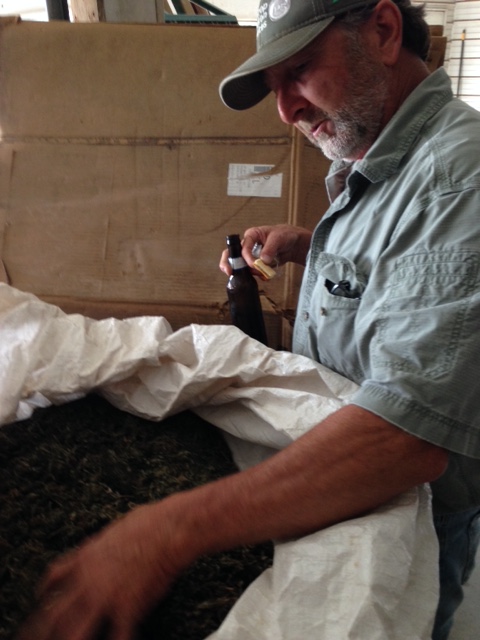 You can read all the details this week in my Nashville Ledger cover story. The main article begins with the tale of Springfield, Tenn., farmer Bill Corbin, whose farm I visited last week. Bill is a real character, a salt-of-the-earth (maybe that should be hemp-of-the-earth) kind of guy who is instantly likable and passionate about growing hemp.
Bill spent his entire life growing and working in tobacco fields, a third-generation tobacco farmer. In 2015, he began growing hemp as well as tobacco. This year, he is no longer growing tobacco, only hemp.
"Tobacco's been in my DNA my entire life. I've been in tobacco fields since I was knee-high to my father and grandfather," said Corbin, 58. "This is the first year of my productive life that I'm not raising tobacco. I can't.
"To go in the direction I want to take with this (hemp) crop is so labor-intensive. It's a big transition, but it's not an uncomfortable transition."
Corbin is among the most prominent of Tennessee farmers who are transitioning from tobacco to becoming licensed hemp growers.
A combination of changing laws, shifting attitudes, and favorable growing conditions have many calling Tennessee the agricultural belt buckle for growing hemp and replacing tobacco — especially in Robertson County, where Corbin lives, as well as Sumner County.
You can read more of my report here.
It is still an evolving industry, and has both upsides and downsides. Those are discussed in my stories. There are some good people involved in the hemp industry, and they share their concerns.
Hemp processors Jonathan Gunn and Jesse Riggins are two good guys who have a lot of opinions about the rapid growth of the industry. They caution that people who get into the hemp business with no previous farming experience but have dreams of getting rich overnight could be in for a rude awakening. And like any business, they warn, there are some who will take advantage of those newcomers.
" It's one of those crops that if you don't stay tight-lipped on what you do once you find your niche, somebody else will come in and take that niche and run with it," Riggins said.
"Exploit it," Gunn said.
Riggins paused and added, "The cannabis industry as a whole, including marijuana and hemp, you have to be careful who you deal with or who you allow close to you. In general, it's going to cost you two or three times of what a tobacco crop costs, just in the beginning."
Gunn smiled and added, "You'll also net two-to-three times."
I also have another story, focusing on entrepreneurs in the Franklin area who have opened a holistic store to help patients with CBD oil and other medicinal products.
This is an important story for the future agricultural growth of Tennessee, or as Corbin put it … "Tennessee is the epicenter of hemp production."
To underscore the importance of this topic, my story was picked up by The Associated Press and has appeared on numerous websites, including U.S. News & World Report , the San Francisco Chronicle, and the Albany Times-Union.
The whole world, it seems, is watching what happens with the Tennessee hemp industry. I will be also.
LOOKING AHEAD: It's surreal to think that almost 50 years have passed since man first landed on the moon on July 20, 1969, and Neil Armstrong became the first human to set foot on the lunar surface, followed by Buzz Aldrin.
I witnessed the spectacular July 16 launch with my father and relatives who had driven from North Carolina to join us. We camped along the Indian River with thousands of other people, back before such things were popular to do. We were maybe four or five miles from the Cape Kennedy launch pad.
I'll be writing more about this in the next few days as the anniversary approaches.
BOOK EVENTS: I had a great time with Authors Circle friends at the July edition of the Franklin Art Crawl, which is held the first Friday of each month. The next one is Aug. 2.
I'm also looking forward to the 14th annual Killer Nashville Writers Conference, which will be held Aug. Aug. 22-25 at the Embassy Hotel in Franklin, Tenn. This year's John Seigenthaler Legends Award recipient is Joyce Carol Oates.
As always, thanks for reading.
Tom Wood