Ledger story spotlights WWII veteran; Franklin Book Festival set for June 1-2
Oak Ridge is in spotlight on eve of Memorial Day weekend.
I can't think of a better time for my latest stories for the Ledger to run. It's on Oak Ridge, the Secret City as it is known by many today. My feature is the cover story for the Knoxville print edition and inside the Nashville edition the week of May 24-30.
Oak Ridge historian Ray Smith was in Nashville recently, appearing at a noon gathering at the beautiful new Tennessee State Museum to reveal the stories behind the founding of the city which played a crucial role in the building of the atomic bombs that saved the world from Axis Powers enslavement and ended World War II.
It was an entertaining presentation, a mix of humor and empathy to tell the stories of the men and women who worked there in the Tennessee city that was America's greatest-kept secrets of World War II.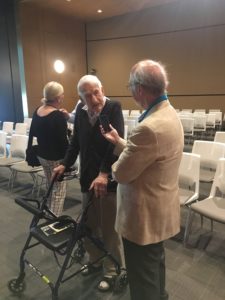 One of those men was Monroe Malow, a 96-year-old gentleman who was in the audience gathered for Smith's presentation. Afterward, I spoke with Monroe and his daughter, Beth, and he was kind enough to share his story.
Monroe discussed both the normalcy of living in the Secret City of Oak Ridge (it was built in 1942 and didn't appear on maps until March, 1949) and how he felt about the United States dropping atomic bombs on Hiroshima and Nagasaki to end the War when Japan surrendered unconditionally on Aug. 14, 1945.
"One thing to keep in mind that the feeling was that we were ready to invade Japan, and that we thought that 1 million Japanese and 1 million Americans would have perished, and that the numbers (of deaths) are much lower than 1 million each. And that's the excuse for what we did," Malow told me.
"I was glad to be a part of something. I didn't like the idea of introducing a bomb like that into the world. But as I said before, the Japanese and Americans were poised to attack in Tokyo. And they had 5 million men on their side and 5 million on ours and the assumption was that a million men on each side would have been killed thus by normal fighting, so you can say it was merciful to have the Japanese surrender and not have that."
His is an amazing story and I am so glad he was there and I was able to help him tell it. I salute all our veterans, especially those who sacrificed their lives for our country, on this Memorial Day weekend.
FRANKLIN BOOK FESTIVAL: Kudos to Franklin author Bill Peach for organizing the June 1-2 Authors Circle Franklin Book Festival at Williamson County Library. More than 40 Nashville-area authors — and even a few outside the area — will be participating in panel discussions and meet-and-greets with the public.

I'm hosting a panel on Saturday, June 1, at 2 p.m. to discuss anthologies with Bill Woods, Catherine Moore and Michael J. Tucker. We're working on one that will be out later this year.
Go to my page on Facebook — Tom Wood – Vendetta Stone — for more information.
And as always … thanks for reading.