By Tom Wood
Charity Morgan has a lot on her plate. She is currently focused on feeding the huge appetite of very large men. But for 2019 and beyond, she is preparing a feast of dreams.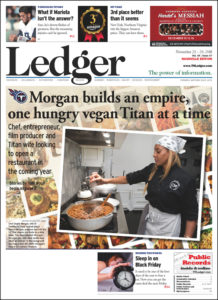 A vegan, plant-based chef with a culinary arts degree, Charity cooks for her husband – Tennessee Titans outside linebacker Derrick Morgan – and more than a dozen of his teammates, and "a couple of celebrity clients" that she won't reveal "but where I couldn't say no."
Sometime after the Titans' season ends, she hopes to launch a number of projects that could include a cookbook, a brick-and-mortar restaurant or a catering business as well as other projects that promote a vegan, plant-based lifestyle.
To that end, the Morgans are executive producers for a documentary, "The Game Changers.'' More on that later, but suffice to say it is just one more avenue in getting her message heard.
"I've kept it very small because … it's just more so about growing my business and testing it out because eventually that's what I want to do," she says. "After this season, I want to roll it into a business, whether it's a plant-based meal plan for people, a restaurant – something. I'm just praying for that guidance, because I have something here and I do want to make it readily available (to the public)."
To read full story, click here.
What are Titans' favorite dishes? Read here.