Visiting the Ghosts of Dutchman's Curve
The Nashvile Ledger, a weekly newspaper here in Music City, recently asked me to write a piece on the 100th anniversary of the deadliest train crash in U.S. history, which occurred on the morning of July 9, 1918 when two steam locomotives met head-on and derailed in a cornfield near Richland Creek Greenway at White Bridge Road.
You can read my full Ledger story online here. But this is the story behind my research in words and pictures. I've got to admit I felt attuned to the history – and the ghosts – of Dutchman's Curve in that moment.
UPDATE, July 9, 2018: The memorial observance, held from 7-7:30 a.m. very somber yet quietly moving ceremony. Mayor David Briley spoke, reminding the more than 100 people in attendance that this grim chapter in Nashville should never be forgotten. The reading of names of those who perished (and recognition of those African-American passengers whose remains went unidentified) that followed was briefly paused at 7:20 a.m. (time of the crash) by local historian David Ewing for a moment of silence. Below is a slideshow of that event.
>> Nashville author Betsy Thorpe, who spearheaded the movement for the historical marker, led several days of remembrances leading up to the brief Memorial Observance on July 9.
"From the very beginning of this journey — when I first started this project, I felt like the ghosts of Dutchman's Curve had chosen me to learn their names and tell their story. I heard their voices and did as they asked," said Thorpe, author of the 2014 book The Day the Whistles Cried: The great cornfield meet at Dutchman's Curve.
June 9: A walk in time
It is the 7 o'clock hour on the morning of June 9 at Richland Creek Greenway, exactly one month before the 100th anniversary of the 1918 Great Train Wreck at Dutchman's Curve. That's exactly 99 years and 11 months since the deadliest train crash in American history, when the overnight train from Memphis and the just-departing Nashville train slammed head-on at a combined 110 mph in the middle of a Belle Meade cornfield. I'm here to get an hour-long feel for what it might have been like that fateful day.
6:56 a.m. — I pull into the greenway parking lot less than a half-hour before the time the July 9, 1918 tragedy occurred. The weather is 72 degrees and sunny. Few cars are around, but runners, cyclists, and walkers flow past at varying speeds.
7:04 — Standing on old White Bridge, now a pedestrian walkway, an airplane flies overhead, and the distant rumbling reminds me of an approaching train on the tracks below. The track was even more curved back in 1918, and the trains didn't see each other coming, result in a head-on collision at a combined 110 mph.
7:08 — The greenway leads past an NES substation (where cornfields used to be when the topography was different), the St. Mary's campus and Lion's Head Condominiums to the Dutchman's Curve Wayside, a quarter-mile away. The only noises are chirping birds and crickets. An old guy hurries by, checking his cardio as I walk past the backside of the condos.
7:14 — Tree cover is like stepping back into time, lush greenery and dark shadows forming a tunnel over the walkway. The older trees may have witnessed the wreck. The white fluff of willow trees powders the path like new-fallen snow. A wooden bridge spans Richland Creek's babbling waters. A turtle suns on a rock, and it's my first look at the trestles. Graffiti artists got here first. Two joggers make the bridge bounce.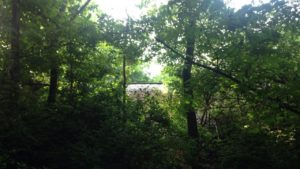 7:15 — As I finish crossing, golfers play the third and fourth holes of McCabe Golf Course's south nine. Then Dutchman's Curve Wayside is before me. There's a feeling of reverence as I read the plaque and look up at the railroad track, framed by trees and glowing in the sunshine. The world is somber and silent.
7:19 — Another plane flies overhead, and it roars much louder than the first. This is about the time the trains slammed head-on 99 years and 11 months ago, and it's a disquieting, eerie feeling. I take a few pictures and soak in the history of the moment.
7:22 — A police siren, perhaps an ambulance on the way to Saint Thomas West, wails in the distance. I imagine emergency vehicles of the day rushing to the scene with bells a-clanging.
7:35 — Time to go. Near the golf course, a man does push-ups and a woman stretches her calf muscle on a park bench. On the wooden bridge crossing Richland Creek, I stop and talk to Ed Copier, 91, a nearby resident who served in the Army Air Force in World War II. He has a bicycle, but likes to stop and throw bread to the turtles. He tells me his last name is pronounced "CO-pe-aye," but that the French pronounce it "CAH-pie-aye" and that some say it like the Xerox copier. "I answer to all three," he says with a chuckle. We talk about 15 minutes.
7:55 — Three women out for a morning stroll stop to chat. None of them have ever heard about the train wreck, but say they will try to attend next month's public memorial observance.
8:00 — It's 76 degrees as I re-enter the car — and the present. Time-traveling makes one hungry, and breakfast awaits.
– – – – – – – – – – – – – – –
LOOKING BACK: I have a fish tale in the Knoxville edition of the Tennessee Ledger, available June 29-July 5. You can read it online here Thursday, and it will be in print in the Knoxville area on Friday, June 29. Knoxville will host the Bassmaster Classic next March, and the event could be worth as much as $30 million to the city's coffers.
LO
The Southern Festival of Books (Oct. 12-14) is one of four great events I will be attending later this year. You will find me there with my book Vendetta Stone at both the Authors Circle and the Sisters in Crime – Middle Tennessee booths.
Up first is Killer Nashville, the annual writers conference held each August (click here to see 2018 guests). If you love thrillers, suspense and mystery novels, this is the place to be to meet some of your favorite authors and learn about the writing process. It's fun, informal and a great place to network.
There are also a couple of festivals I will be at the later this year,Fall Fest at the Hermitage, Killer Nashville (Oct. 6-7) and Dickens of a Christmas in mid-December. Joining me at Fall Fest are local authors Ken Vanderpool, Jaden Terrell, Nikki Nelson-Hicks, Toni Tyler, Peggy O'Neal Peden, Linda Thorne Keith Pruitt, Dr. Sally Burbank and Reba Stanley. Hope you'll support local authors.
And as always … thanks for reading.