Fistful of Rain (2018)
By Baron R. Birtcher
288 pp. The Permanent Press, $29.95 cloth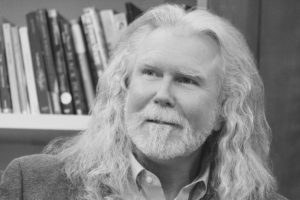 Full disclosure: I first meet Baron R. Birtcher at the 2016 Killer Nashville writers convention in Franklin, Tennessee. We had both been attending for years, and Baron's book Rain Dogs (2013) was nominated for the conference's annual Claymore and Silver Falchion Awards, while Hard Latitudes (2015) won the Silver Falchion Award in 2016. Baron reviewed my book Vendetta Stone (2013) and I returned the favor by reviewing South California Purples (2017), He recently sent me a copy of the sequel Fistful of Rain (2018) for possible review. I am once again honored to share my thoughts.
By Tom Wood
This is Birtcher's seventh novel, and Fistful of Rain is a great follow-up to South California Purples. It has been on bookshelves since April, but if you don't yet have a copy I would urge you to rush to your nearest brick-and-mortar store.
Fistful of Rain is set in 1975, two years after the debut novel featuring the exploits of old-school cattle rancher, Ty Dawson, who doubles as sheriff in a small Southern Oregon town. Dawson is still dealing with man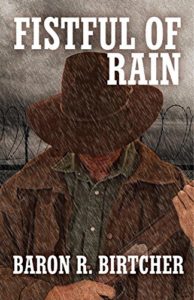 y of the same issues that confronted Americans in that dark period of U.S. history.
There was mistrust of government and generational distrust between the diametrically opposed townfolk and residents of a hippie commune. It's pretty bad when one of the local rancher's livestock is stolen, but things take a turn for the worse with an arson case that soon leads to multiple murders.
Many of the same supporting characters (family, ranchers and deputies) are here again, but we have a whole new set of antagonists, from the cultish hippie leader Deva Ravi to the angry town leader Nolan Brody to the manipulative Harper Emory. The characterizations are richly written, the kind we love to hate. And there are a number of sympathetic characters, too, victims caught up in the web of hate and evil that plagues the town.
Baron was a professional musician before embarking on his writing career, and a sense of that musical muse comes through loud and clear in his sometimes lyrical, sometimes gritty prose. Fistful of Rain is perhaps a little darker than South California Purples, but amping up the action is to be expected.
Like its precursor, Fistful of Rain is a can't-put-it-down story that will keep you awake into the wee morning hours.
Birtcher is a gifted storyteller whose writing style resonates with readers. The compelling story and dynamic characters combine with his keen sense of time and place and locale. This book is what a good thriller should be. Well-done, Baron!