May we see you at the Bellevue Picnic?
Springtime in Nashville is a time of year when – like flowers and bushes – we see a blossoming of book events, music concerts, sports events and weekend festivals. I'm involved in some and have friends who appear at others. Thought I'd share a few for May:
FESTIVALS: I will be hosting a booth full of local authors at the Bellevue Picnic on Saturday, May 20. It's an all-day event, rain or shine, that attracts thousands to one of Nashville's fastest-growing communities. They'll have numerous vendors, plenty of food and fun for the kids. Hope we see you there.
We had a good group of Nashville-area authors at the late-April Franklin Main Street Festival, even though the second day ended early due to major storms. There are festivals every weekend in Nashville and across the Midstate; check local listings.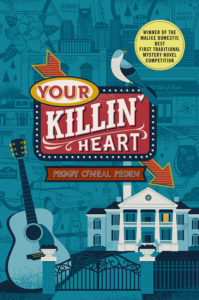 BOOKS: My Sisters in Crime friend, Peggy O'Neal Peden, launches her new book Your Killin' Heart on Sunday, May 7, at 2 p.m., at Parnassus Books. I have yet to read it, but will file a review quick as I get to her book. I love the cover, and I love Music City mysteries.
And the following Sunday, May 13, you'll want to drive down to Cool Springs to listen to Kathy Rhodes and River Jordan talk about the inspiring new book A Second Blooming: Becoming The Women We Are Meant to Be in which their essays appears. They'll be at Brentwood's Barnes & Noble at 1 p.m., with project editor Susan Cushman.
Another recent book you will want to check out is Summer Haze by Michael J. Tucker. I'm in a Bre
ntwood critique group and we gave him feedback on it when it was a work in progress. Mike usually writes thrillers and mysteries, but Summer Haze is a Young Adult, coming-of-age story that is set mostly in Nashville and Kentucky.
But it runs much deeper, as you can see by the cover. The story focuses on four young musicians who must deal with a number of issues and crises as they navigate their way through life. Summer Haze will make for a great summer read.
Here's part of a five-star review Mike recently received from Lisa McCombs for Readers' Favorites book reviews: "Tucker includes plenty of unexpected plot twists and captivating song lyrics. The reader, especially the music lover, will relate strongly to the sensitivities of the songs. Tucker's dialogue is believable and his characters are genuine. I think I have found my new favorite author. I was absolutely captivated by Summer Haze!"
Click here to read Lisa's full review of Summer Haze.
SPORTS: As a former sports writer at The Tennessean, I am loving this postseason NHL run by the Nashville Predators. They swept the Chicago Blackhawks 4-0 in the best-of-7 opening round, and lead the St. Louis Blues 3-1 going into the May 5 game. Goalie Pekka Rinne has been virtually impenetrable during the run and they've become the darlings of the NHL with the way they've played. Ryan Ellis has also been impressive during this stretch. Don't be surprised if the Predators bring Nashville its first major pro sports team championship in the Stanley Cup.
I thought the Tennessee Titans had a great NFL draft, getting wide receiver Corey Davis and defensive back Adoree' Jackson in the first round to fill positions of need. I look forward to seeing them in training camp a few times. I'm also hoping to get to a couple of Nashville Sounds baseball games in the next few weeks.
LOOKING BACK: The Nashville Film Festival was a lot of fun this year. I saw some great movies, and my short screenplay "Death Takes a Holliday" was named a semifinalist in two categories of the annual screenwriting competition. Unfortunately, I didn't make the top three finals in either category, but I will take semifinalist recognition any day. There were over 1,300 entries in the Festival's screenwriting competition. Click here for a list of screenwriting competition winners.
If the name of my screenplay sounds familiar, it should. I wrote a short story a few years ago and it was published in Weird Western Yarns (sorry, it's now out of print). Everyone said it would make a great movie, so I did the screenplay and sent it in last June. Perhaps you'll be able to see it on screen someday.
As always, thanks for reading.