A New Year Blossoms With Big Changes
I'm pretty busy this month trying to get Turn to Stone finished while starting a new screenplay, so I don't have a lot to say about either of those projects right now.
What I do want to mention are the big changes that are in store this year for a couple of television shows filmed in Music City. Nashville has become a hotbed for TV and film production over the past few years.
Both Nashville and Ray Stevens' CabaRay Nashville have new homes for the coming season.
'Nashville' has moved to CMT and debuts with a two-hour premier on Thursday, Jan. 5 at 8 pm CT/ 9 ET. Season Five is going to be a dilly, from what I've seen, read and know.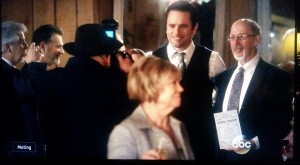 Many of you know I've been an extra on the show for all five seasons. I can't reveal any of what I have seen or heard at last week's tapings, but I can say that fans – known around the world as "Nashies" – are NOT going to want to miss a single episode. I did a story for the Ledger on May 27 about the show's final run on ABC, and one of the articles was about whether fans could help revive the show on another network. Tune in and see the results of the efforts, Nashies! (This photo is from the wedding of Deacon and Rayna, where I got to pose with actor Chip Esten as one of the wedding guests. Chip has become a true ambassador of Nashville – the city, not just the show.)
It's pretty cool to see CMT transition to more scripted television shows. Still The King starring Billy Ray Cyrus returns for its second season, also airing on Thursdays and they also have Sun Records debuting in February.
Another entry is Ray Stevens' CabaRay Nashville. Ray's show, which aired on RFD last season, has moved to PBS stations for its 2017 season. In Nashville, the show will air on WNPT each Saturday at 6:30 p.m. beginning January 7. I'm told it will also air on NPT2, on Saturdays at 7:30 p.m. and Sundays at 8:30 a.m. and 3:30 p.m. Check your local listings.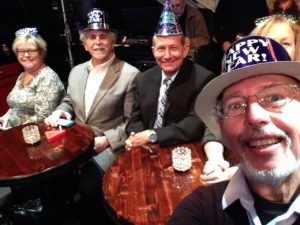 This picture is from a recent taping I did for 'Ray Stevens' CabaRay Nashville' with some of my 'Nashville' friends – and it echoes my sentiments for each of you!
As always, thanks for reading.
Tom