Of Bowls and Books: A Fun Way to End the Year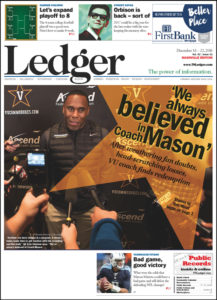 What a way to wrap up 2016. Most of last week was spent writing for the Nashville Ledger about how the Vanderbilt football program has fared under third-year coach Derek Mason, who this season got the team to the Independence Bowl in Shreveport, La. The package of articles are now in the Dec. 16-22 print edition at various Nashville-area locations, and can be found online here.
The stories are largely a comprehensive look at fans rallying around the redemptive coach and the program after two really tough years. They finished 6-6 this season to earn the bowl bid, Mason's first as a head coach. The Commodores leave on Dec. 22 for only their eighth bowl appearance all-time and the first under Mason.
I was really impressed with Mason and the loyalty he has to the program – and his players have to him. I do think he is the right coach at the right time for Vandy. Here's a quote from Derek about fan support: ""The support is unbelievable. It's good for this football team. We're back! Back in a bowl game, looking forward to playing N. C. State. They're a good football team. I'm still pinching myself because these kids … they played well down the stretch."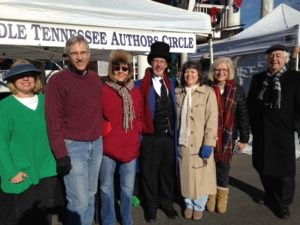 Then after making my Ledger deadline with the Mason package, last weekend (Dec. 10-11) was spent at Dickens of a Christmas in Franklin, Tennessee, with a half-dozen fellow authors.
It sure was chilly and the wind was blowing mightily on Sunday, but a good time was had by all. See more photos below.
And that event was followed by two days on the set of Nashville. The show's official two-hour debut on CMT is slated for Jan. 5, but a "sneak peek" aired this week. Season Five is going to be a dilly, from what I've seen, read and know.
Many of you know I've been an extra on the show for all five seasons. I can't reveal any of what I have seen or heard at last week's tapings, but I can say that fans – known around the world as "Nashies" – are NOT going to want to miss a single episode. I did a story for the Ledger on May 27 about the show's final run on ABC, and one of the articles was about whether fans could help revive the show on another network. Tune in and see the results of the efforts, Nashies!
Below are some photos from Dickens of a Christmas I thought I'd share, plus a very special one at the bottom with some friends at a recent Ray Stevens' CabaRay Nashville taping. Ray's show, which aired on RFD last season, is moving to PBS stations starting in January. In Nashville, the show will air on WNPT each Saturday at 6:30 p.m. beginning January 7. I'm told it will also air on NPT2, on Saturdays at 7:30 p.m. and Sundays at 8:30 a.m. and 3:30 p.m. Check your local listings.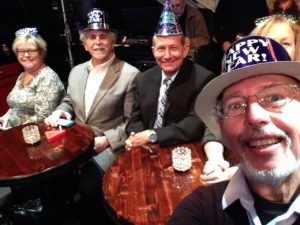 I'll close by again wishing you a Merry Christmas and a Happy New Year. I'm looking forward to 2017, and seeing all that it has in store. I hope you are, too.
This picture is from a recent taping I did for 'Ray Stevens' CabaRay Nashville' with some of my 'Nashville' friends – and it echoes my sentiments for each of you!
As always, thanks for reading.
Tom