Talking With Melinda Doolittle
I have a new hero. Or, rather, a new Idol. That would be the incredibly gifted singer Melinda Doolittle, whose 2006 audition for American Idol helped launch her transition from professional background vocalist to music artist.
The Belmont University graduate finished third in the American Idol Season Six competition (which aired in 2007), and she has spent the past decade crisscrossing the world with appearances at some remarkable venues and events — from the Rock and Roll Hall of Fame to the White House; from the Kennedy Center, Carnegie Hall and the Charlotte Symphony to performances with the U.S. Air Force Orchestra and at the 2015 Boston Pops Fourth of July Spectacular.
Recently, the Franklin, Tennessee, resident took time out of her busy schedule to speak about her American Idol audition as part of the research I'm doing for a key scene in my upcoming book Turn to Stone, A Vendetta Stone Thriller. I can't really go into details about the information she provided for the book, except that it turned out to be even better than I hoped. What I can share at this point in our wide-ranging interview is that Melinda talked about overcoming shyness to live out her dream, and making others' dreams happen.
"To be honest with you, I loved singing background and wasn't actually pursuing being an artist," said Melinda, who spent the early years of her career doing background vocals for the likes of Aretha Franklin, Jonny Lang, Michael McDonald, Aaron Neville, and BeBe and CeCe Winans, among others. "I'd had a lot of people tell me that I should, but I was not pursuing that because I thought I was really, really good at being a background singer. I loved the comfort of being part of the group, but not the pressure of being an artist."
And now she uses her talent and notoriety to help charities and organizations such as the Vanderbilt Children's Hospital, Ronald McDonald House, The League, and Malaria No More (Presidential Delegate to Africa).
"I always have big dreams. If you stop dreaming, then life might as well be over," she said. "I have definitely done things that I would not even have imagined or been able to do. I've played at the White House, the Kennedy Center and Carnegie Hall. I just got back from Tunisia and New Zealand and Australia. I mean, I've done some of the most amazing things.
"But there's always so much more to do. … I've learned that having this platform, you can make a difference in peoples' lives. … I love what it can accomplish off the stage. I'm having a great time, so I just keep dreaming bigger and bigger. The more I do the more I can help, so that's my goal right now."
Learn more about Melinda, including her 2017 tour schedule, at melindadoolittle.com. Some biographical information listed in this article, as well as the accompanying promotional picture posted here, are from her website.
Speaking with Melinda inspired me to write my first song, the lyrics of which will be used in my upcoming novel Turn to Stone, A Vendetta Stone Thriller. Some feedback I've received about the song has been positive, so that may be an opportunity I will pursue someday. Right now, I'm getting back to writing.
LOOKING BACK: October was a real blast with appearances at three major Midstate events — Fall Fest at the Hermitage, the Southern Festival of Books in downtown Nashville and the Jack Daniel's World Championship Invitational Barbecue in Lynchburg, Tennessee. Here are my favorite photos from those events. We had a great time!
NASHVILLE ON CMT: I recently appeared as a background actor for "Nashville," which will return to the airwaves on January 5. The show is moving to CMT and Hulu for its fifth season. This picture below is some of the "extras" crew that worked on episode six.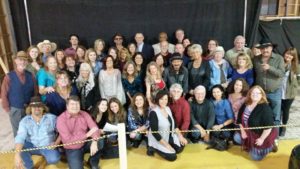 It was a blast seeing a lot of old friends from previous episodes and making new friends. Many of you know this, but I was an extra on "Nashville" for all four seasons, and I have written several times about my experiences on the show. In the May 27 edition of The Ledger, I wrote about the show's cancellation and how it affected some of my fellow background actors. Click here to read their remembrances. I'm looking forward to a few more appearances down the road.
COMING UP IN DECEMBER: If you've never been to Dickens of a Christmas in Franklin, Tennessee, you might want to check it out. It's hailed as "the largest Christmas festival in Middle Tennessee" and is a celebration of the Victorian era and All Things Dickens. This year's event is the weekend of Dec. 10-11.
Santa will be there, of course, and you can meet many Dickens characters. There will be food trucks, activities for the kids, food trucks everywhere — and lots of Christmas shopping opportunities. Vendors of every variety, including a dozen or more members of the Authors Circle, will be on the scene. So come say hello. Books make great gifts!
As always, thanks for reading.
Tom